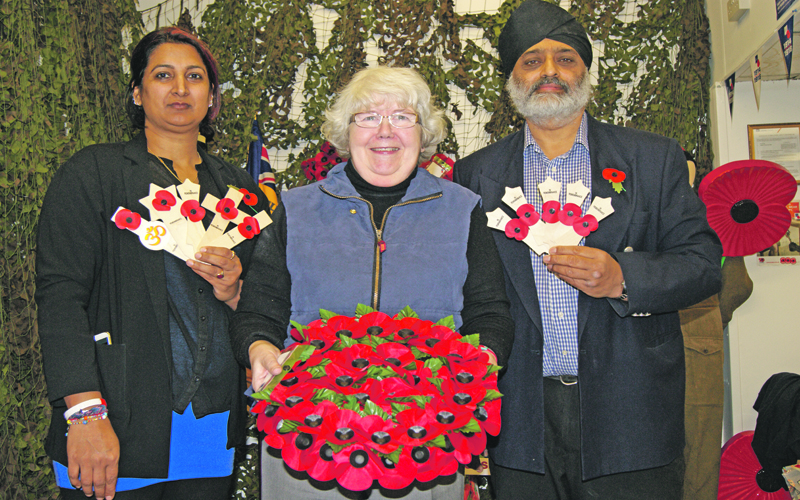 A century on from the start of the First World War and the brave lives of those killed in battle are still remembered today, with the symbolic poppy proudly displayed across the nation in build up to Remembrance Day.
What began in 1914 finally came to a conclusion on the 11th November 1918 as the Armistice Agreement was signed by Germany and the allies which signalled an end to the Great War.
This occasion has been commemorated annually ever since with a moment of silence held across the country to remember those who lost their lives during the war.
Today, the Royal British Legion continues to fundraise for the Armed Forces, past and present, through the sale of poppies.
Whether it is an injured soldier or the family of those involved in battle, funds go towards catering for those who are coping with bereavement, living with disability, or trying to find employment.
As well as displaying a poppy on your clothing, wooden stakes, with poppies attached, have also been sold recently to be placed in the ground as a sign of remembrance.
An array of designs are available to commemorate the war efforts of different faiths and are proving a popular fundraising initiative for members of all faiths.
As well as the plain design, a wooden cross (Christianity), crescent (Islam), star (Judaism) and Sikh Khanda are all available for purchase from the Royal British Legion stores.
At the Kirkgate Market store, volunteer Balbir Singh, explained how important it was for him to be able remember all the Sikh soldiers who lost their lives in battle.
"This year marks one hundred years since the start of the First World War," he said.
"The Sikh contribution in the First World War was huge. Around 80,000 Sikh soldiers died, and contributed to the British Army's efforts.
"We are laying a reef at the memorial on the Headrow this Sunday and there will be a sikh community presence there as well to remember those who sadly died."
Mohammed Siddique's father, Goolam Hussein Bawa, fought in both World Wars after immigrating to England from Kashmir.
His son proudly keeps his father's memory alive today through attending memorial projects and will be laying a poppy reef at the Leeds War Memorial this weekend.
Mr Hussein was a highly decorated soldier in the Merchant Navy, being awarded many medals for his long-serving military career, including the Atlantic Star.
The honour was bestowed upon him for his involvement in Battle of Atlantic which saw German U-boats attempt to halt Britain's war efforts by attacking convoys from transporting supplies from America and the colonies.
Mr Hussein even returned to his native Kashmir at one point to recruit more volunteers for the armed forces and sadly passed away just one year after leaving the Merchant Navy.
Mr Siddique said Remembrance Sunday is an event which should be respected by all, regardless of religion or beliefs.
He said: "My father never cared about the long hours or money – he just wanted to serve in the Merchant Navy.
"I'm so proud of what he did, because it's because of people like him that opened the way for me and everyone else to come to the UK and live here and be proud to be British.
"He was willing to give his life for Britain and he wasn't even British. This is the message we need to give our children and youth of today, because this country has given us an awful lot."
Mahmood Raja is also the son of a war-hero who fought during the Second World War with British Indian Navy.
Subab Ali Shan was awarded 18 medals during his time in the British and Pakistani forces for everything from service conduct to bravery.
After fighting with the British Indian Navy between 1941 and 1947, he was transferred to the Pakistan Navy following their independence.
Sadly, Mr Shan died just three months into his retirement as a lieutenant commander at the age of just 52.
His legacy is continued through his son, Mr Raja, who joins the Royal British Legion in their parades and ceremonies, accompanied by his father's medals, to keep his memory alive today.
Mr Raja became the first Asian member of the Bradford Central Branch of the Royal British Legion for 50 years back in January.
He said he had initially wanted to continue his father's legacy by joining the armed forces but was unfortunately only able to complete one year in his role.
"It was always a dream of mine to be in the Navy or the Air Force," he explained. "When I finally joined up in Pakistan I was told a little while later that I had to return to England or lose my citizenship.
"I was never able to go back to the services in Pakistan but am extremely proud to be able to wear my father's medals and keep his legacy alive."
Defence Secretary visits India
Secretary of State for Defence Michael Fallon MP visited India at the end of last month as he led the United Kingdom's commemorations to recognise India's contribution and sacrifice during World War One.
In recognition of the huge Indian contribution to the country's war efforts, and as a mark of respect for the Indian servicemen who gave their lives, Mr Fallon laid a wreath at India Gate, before hosting a large-scale commemoration event at the British High Commission in New Delhi.
During the reception, the Secretary of State unveiled Victoria Cross (VC) memorials, commemorating the six VCs that were won by soldiers from the current territory of India.
He presented the memorials to the Indian Minister of Defence, along with digitised war diaries of the India Corps that fought in France and Flanders and other commemorative items.
The visit had personal significance for the Secretary of State, whose grandfather Captain Harold Spink served in the Indian Army, and formed part of the Indian expeditionary force that fought in Mesopotamia.
Mr Fallon commented: "India and the UK are natural partners. The events I've attended and the discussions I've held today are the clearest possible evidence that this partnership is deep, broad and long-standing.
"In a moving ceremony to mark the enormous contribution made by Indian servicemen during the First World War, Defence Minister Jaitley and I reflected on the common values which India and the UK shared then and still share now. There was, rightly, great pride on both sides.
"We also looked forward, to consider how our countries can work together in tackling the many security challenges threatening global and regional security. And our shared pride at events a century ago stands us in very good stead as we embark together on that work."