Just 16% of UK's engineering industry are women. Alisa Ahmad says she hopes as a person of colour, and as a woman, that she's inspired others."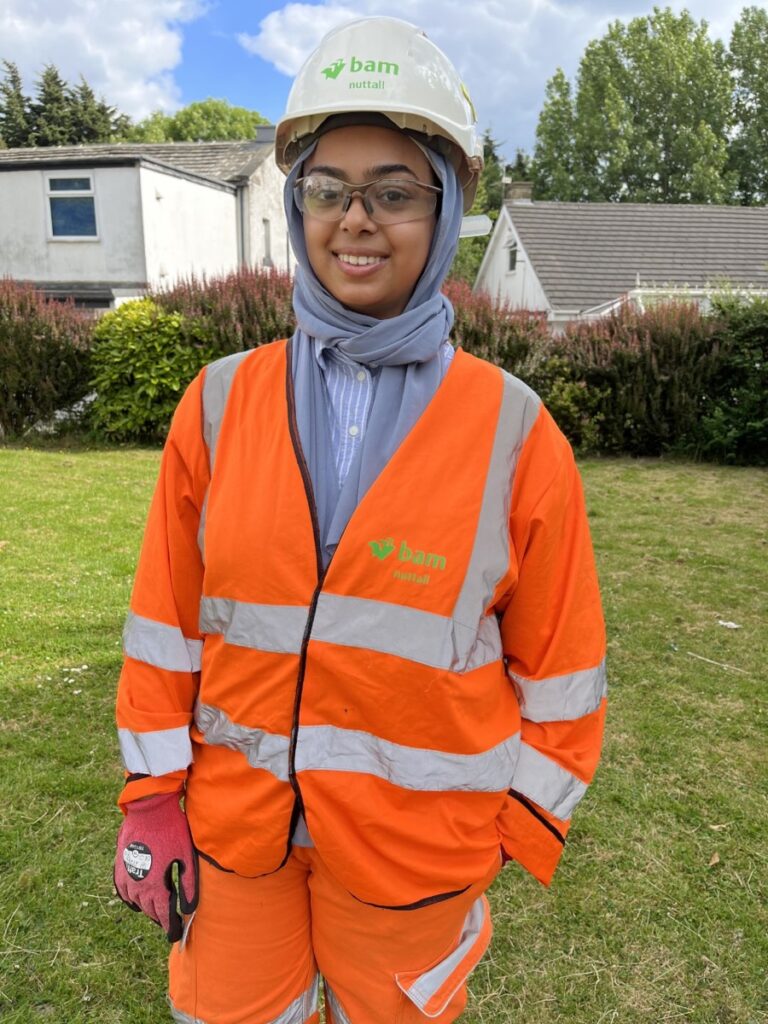 A 22-year-old from Bradford is looking forward to a thriving career in civil engineering, and she does this in a male-dominated sector as a young Muslim woman donning a hijab!
Alisa Ahmad, a former student of Dixons Trinity Academy is currently studying a Level 6 Civil Engineering Site Management Degree, after completing her Level 5 Apprenticeship in Civil Engineering in June, at Leeds College of Building.
Employed by BAM Nuttall Ltd., Alisa is one of just 16 per cent females in UK's engineering industry, and is a keen advocate of women working in construction leading her to win the much-coveted 'CIHT Apprentice of the Year' Award'.
This year, the Chartered Institute of Highways and Transport (CIHT) received dozens of applications for the 2022 awards from some of the best and brightest within the sector and had the challenge of shortlisting only ten finalists from the outstanding applications.
Alisa impressed the judges with her enthusiasm and approach to civil engineering and the passion shown for one of the core themes of Equality, Diversity, and Inclusion. Recently, Alisa was also highly commended in the Asian Achievers Awards 2022.
On winning the accolade, Alisa says: "I am honoured to receive the 'Apprentice of the Year' award. It is great to be appreciated as an apprentice; a career route which doesn't get enough recognition.
"I hope as an apprentice, a person of colour, and a woman that I have inspired others. This award has already boosted my confidence as an engineer, and I know it will be something I can take use in any workplace to showcase my skills."
She's currently working for BAM Nuttall as an assistant engineer delivering the Leeds Flood Alleviation Scheme. The project aims to protecting a 14km stretch from Leeds Train Station to Apperley Bridge.
Alisa has also been part of the £29m Stourton Park & Ride scheme, the estimated £4m extension of the Temple Green Park & Ride, as well as the estimated £6m Elland Road Park & Ride.
Juggling work and staying can be tricky Alisa says, but enjoys learning her trade on-site: "Working on site and studying can be challenging, but the experience you get is unmatched.
"I'm getting the experience on-site that I won't get in a lecture room. It's boosting my confidence and it's really valuable," she says.
Talking about how as young Muslim woman wearing the hijab she's been received by the engineering industry, Alisa says: "Nothing has stopped me or put me off.
"The support I've had from BAM has been amazing, and is a huge contributing factor to the skills I've learned."
"My experiences have shown me how attitudes in the workplace have changed. I have no trouble observing fasting during Ramadan, celebrating Eid, or taking a few minutes to offer prayers. In fact, I get asked lots of questions, and I feel hugely privileged to be able to talk about and explain my faith with my colleagues."
Alisa, the eldest of three siblings, credits her parents for the immense support they've given her; and Alisa's maternal uncle, also a civil engineer who has worked on significant projects in Dubai, has been a huge inspiration for her.
"We need more females in civil engineering. It's nice for me to be a role model in the industry, and I hope I can inspire others."
John Wilkinson, BAM UK and Ireland COO said: "We're so proud of Alisa and the progress that's she's made at BAM. She is a great example to young women that construction and engineering can offer an enormously rewarding career where you will be supported to learn, grow and achieve great things. I look forward to seeing how her career progresses."
Vicky Patterson, Curriculum Manager at Leeds College of Building – University Centre, said: "We are so proud of Alisa's achievements. She deserves recognition for all her hard work and for being a fabulous role model to others."