STELLAR: Nazim Ali AKA 'Ramadan Runner' completes his 10K annual run whilst fasting for almost 17-hours
The epic fundraising efforts of the awe-inspiring Nazim Ali fondly named the 'Ramadan Runner' by Asian Express, sees him successfully complete a 10K run whilse fasting for almost 17-hours.
Nazim took on his 9th annual Ramadan run, this time in Blackpool, in an effort to raise £47,500 – enough for 25 new homes in Pakistan for poverty-stricken widows, orphans, the disabled, and the elderly.
Having personally covered the race fee and hotel costs, Nazim – a career advisor at a Bradford inner-city school, ensures that 100 per cent of all donations go to the stated cause.
Commenting on the run, Nazim says: "It was generally a flat course running along the promenade with some hills with the breeze pushing against us the first 5.5km.
"I did it in a time of 1:01:39 (one hour, one minute, and 39 seconds), which was my fastest time for a good couple of years, so I was really pleased. The fact I didn't pick up any injuries like the previous couple of years, I'm so happy!"
Six weeks ago, Nazim returned from his self-funded humanitarian aid trip to Pakistan. "I was be-set by illness – lower back strain sustained from lifting meant I was in great discomfort. I also had a high temperature, and needed a glucose drip.
"When I got back to the UK, my illness continued for a week, so I've worked very hard to overcome all these health challenges to get myself into training ahead of the 9th annual run.
"This was my first official 10K Run since the Covid-19 pandemic since all official races were cancelled during the previous two Ramadans, which meant I had to do local Ramadan 10K Runs."
Having smashed this Ramadan's fundraising target, Nazim sits proudly at raising a staggering £59,440. This will help build 31 new homes.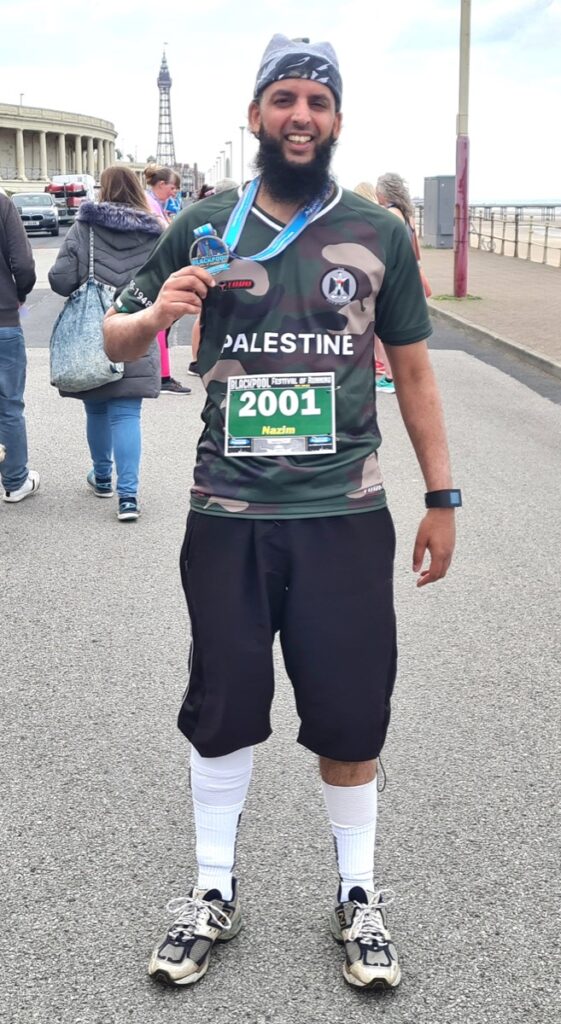 "During these nine Ramadan runs, I have raised over £360,000.
"This years' Ramadan run has been in aid of Nelson-based Hope for Mankind's 'Sindh, Pakistan New Homes Project.' They are supporting poor families, who will be moved from their current makeshift homes made of mud and straw to roofed and safe and secure new two-room dwellings. These homes include a bathroom and kitchen and have access to clean water.
"Each home costs £1900, and the first house has already been built.
"These homes will provide protection from the harsh winters and summer heat, as well as improving lives with a clean place to live and help fight off deadly diseases.
"Sindh, Pakistan is poverty-stricken with abject living conditions for hundreds of thousands of people.
"I have recently returned from a self-funded humanitarian aid trip to Pakistan and have witnessed first-hand the people living in poverty, which inspired me to embark on this project. The more I raise, the more houses I can build for the poor, so please keep donating!
"I am eternally thankful to all the donors for their kind donations and ongoing support, which is humbling. It is because of you that I am able to do what I do, and it would not be possible without you. God bless you all!"
Nazim has been at the forefront of community and humanitarian initiatives at local, national, and international levels, receiving national awards in the process.
He's distributed, in person, aid to the Turkey/Syria border on seven occasions, the Rohingya refugees in Bangladesh, Iraqi refugees in war-torn Mosul (Iraq), poverty-stricken Malawi (Africa), Pakistan pre-Ramadan Deployment (March 2022), and refugees in France and Belgium – all in the last eight-years.
From his 2020 Ramadan 10K, he fundraised almost £53,000 and project managed 116 house transformations in Malawi. Furthermore, in 2021 he raised a whopping £78,751 during Ramadan – enough to build 63 new two-room homes for Syrian refugees in Northern Syria.
You can still donate to this cause (Zakat applicable): https://www.muslimcharities.co.uk/donations/nazim10krun/. If you are a UK Taxpayer, please tick the 'Gift Aid' option when making a donation; this allows 'Hope for Mankind' to sustain the charity in operating on a 100% donation policy.