Byline: Andrew Vaux

"Having watched MasterChef with my mum and dad from when I was a child, it's a dream come true. I've grown up with the programme, I can't believe I'm now starring in it!"
A Bradford law graduate hopes she can stand the heat in the kitchen as she continues to cook up a storm in the kitchen in BBC's much-contended MasterChef competition.
23-year-old Radha Kaushal-Bolland – this year's youngest contestant in the popular TV show – has fought off competition from culinary experts across the country to reach this week's semi-finals.
In last night's second semi-final (Thursday 28th April), Radha joined the eight remaining hopefuls to take on a daunting 'Invention Test' where they had to create a dish inspired by a chicken or an egg.
There was a larder full of ingredients to choose their accompaniments, to create a dish worthy of being put through to the next round.
Radha tempted the judges' tastebuds with an Asian inspired dish of egg curry served with rice, onion bhajis and naan bread.
And she truly tantalised them, with rave reviews sending her through to tonight's (Friday) third semi-final along with five other hopefuls.
If successful tonight, Radha will progress to the finals next week on Tuesday, Wednesday and Thursday.
In the second half of last night's show, the six remaining contestants travelled to Middle Temple in Central London for a special lunch celebrating the 100th anniversary of the Royal British Legion.
The contestants were split into teams of two with Radha and her partner serving up burnt English custard egg surprise with marinated strawberries, tarragon and black pepper honeycomb.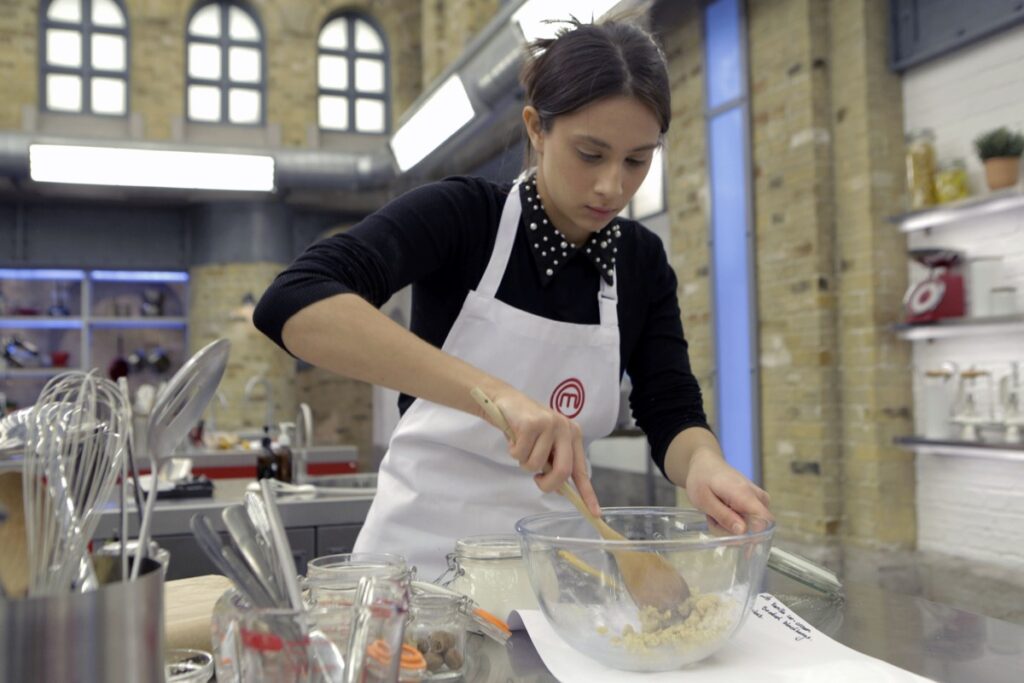 For Radha, who was born in Durham but later moved to Yorkshire with her family and was educated at Bradford Girls Grammar School and the now-closed Malsis School at Cross Hills, near Skipton, her success is a dream come true.
She said: "I'm thrilled to bits and completely over the moon. Having watched MasterChef with my mum and dad from when I was a child, it's a dream come true. I've grown up with the programme, and can't believe I'm now starring in it!"
Food has always been a central part of the family home with her English born dad Chris, and Indian-born mum Usha both keen 'foodies' with a mix of Asian flavours and spices and vegetarian ingredients.
"My heart lies in food," Radha said. "I only started cooking during lockdown as a means to alleviate some of the stress from my final exams at university and also to help my mum and dad by preparing our evening meals when they were busy at work.
"I haven't been cooking for very long, but I feel like it comes naturally to me. I've always been creative, into my music and drama so cooking allows me to use my transferable skills to show my creative flair for food."
Whatever the outcome of the remaining episodes of the show, Radha is already aiming for a career in the food industry with plans for a private dining company where clients give her a menu and she prepares and serves the food for them.
But for the moment, she's still trying to keep her feet on the ground having suddenly been catapulted to stardom.
"It's such an amazing and surreal moment," she said. "I just want to see how good I am and push myself to see how far I can take my cooking – by creating new ideas and delicious new recipes and competing against other cooks."