A major new resource for Bradford's filmmakers backed by Channel 4 has been launched at the Impact Hub in the city.
'The Unit', as it will be known is based in Bradford city centre at The Impact Hub for six months before moving to Keighley Creative, a volunteer-led arts centre – for the rest of 2022.
It offers free working space for content creators from across the district, acting as a creative ideas exchange where people can work, share and learn about all aspects of screen production.
A series of regular workshops are planned with a stream of industry professionals sharing their knowledge as well as production services and facilities, hot desking capabilities and an on-site host to provide education and skills training advice and funding information. Users of the centre are also able to self-schedule meetings and events.
The centre is the first major milestone in the delivery of an ambitious 10-year vision for the further development of the screen sector in the Bradford district, as set out in the Bradford As Seen on Screen Strategy launched last year.
The strategy, which was originally commissioned by Bradford Council, aims to further develop the district's strong and vibrant screen, digital, cultural and creative sector and includes collaborations with Screen Yorkshire and the British Film Institute [BFI]. It is a core component of the district's 'Culture Is Our Plan', the 10-year blueprint for culture and the district's bid to be UK City of Culture 2025.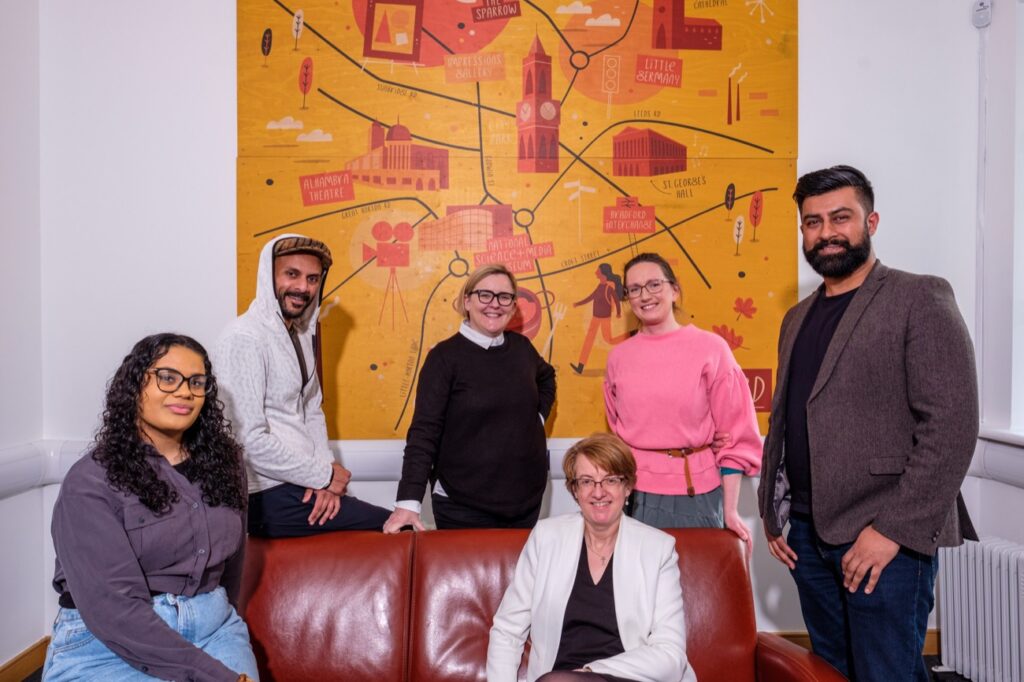 Channel 4, which is a lead delivery partner for the strategy, is also developing and helping to deliver a £50,000 digital short-form content fund, and the channel will be part of a steering group to regularly evaluate and support progress and help direct the strategy.
Kevin Blacoe, Head of Partnerships & Skills for Channel 4 said: "We are really excited to be supporting The Unit. Bradford has some amazing creative talent and The Unit will be a fantastic resource for content creators in the district providing them with the space to hone their filmmaking skills.
"The Unit will provide an environment where creative content makers can collaborate, learn from industry professionals and harness the necessary skills for their future careers. And Channel 4 will set up a £50,000 fund which will go towards helping local filmmakers kickstart short-form content projects."
Tracy Brabin, Mayor of West Yorkshire, a well-known supporter of the creative industries said: "Initiatives like this make a real difference to real people and it's another fantastic example of how we, as a region, can strengthen our position as a creative and cultural hub.
"The support from Channel 4 demonstrates their commitment to the people of West Yorkshire and the impact they can have on the growth of the screen production sector now and in the months and years ahead.
"I'm delighted this initiative is being housed in The Impact Hub in Bradford and then Keighley Creative where the Unit will be housed for its second six months, which will open up opportunities for the young, diverse population."
The BBC is also offering a range of workshops and sessions to help increase access to the corporation for content creators from across the Bradford district.
Both broadcasters support the Bradford FilmMakers25 mentoring network (co-funded by ScreenSkills and Bradford Council) by supplying industry mentors and it's hoped the 50 people now on the FilmMakers25 project will take full advantage of the facilities being offered.
Kamran Rashid, CEO of Impact Hub Bradford, a hub for social enterprise in the city's historic Little Germany said: "We're immensely excited to be hosting The Unit here at Impact Hub Bradford for its first sixth months. We've already witnessed insightful contributions from local filmmakers and content creators as we help develop an inspiring space and programme of events and workshops.
"Impact Hub Bradford will add our expertise in inclusion, entrepreneurial skills and social impact to the programme at The Unit, growing sustained employability for our talented screen professionals."