COVID-19 patient Khurram Khan got the best birthday present he could wish for – going home from hospital with his family after spending almost three weeks in intensive care (ICU) at Bradford Royal Infirmary (BRI), one week of which he was in a coma on a ventilator.
Khurram, who lives in Clayton, Bradford, is the first COVID-19 patient at Bradford Teaching Hospitals who has gone straight home from ICU, rather than having to spend further time recovering on a ward.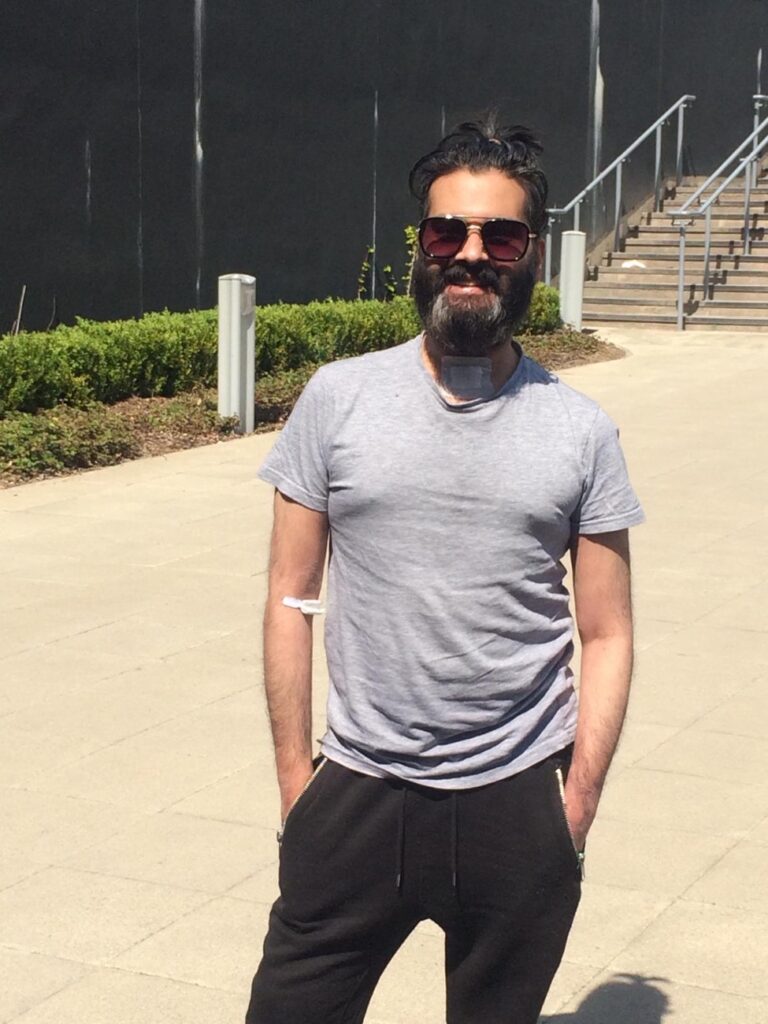 His amazing recovery was even more poignant as his father sadly died at home from the virus just two weeks before Khurram started feeling ill himself and struggling to breathe.
Kurram's wife, Kullerz, called 999 and he was taken to A&E and then straight to ICU as a scan showed he had blood clots on his lungs.
He was given oxygen through a CPAP (continuous positive airway pressure) machine but after three days his condition deteriorated to the point that he needed to go on a ventilator – which meant putting him into a coma.
Khurram needed a tracheostomy – an opening at the front of the neck so a tube can be inserted into the windpipe to help you breathe – and when he came out of his coma he had to communicate by writing on a white board as he couldn't speak.
Khurram, who turned 38 on 11th May, was clapped out of BRI by staff who lined the main concourse on Saturday 9th May lunchtime.
His wife and two young sons, Aaron, 11, and Rayaan, two, were waiting for him in the sunshine as he said an emotional farewell to staff who had cared for him, calling them "angels".
"I feel like I've got a new lease of life – I literally feel like I'm born again," said Khurram.
"I don't have the words to thank the staff for how they've taken care of me, words don't explain it."
"I'm a very positive person and I've got through this because of the fantastic care from the NHS and my wife, family and the support of people who love me. I've got so much living to do and am so grateful to everyone," said Khurram.
Throughout his time in hospital his brother, Faisal, rallied everyone to pray for his recovery through social media, and Khurram was delighted to learn that he had gone 'viral' without even knowing it.
Speaking to Asian Express NatWest bank manager Faisal Khan said: "We were all incredibly anxious when Khurram became unwell. We'd only just lost our father a few days ago.
"It was touch and go for some days, and we had sleepless nights whilst he was in coma.
"I was the first to visit him when he opened his eyes in ICU – I cannot possibly translate in words how relieved I felt.
"The messages of support kept pouring in across social media. We thank everyone from the bottom of our hearts for their prayers and kind words which kept us going through Khurram's battle with Covid-19.
"Khurram's fight against the coronavirus has left an indelible mark upon us all."
Chief Executive of Bradford Teaching Hospitals NHS Foundation Trust, Mel Pickup, said: "Even in the darkest days of the pandemic there have still been so many stories of amazing recoveries and hope – and Khurram's is certainly one of those. Our staff have been in awe of his recovery and his zest for life, it was simply wonderful to see him go home with his family."
So far, over 390 COVID-19 patients have returned home from Bradford Teaching Hospitals and that number continues to grow daily.