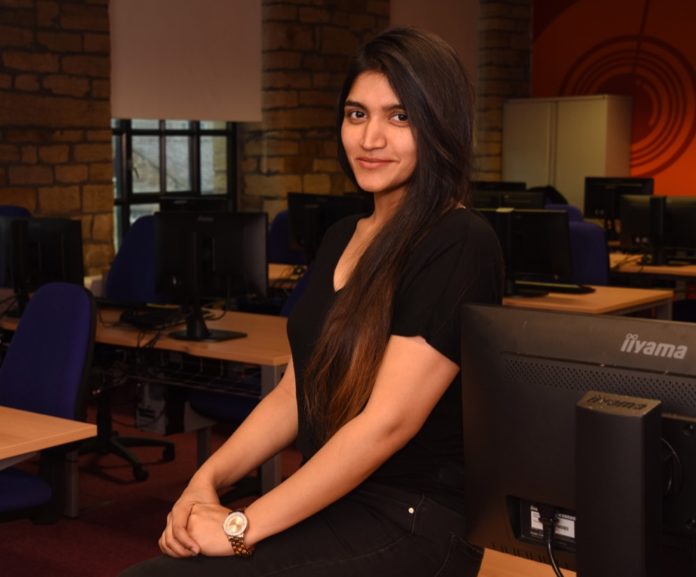 She wowed an aerospace company by saving them £50,000 whilst there on her work placement 
A University of Huddersfield international student is flying high after defeating thousands of applicants for a place on a highly competitive graduate scheme with a giant in the aerospace industry.
Sushmita Gudimella, originally from Hyderabad in Southern India, will be joining the Airbus UK graduate scheme next September after the hard-work and commitment she demonstrated, during her year-long internship at their Head Office in Filton, Bristol, saved the company an impressive sum of £50,000.
The work completed by the BSc (Hons) Computer Science student from the University's School of Computing and Engineering was of such a high-standard that Airbus UK was able to reduce the amount of work they usually subcontracted to the IT industry for work related to coding and computer programming.
The company's Filton production site is responsible for wing assembly and equipping the A400M multi-role airlifter.  Core activities include the design, engineering and support for Airbus wings, fuel systems and landing gear integration. Teams also work on systems, structures and aerodynamics research, development and test facilities.  
Sushmita is now back to Huddersfield and working towards completing the final year of her degree before she returns to Bristol to take part in the two years and three months' scheme.  The scheme is worth the highly-competitive graduate salary of £27,000 per annum.
During this time, Sushmita will have the option of working in different departments throughout Airbus, which she is delighted to do and says it will be an important factor in tailoring her future Airbus career.
"A lot of people who work in IT only tend to know that part of the organisation," she said, "but it's really important to have an idea of the business perspective and how the business is organised."
The 21-year-old attributes many of the skills she has acquired from being an international student and moving away home.  It was a decision that came surprisingly easy after she viewed videos of the international student experience in Huddersfield.
"Lots of questions go through your mind when you are coming from a different country," she said.  "It's not just about the education.  Are you going to be able to adapt to the culture, are you going to be able to fit in, will you find people from your community in the initial few days?
"But I would say to future applicants who are looking at coming to Huddersfield to study, that this is the best experience you will get at the University of Huddersfield. I don't have any regrets and I know this was definitely the best decision I have made in my life."