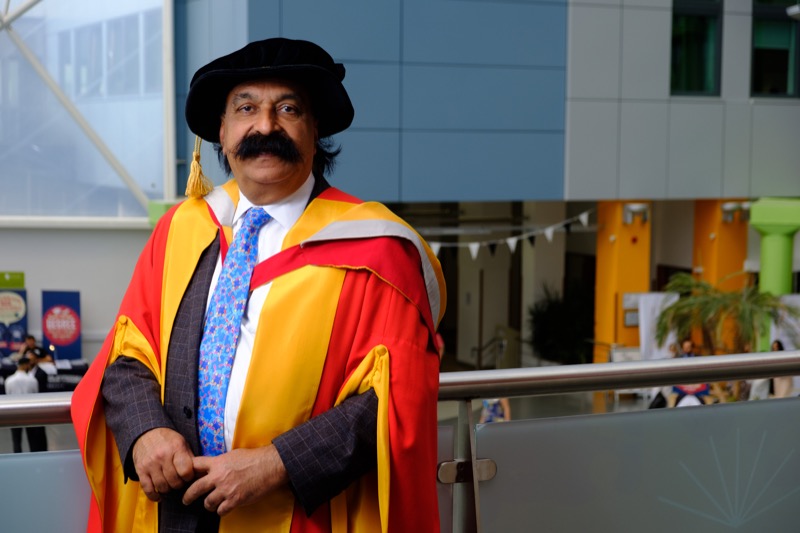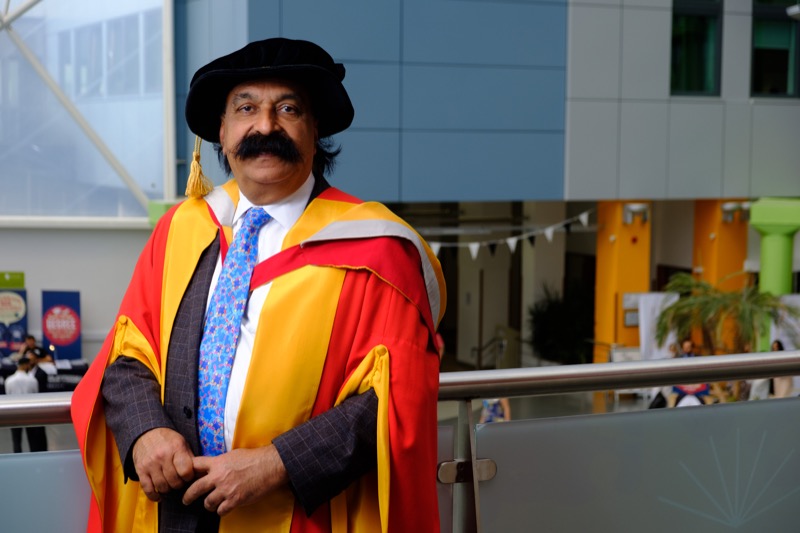 Some of Bradford's most notable figures were celebrated this month at the University of Bradford and were awarded honorary degrees.
Manoj Joshi was one of eight presented with a doctorate by Chancellor Kate Swann and Vice-Chancellor Professor Brian Cantor in the Great Hall of the city campus.
And if you're from Yorkshire, you'll know Dr Joshi's face – that big jovial smile and awesome moustache is hard to miss; and he can be seen frequently attending almost every major event in Bradford and beyond.
Arriving in the UK as a refugee fleeing Idi Amin's Uganda, he built a successful career in pharmacy, and after retirement continues his work to improve the lives of deprived and underprivileged children in the district.
Born in Uganda, with heritage from both India and Pakistan, the Joshi family were established textile bosses in East Africa. But in 1972 the family fled in a state of panic under the command of the new dictatorship, leaving their legacy and belongings behind.
"Although the arrival to England in the 70s was under very harsh circumstances, we were warmly received by volunteers and housed in various military bases for several months," explains Mr Joshi.
"In March 1973, we eventually settled in Derby. It was a very difficult time; in an instant we had become refugees."
But from the ashes the phoenix arose.
"I am the eldest of seven siblings. I met and married Bhavna in Mumbai in 1979, this year we celebrated our Ruby wedding anniversary (40 years).
"We are blessed with two children and two granddaughters. Out of the nine children of my siblings, seven are medical practitioners.
"My son Heman is a surgeon and his wife a GP and my daughter Megha works in international business and dispute resolution and is based in Lagos, Nigeria.
"We are proudly Gujarati Hindu-Brahmins, a minority within a minority community here in Bradford."
Having moved and made Bradford their home almost forty years ago, Mr Joshi threw himself into inter-faith relations. Himself along with his family would be seen attending festivals, Eid gatherings, Diwali functions, Vaisakhi celebrations as well as Christmas and Hanukkah.
"We are known as the Hindu's who host Iftaars (breaking of the fast) for our Muslim friends during Ramadan," he says happily.
"And I keep learning the linguistic nuances of Urdu and Punjabi because I enjoy the banter and we live in one community. Through food, fellowship and fun, we have more that unites than divides us."
However Mr Joshi's life hasn't all been a bed of roses.
Having faced racism in the 80s when they were one of the first Asian families that moved to Heaton, They had their car vandelised on numerous occasions and had racial slurs spat in their faces. He says that fighting social injustices have been at the helm of his every accomplishment.
"In the beginning it was obvious marginalisation and I was not having it.
"Sadly equality does not mean the same for everyone, it means the same consideration for everyone's abilities and needs," he comments about the racism.
"These incidents only drove my passion to continue advocating for social awareness and advancement. I have always hoped that the positive impacts of my interventions in Health, Education and in Social Services (Care) can be seen in a significant way."
Now the newly crowned 'Doctor of the University of Bradford', who has a wealth of experience sitting on numerous boards and organisations as an influential advisor, says that improving the standards of education in inner city Bradford is a priority to him.
"In partnership with the Diocese of Bradford, as a Trustee I persuaded another organisation to pledge £1M to take over an Ofsted rated twice-failing school to start the Bradford Academy. It was a new purpose-built school in one of the most deprived areas of Bradford.
"Starting with 700 students, within a few years, a primary school and a sports centre was built; and the school became one of a very few 'All-Through Academy' in the country and currently has 1800 students from 2-18-years old.
"The school is a fantastic success story that has evidentially transformed the lives of students and communities.
"In July, Bradford Academy won the prestigious National Times Educational Supplement (TES) Award for Community and Collaboration which we are extremely proud of and evidences progression and transformation.
"I am exceptionally humbled by the University of Bradford honour, and am driven to continue my work in making a change to the wider communities as well as my own."
Having been involved in the prestigious Rotary Club, Dr Joshi was recently appointed as Rotary International District Governor for Yorkshire, and North Lincolnshire – the largest region in Great Britain and Ireland. He is the first Asian man to hold this role.
Others who received honorary degrees from the University of Bradford this year are: Dame Mary Archer, Tim O'Reilly, John Graham Hart, Wendy Mitchell, Dr. Anita Patil-Deshmukh, Lady Brenda Hale and Dr Priscilla Elworthy.