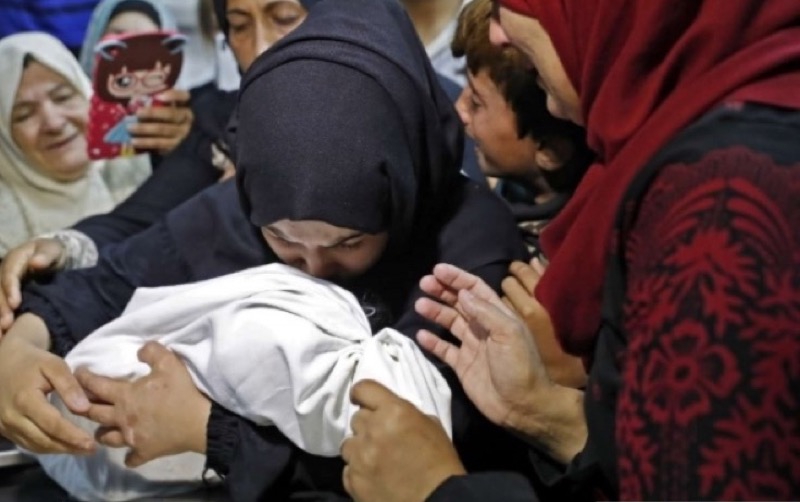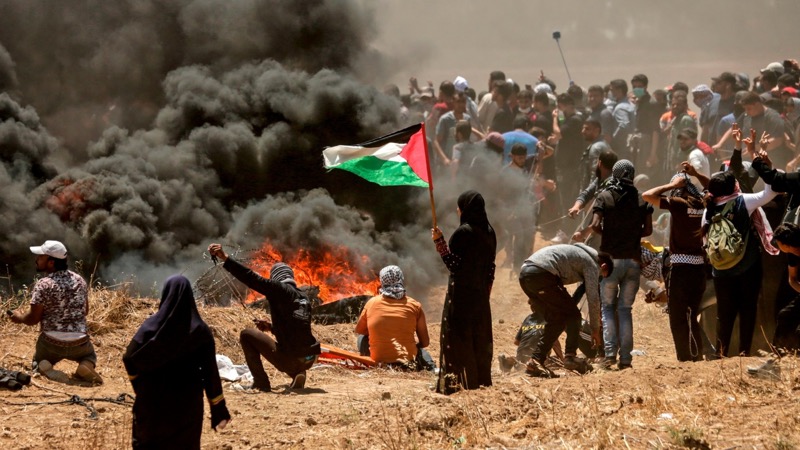 Palestinians gathered in Gaza city on Tuesday 15th May for the funerals of some 60 people, including an eight-month-old baby girl, killed by Israeli troops who fired tear gas into tented protest encampments set up a few hundred yards inside the border.
Violence on the border on Monday 14th May took place as the United States opened its new embassy in Jerusalem. It was the bloodiest for Palestinians since the 2014 Gaza conflict, and along with the 60 dead injured over 2,200 Palestinians by gunfire or tear gas.
Palestinian leaders have called Monday's events a massacre, and the Israeli tactic of using live fire against the protesters has drawn worldwide concern and condemnation.
Reeling from the previous day's violence, Palestinians marked 70 years since the Nakba, or catastrophe, the day on which the state of Israel was established on May 15, 1948. There are fears of further bloodshed.
Meanwhile on the Gaza-Israel border Israeli forces took up positions to deal with the expected final day of the Palestinian protest campaign which began 30th March. So far the protests have seen 109 Palestinians killed and around 12,000 people wounded. No Israeli casualties have been reported.
Israel defended it's position stating it acted in "self-defence" to defend its borders and communities. Its main ally the United States has backed that stance, with both saying that Hamas, the Islamist group that rules the coastal enclave, instigated the violence.
Throughout the last six weeks, Palestinians in the Gaza Strip have been campaign via protests dubbed "The Great March of Return" which revives calls for refugees to have the right of return to their former lands, which now lie inside Israel. They were forcibly expelled from their homes by Israelis in 1948.
Monday's protests were fired by the opening ceremony for the new U.S. Embassy in Jerusalem following its relocation from Tel Aviv. The move fulfilled a pledge by U.S. President Donald Trump, who in December 2017 recognised the contested city as the Israeli capital.
Palestinians envision East Jerusalem as the capital of a state they hope to establish in the occupied West Bank and the Gaza Strip. Israel regards all of Jerusalem, including the eastern sector it captured in the 1967 Middle East war and annexed in a move that is not recognised internationally, as its "eternal and indivisible capital".
Most countries say the status of Jerusalem – a sacred city to Jews, Muslims and Christians – should be determined in a final peace settlement and that moving their embassies now would prejudge any such deal.
Netanyahu praised Trump's decisions but Palestinians have said the United States can no longer serve as an honest broker in any peace process. Talks aimed a finding a two-state solution to the conflict have been frozen since 2014.
Netanyahu blamed Hamas for the Gaza violence. Hamas denied instigating it but the White House backed Netanyahu.
"The responsibility for these tragic deaths rests squarely with Hamas. Hamas is intentionally and cynically provoking this response," White House spokesman Raj Shah told reporters.
Trump, in a recorded message on Monday, said he remained committed to peace between Israel and the Palestinians. He was represented at the embassy ceremony by his daughter Ivanka and his son-in-law Jared Kushner, U.S. envoy to the Middle East.
The Trump administration says it has nearly completed a new Israeli-Palestinian peace plan but is undecided on how and when to roll it out.
The United States on Monday blocked a Kuwait-drafted U.N. Security Council statement that would have expressed "outrage and sorrow at the killing of Palestinian civilians" and called for an independent investigation, U.N. diplomats said.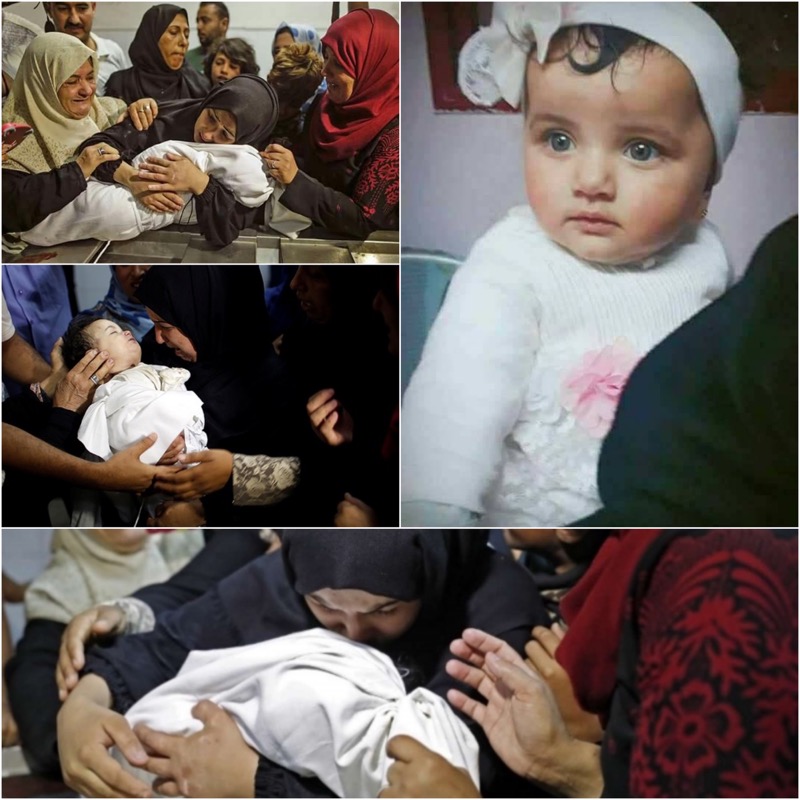 Eight-month-old Laila al-Ghandour died from tear gas fired by Israeli forces at a protest camp, which was a few hundred yards inside the border.
In Geneva, the U.N. human rights office condemned what it called the "appalling deadly violence" by Israeli forces and said it was extremely worried about what might happen later.
U.N. human rights spokesman Rupert Colville said Israel had a right to defend its borders according to international law, but lethal force must only be used a last resort, and the violence used on Monday 14th May was not justified by Palestinians approaching the Gaza fence.
---
Nakba
Marked on 15th May, it translates as 'the catastrophe' – the day Israel was created in 1948. Hundreds of thousands of Palestinians fled or were driven from their homes in violence. This culminated in war between the newly created Jewish state and its Arab neighbours in 1948. 2018 marks 70 years. More than two-million people are crammed into the narrow Gaza Strip, which is blockaded by Egypt and Israel and is suffering a humanitarian crisis.