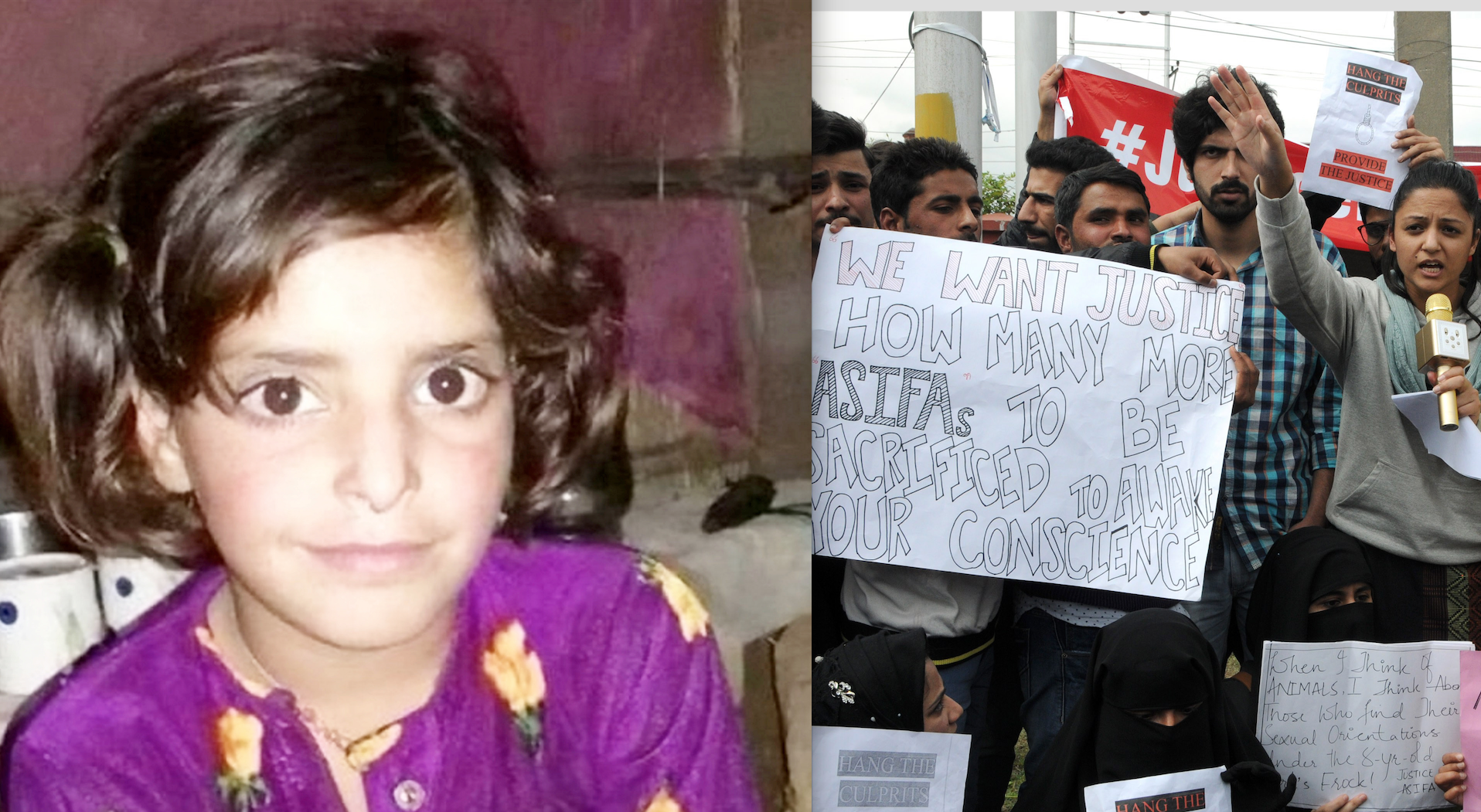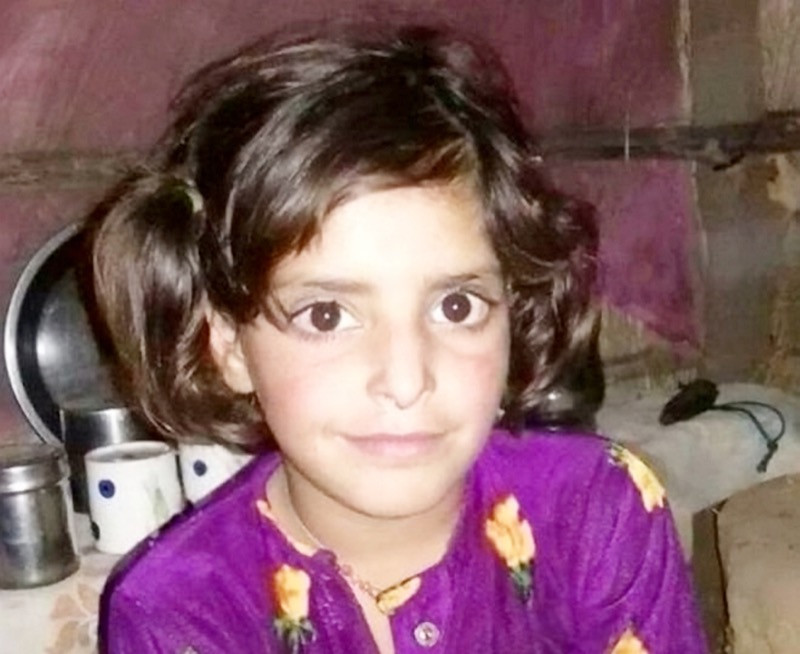 As thousands take to the streets to denounce sexual violence others demand justice for the men accused of the brutal gang rape and murder of an eight-year-old girl in Indian-administered Kashmir.
The case has put the state on edge. A gang of eight Hindu men, including a retired govt official and four police officers have been arrested over the brutal gang rape and murder of little Asifa Bano. Fierce protests across Kashmir, India, are taking place between Hindus and Muslims.
The child Asifa Bano, while grazing her nomadic family's horses went missing, only for her small, lifeless body to be found days later.
On the morning of 17th January, Muhammad Yusuf Pujwala – a member of the nomadic Bakarwal tribe, was sitting outside his home in Kathua when one of his neighbours came running towards him. He stopped in front of Mr Pujwala and broke the news: they had found his eight-year-old daughter, Asifa Bano. Her body lay in bushes in the forest, a few hundred metres away.
Mr Pujwala belongs to a community of Muslim nomadic shepherds called Gujjars who crisscross the Himalayas with their goats and buffaloes. There's always been tensions over their tribe's periodic stays in the land.
All eight men accused of raping and killing Asifa are Hindu.
Asifa's father believes his daughter was killed by the Hindu men for the sole purpose of driving her people away.
To add to the volatility of Asifa's case, police say she was killed in a Hindu temple and that the temple's custodian plotted her death as a way to torment the Bakarwals.
The crime has shocked the community, exposing the fault lines between Hindu-majority Jammu and the Muslim-majority Kashmir valley in a sharply divided state. The Kashmir valley has a tumultuous relationship with India – there has been an armed revolt in the region against Indian rule since 1989.
According to police reports, little Asifa was given sedatives and for three days, raped several times by different men, and eventually strangled on 17th January. To ensure she was dead, Asifa's killers hit her twice on the head with a stone.
Asifa's family wanted to bury her in a graveyard where they had purchased some land a few years ago and had already buried five people there. But when they arrived there they family said they were surrounded by Hindu right-wing activists who threatened them with violence if they were to continue with the burial.
They had to walk seven miles to bury Asifa in another village.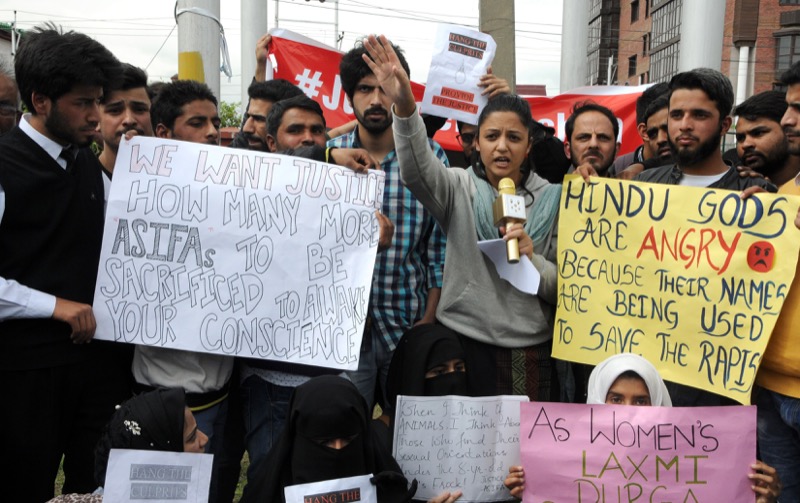 In the months since, Asifa's death has brought anguish to Kathua, the small town where she was killed, but it's also brought division. Asifa's case is the latest example of India's religious friction: as some denounce sexual violence and demand justice for Asifa's family, others demand justice for the men accused.
Police arrested eight men, including a retired government official, four police officers and a juvenile in connection with Asifa's death.
Earlier this month, a chaotic scene unfolded outside a courthouse in Jammu and Kashmir, as a mob of Hindu attorneys tried to physically stop police from filing charges against the men accused. Two ministers from the Hindu nationalist Bharatiya Janata Party (BJP) also attended a rally in support of the accused.
Police still managed to complete the paperwork and charged the eight men.
Protests have now spread across much of Kathua. Hindu activists argue that some of the police officers who worked on the case are, like Asifa, Muslims – and cannot be trusted.
Asifa's case has shaken India's Legislative Assembly. Weeks after her body was found, lawmakers still questioned the police's behaviour in the days after Asifa disappeared: police waited two days to file a report after Asifa disappeared
When Asifa went missing on 10th January, her family was living in a village around 72km (45 miles) east of Jammu city. On that afternoon, her mother recalls, Asifa went to the forest to bring home the horses. The horses returned but Asifa did not.
Ms Naseema informed her husband. He and some neighbours started looking for her. Armed with flash lights, lanterns and axes, they went deep into the forest and searched through the night. But they could not find her.
Two days later, on 12th January, the family filed a police complaint. But, according to Mr Pujwala, the police were not helpful. One of the police officers, he alleges, said Asifa must have "eloped" with a boy.
Five days later, Asifa's body was found. She had been tortured. Her legs were broken, her nails had turned black and there were blue and red marks on her arms and fingers.
Talib Hussain, a Bakarwal social activist fighting on behalf of Asifa's family, told The New York Times that Bakarwal nomads for generations have leased land from Hindu farmers so that their animals can graze during the winter.
In recent years, however, Hindus in the Kathua area have campaigned against the nomads. Believed to be at the campaign's helm is the accused custodian, Sanji Ram – a 60-year-old retired government official. "His poison has been spreading," Mr Hussain told The New York Times.
"When I was young, I remember the fear Sanji Ram's name invoked in Muslim women. If they wanted to scare each other, they would take Sanji Ram's name, since he was known to misbehave with Bakarwal women."
Accused of Asifa's the rape and murder are Sanji Ram, police officers Surender Verma, Anand Dutta, Tilak Raj and Mr Khajuria, Mr Ram's son, Vishal, his nephew, a juvenile, and his friend, Parvesh Kumar.
"It was about land," adds Mr Hussain, who also led a protest in support of Asifa's family and alleges he was arrested and threatened by local police.