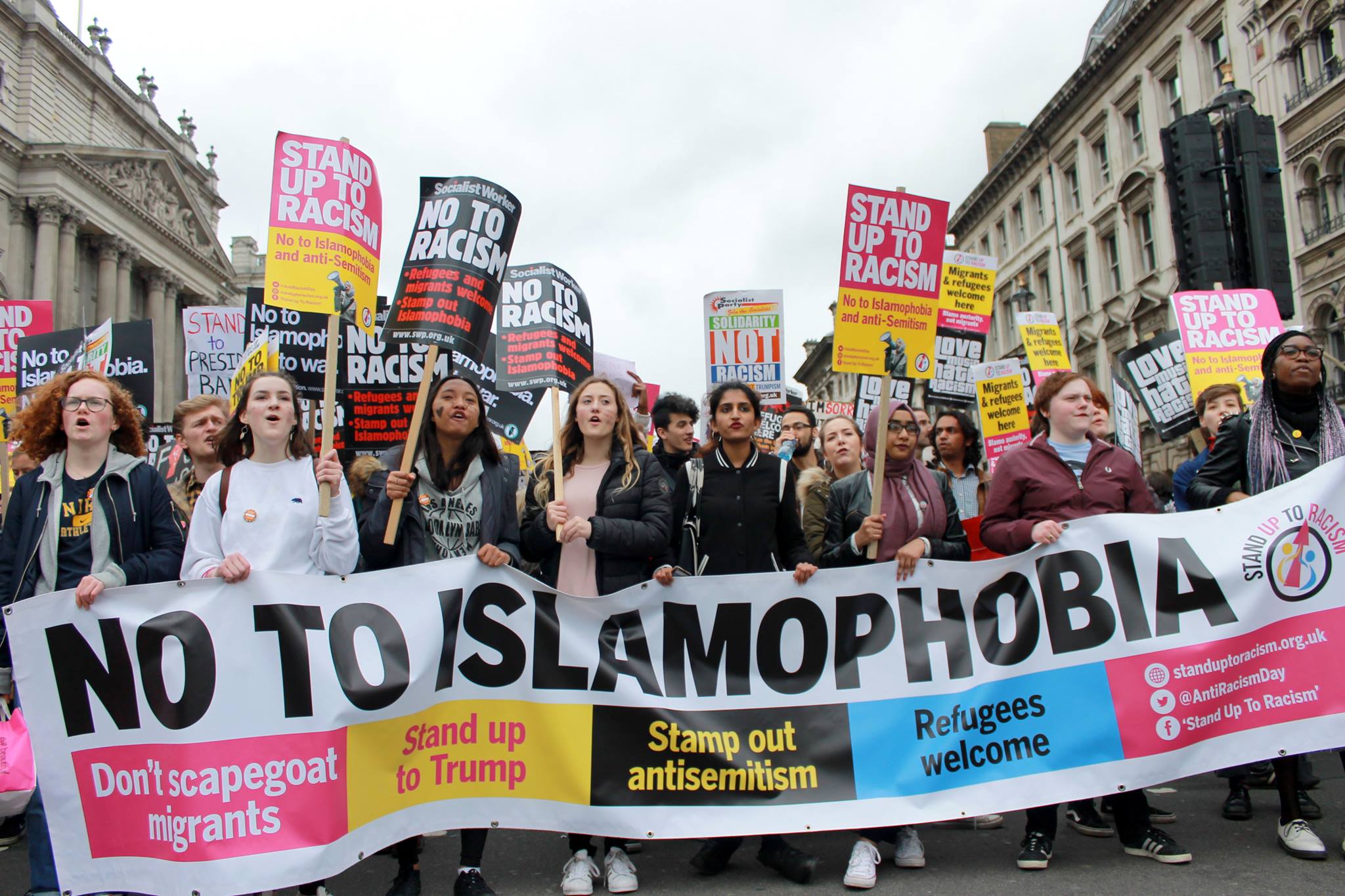 Thousands of people are expected to march through Central London, Glasgow and Cardiff this Saturday 17th March in a show of unity against the rise in racism, Islamophobia and anti-Semitism and in support of refugee and migrant rights.
The March Against Racism, which marks United Nations International Anti-Racism Day, is part of a series of demonstrations taking place in cities across Europe including Paris, Amsterdam, Berlin, Barcelona, Warsaw, Kraków, Frankfurt, Vienna, Copenhagen, Athens, Dublin and Istanbul.
Speakers at a rally set to take place in Whitehall at the end of the march include Shadow Home Secretary Diane Abbott MP, TUC President Sally Hunt, Journalist Gary Younge, acclaimed singer Ray BLK and many other leading faith, community and trade union figures. *Scroll to bottom for longer list of speakers*
Stand Up To Racism, the organisers of the event which is supported by the TUC, Unite, UNISON and many other trade union, faith and community groups, have called on all those who oppose racism to come together and show unity against racism, Islamophobia and anti-Semitism and in support of refugee and migrant rights in a celebration of the diversity of our society.
A facebook event for the march has already attracted interest from thousands of people, with sections including a refugees welcome bloc organised by Care4Calais attracting thousands more, and coaches have been booked from across the country where rallies have been taking place.
Diane Abbott MP, Shadow Home Secretary and President of Stand Up To Racism Said: "From the shocking rise in hate crime to the unabated growth of the far-right in Europe, there has never been a more important time to oppose racism.
"Join me on Saturday 17th March to march against racism, Islamophobia and anti-Semitism and for a society which treats migrants and refugees with the humanity they deserve."
Author & journalist Gary Younge said: "Racism's not going to go away by itself. And it's not going to go away just because we don't like it. It has to be fought. That's why we're marching."
Sabby Dhalu, Stand Up To Racism Co-Convenor said: "We are currently facing the biggest rise in racism since the 1930s. The recent "punish a Muslim day" letter campaign is just the most recent shocking example of the biggest wave of hate crime we have seen in generations. This, along with victories for the far right across Europe mean it is uncumbent on all anti-racists to unite to turn back this tide of hatred.
"Meanwhile, thousands are lying stranded and destitute in northern France while our government fails to meet even its obligations to help them under the Dubs Amendment; the rights of EU migrants remain a bargaining tool for Theresa May, and women detained in Yarls Wood are having to go on under strike to raise awareness of their inhumane treatment."
"Saturday's march is a huge chance to show unity against hatred and division, and demand refugees and migrants are treated as human beings, not scapegoats or bargaining chips.
Weyman Bennett, Stand Up To Racism Co-Convenor said: "The plight of Albert Thomson, given a £54k bill and denied radiotherapy because he cannot provide evidence of residency in is a savage indictment of the inhumane policy of this government to migrants.
"The outrage of a preventable disaster at Grenfell, the survivors of which have still not been given housing, and the spate of black deaths in police custody mean we need a movement that demands justice and opposes racism.
"With Theresa May making plans for a Donald Trump visit later this year, this is a massive opportunity to show that his politics of bigotry is not welcome here."