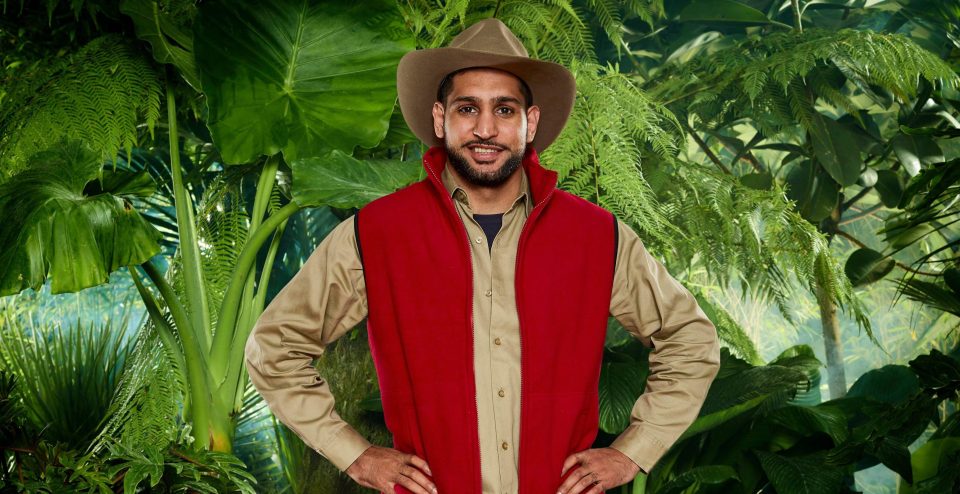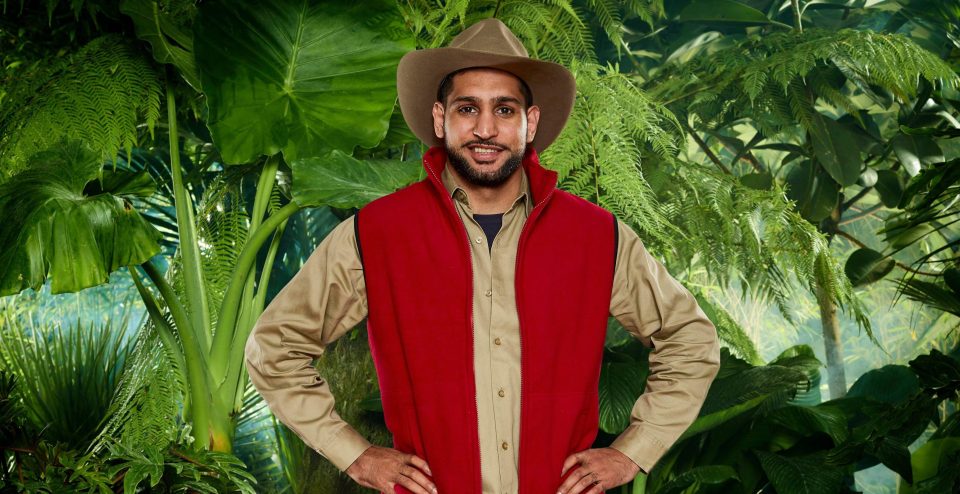 Boxer Amir Khan was voted by the public to take part in the first bush tucker trial on I'm a celebrity as he has already caused a stir to the public
Amir Khan's first night in the I'm a Celebrity jungle was an eventful one as he has already been nominated by the public to take part in a bush tucker trial as the former world boxing champion hasn't endeared himself to the public.
The former boxing star was nominated alongside Made in Chelsea star, Georgina 'Toff' Toffollo to take part in tonight's testing trial.
Khan was has already claimed that he is 'scared of everything', can be seen tonight take part in a gruelling task which is visible for all to see that Khan isn't enjoying what the task has to offer.
He is made to put his hand into a selection of different holes, with no knowledge of what was waiting for him on the other side, it is clear from the beginning that the boxer is struggling to cope.
Each hole was filled with different creatures, he was greeted with the likes of crabs and snakes, Khan had to then collect stars from the critter filled holes. It appears that Khan found this a huge struggle and it looks as if the camp might be going hungry after day one.
Amir Khan can be heard in tonight's show as the petrified star squirms:
"Ok, I'm going to put my hand in".
He then proceeded to scream relentlessly as he plunged his hand into the crab filled hole. Amir's anguish wasn't over there as he carried on to squeal:
"There's something inside it." As Khan was slow to get to grips with the premise of the bush tucker trial and he wasn't quite understanding it's concept.
If he was scared of the crabs, worse was yet to come when he was encountered by a series of snakes in the next hole.
After a brief delay which saw the frightened fighter refuse to continue claiming that he couldn't do it several times and then asking what was in the box as he was still yet to quite grasp the concept of the trial and its rules. He eventually fumbled around in the box in an attempt to find the illusive star.
Amir's attempts were unsuccessful however, as instead of pulling out the much-needed star he only managed to pull out a large snake to the excitement and joy of hosts Ant and Dec who were watching on with great satisfaction.
This led to more screams from the fearful fighter whose masculine persona that he has forged himself over the years, in serious jeopardy and it will certainly be tested during his stay in the jungle if this trial is anything to go by.
Khan has already stirred up controversy on day one of the programme as he and the shows presenters Ant and Dec were embroiled in an awkward conversation, when Khan was responding to their question asking if he was excited to be going into the jungle he replied:
"I am excited to be here, but I'll be honest I have never watched the programme."
It has been reported that the former boxing world champion is set to earn more than ten times some of his fellow camp mates as he set to earn a sizeable £250,000 for a stay which is at most going to last three weeks.
Khan's previous comments about the programme which he made on Twitter have also resurfaced since he has been confirmed as a contestant on this year's iteration of the popular programme.
In 2012 when asked if he would ever appear on the show Khan simply replied: "No it's for has beens."
Fast forward five years and you can see Khan in the Jungle alongside other personalities such as; Dennis Wise, Shappi Khorsandri and many other television and minor celebrities.