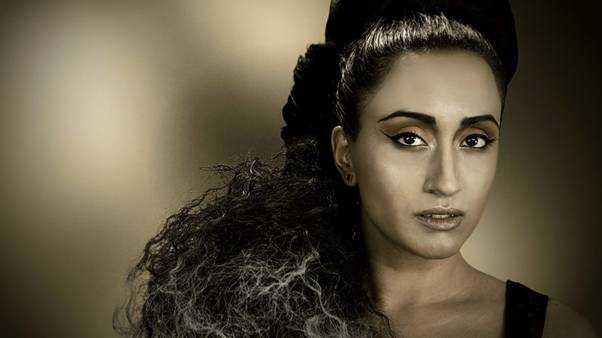 Swaati is set to take the music world by storm with her new song 'on fire'
Hailing from West London, India's Eclectic Princess, Swaati has been turning heads within the music industry with her distinctive vocals and song writing skills and is preparing for the upcoming release of her song 'On Fire' on Friday 10th November.
With a sound described as a fusion of electronic, commercial and French House, Swaati has been compared to Lykke Li, Grimes and London Grammar, with her haunting and emotive vocals.
Swaati started making music professionally in 2012 and has been since recognised for her talent by Major outlets such as; BBC Asian Network radio, Times India newspaper, BBC Radio 1 and BBC Introducing. She has performed acoustically, live in session with Yasser at BBC Asian Network and continues to be championed by the BBC for her talent and eclectic sound.
An all-round gifted musician, Swaati started playing the piano aged just 5 years old and over the years has perfected her art by achieving a degree in Music & Sound Engineering at Brunel University in London and receiving classical training in Mumbai for a year.
Now a qualified Grade 7 pianist, Swaati's multifaceted musical persona also extends to professional violin and guitar, after being classically trained during her high school years. Over the years Swaati has been widely recognised for her musical talent and has been personally selected by the Warner Music Group to be a keyboard session player.
During her time being educated in India, Swaati had the privilege of being trained by world renowned teacher Tulika Ghosh.
Reflecting on her creative process and what she hopes people take from her music, Swaati – a self-confessed "dreamer" – says "I want to enlighten and inspire people with my sound. Music is paradise for an introvert such as me. It's my primary form of communication and a way for my soul to speak out"
Inspiration for Swaati's music is taken from her day to day reality and the experiences she has had in her lifetime. She has a wonderful synergy with the rest of her production team and owes a lot of her creativity to their strong bond. On working with her fellow creatives on her upcoming project Swaati says:
"Finding the right chemistry between me and the team of producers for this project is always an initial challenge. It took years of building relationships, and trial and error, to get to a comfortable place with each other mentally, so that writing emotive and truthful songs comes naturally".
Since forming strong foundations to progress forward in her career, Swaati has continued to broaden her fan base and developing her sound. Swaati is looking ahead to the beginning of her next exciting new chapter and is excited to showcase her upcoming releases.