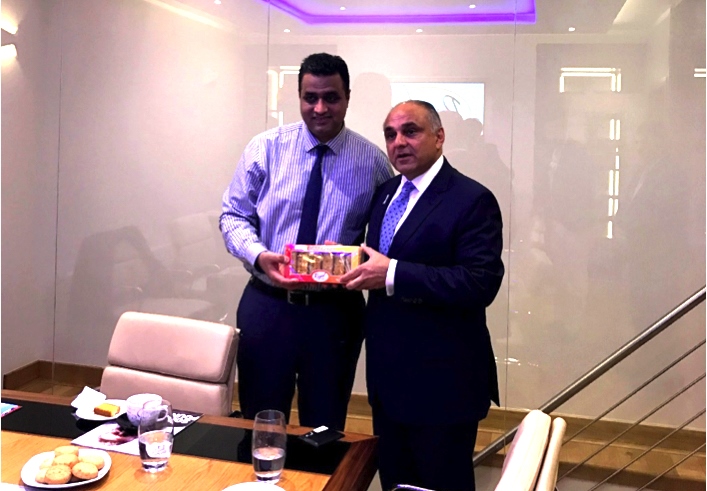 One of Yorkshire's fastest-growing businesses played host to His Excellency Syed Ibne Abbas, Pakistan High Commissioner to the UK, during his recent visit to Bradford.
CEO of Regal Food Products Plc Younis Chaudhry, welcomed the High Commissioner to the hub of the bakery. During the visit, His Excellency took in a tour of the new 44,000 square foot, state-of-the-art manufacturing facilities as well as sampling some of the mouth-watering treats, fresh off the production lines.
The High Commissioner's visit coincided with a recent accolade of the Regal brand acquiring a Top 10 place in the Grocer Magazine's 'Top Cake Products Survey', along with the Financial Times FT1000 Europe's Fastest Growing Companies in 2017.
The High Commissioner also used the opportunity to congratulate Mr. Chaudhry and his team on their achievements and encouraged them to keep the momentum going and further build the brand.
Mr. Chaudhry took the opportunity to also congratulate and thank His Excellency's Syed Ibne Abbas and Consul General Bradford, Ahmed Amjad Ali for their continual hard work and positive impact on the community.
His Excellency Syed Ibne Abbas assumed the charge of the office of the High Commissioner for Pakistan to the United Kingdom in 2014.
Prior to this, he served at the Ministry of Foreign Affairs Islamabad as the Additional Foreign Secretary. Ambassador Abbas also served as the High Commissioner for Pakistan to New Zealand from 2010 to 2013. He was the Consul General of Pakistan at Los Angeles, California from 2006 to 2010.