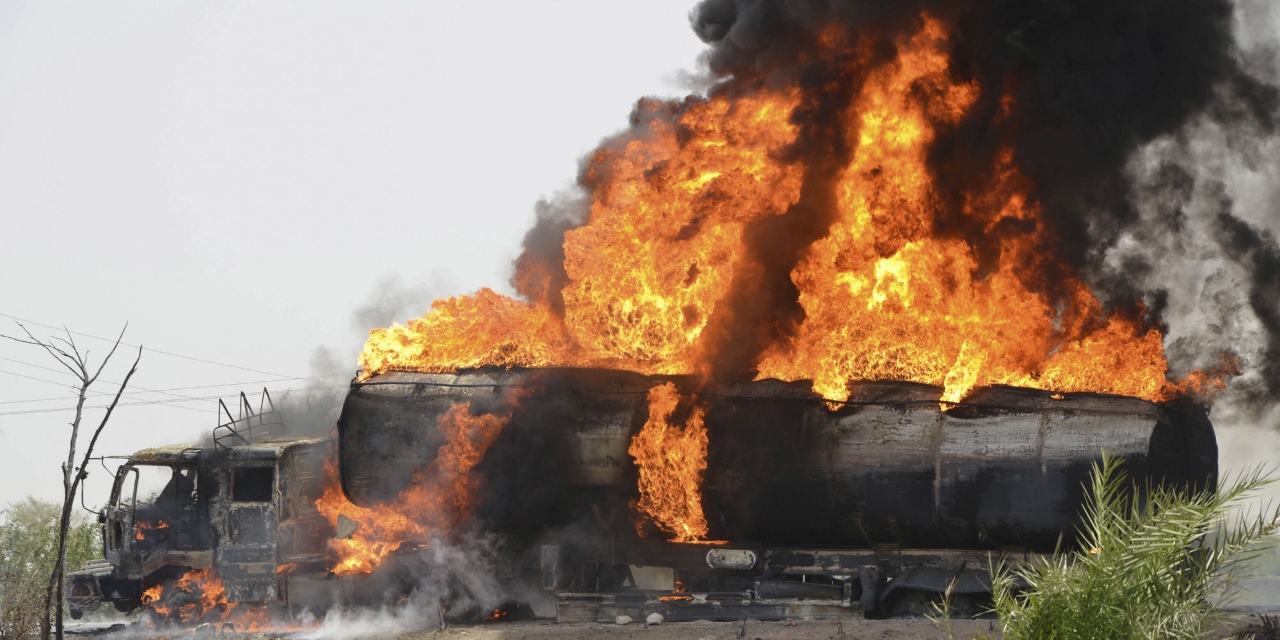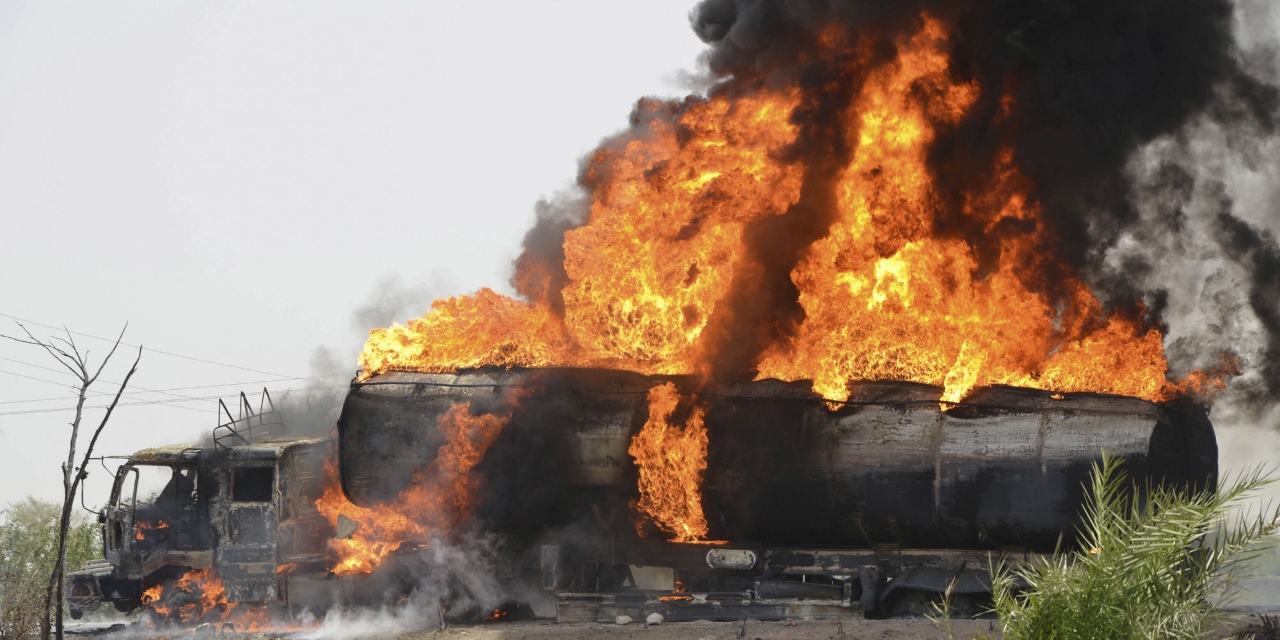 The death toll has risen to 156 after an overturned oil tanker exploded into a huge fireball in Ahmedpur in Pakistan on Sunday 25th June.
The tanker carrying 40,000 litres of fuel overturned on a main highway while travelling from Karachi to Lahore, in Punjab province. At least 100 people have also been injured.
The truck veered off the road when the driver lost control, said regional Police Chief Raja Riffat. As the tanker sat on the side of the road, fuel began leaking out in large pools.
Shortly afterwards an explosion tore the container open like a soda can, engulfing everything around the truck, including women and children, according to the government-run Associated Press of Pakistan.
Many victims died immediately, while others succumbed to their injuries at hospitals.
"When it turned over the residents of the nearby village of Ramzanpur Joya rushed to the site with buckets and other containers, and a large number of people on motorcycles also came and started collecting the spilling fuel," said Riffat.
"After about ten minutes later, the tanker exploded in a huge fireball and enveloped the people collecting petrol. It was not clear how the fire started."
Residents could be seen walking past blackened and twisted bodies piled by the roadside. Earlier, television footage showed shooting flames and a thick plume of smoke as firefighters battled to extinguish the blaze.
The charred wreckage of dozens of motorcycles and cars was scattered on the highway, along with kitchen utensils, pots, water coolers, jerrycans and buckets which victims had brought to collect the petrol.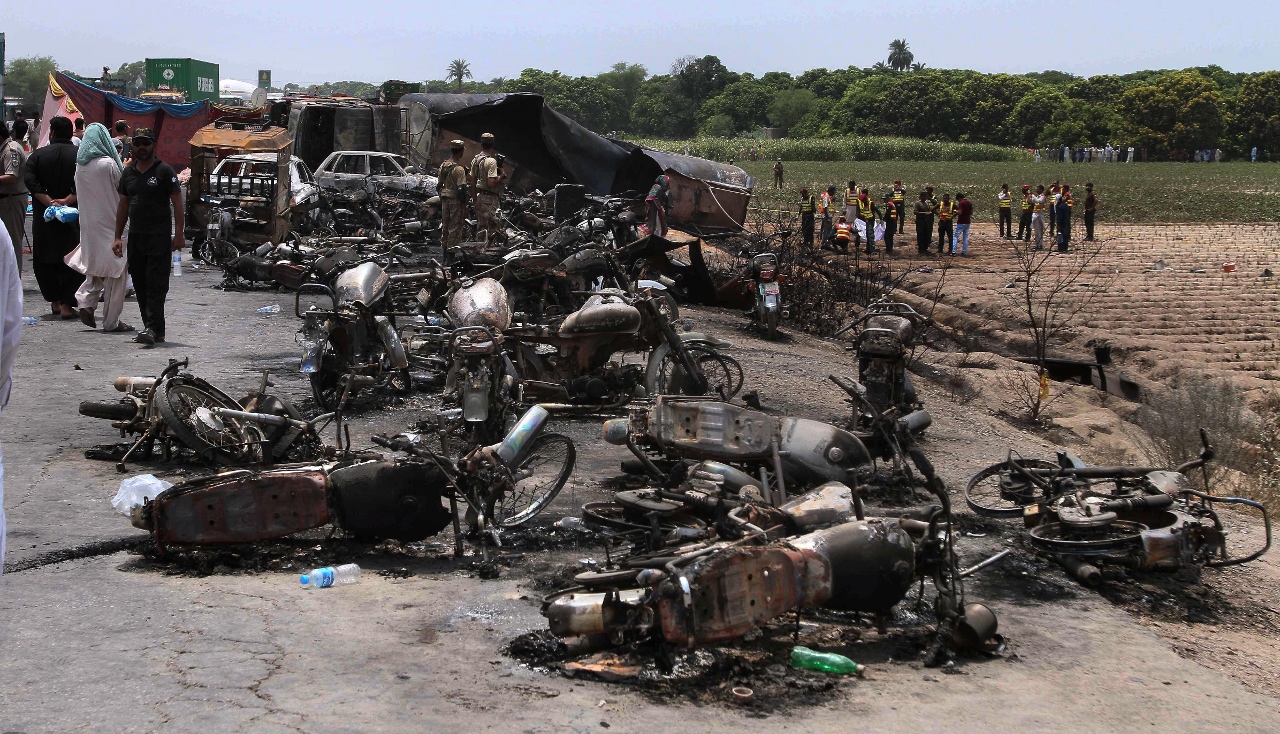 Dozens of villagers and relatives of victims looked on from nearby farmland, many of them weeping.
Villager Mohammad Shabbir, said the driver was shouting for people to stay away because the petrol could explode at any time, but no one listened.
Rafiq said he feared the death toll may rise.
"Many bodies could not be identified as they have been charred very badly," Riffat said, as provincial officials said DNA tests were being used.
Punjab law minister Rana Sanaullah told media the tanker driver had survived the crash and been taken into custody.
Army helicopters helped evacuate the wounded.
Prime Minister Nawaz Sharif expressed his grief and directed provincial officials to provide "full medical assistance".
Pakistan has an appalling record of fatal traffic accidents due to poor roads, badly maintained vehicles and reckless driving.
At least 62 people including women and children were killed in southern Pakistan in 2015 when their bus collided with an oil tanker.
The country has also long struggled to alleviate a chronic energy crisis, with regular blackouts crippling industry and exacerbating anger against the government.