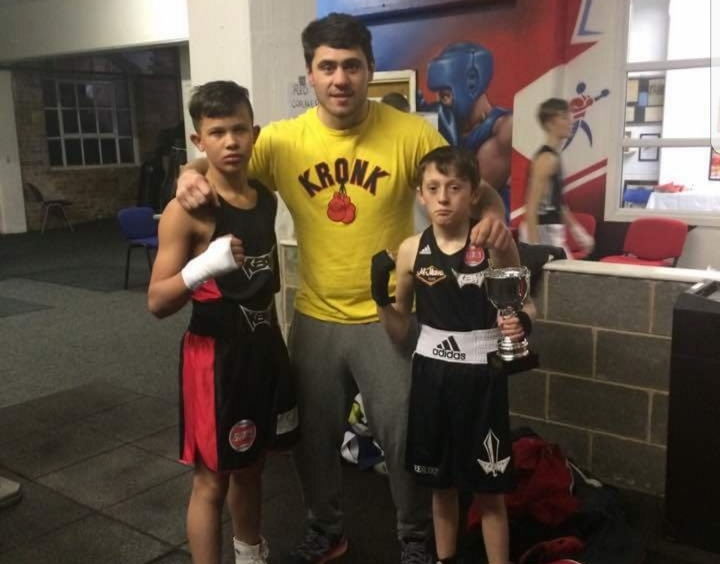 It's been a busy week for the KBW boxing team. The thriving gym based in Savellie town Dewsbury has had a number of its boxers compete over the past week, some boxing at a couple of hours notice.
First up was Lewis Benson who was up against K Scott from Hull Boxing ABC, boxing in his first full amateur bout. He impressed with his long-range boxing and excellent use of his jab not allowing his opponent to settle into the fight nor allowing him to set up his own attacks. After three rounds of boxing the judges awarded the contest to Benson by unanimous decision.
Then, a couple of days after making his impressive debut Lewis Benson was back in action alongside his team mate Dougie Price both boxing opponents from Halifax ABC.
Price was only given a couple of hours notice of his bout. Price was coming of a long injury layoff.
After a close first round with his opponent L Parkison, Price come out with his typical aggressive style to win the last two rounds taking the bout by unanimous decision.
Next up on the same show held Halifax ABC was Lewis Benson. Benson put on a clinical display of boxing, using an array of shoots he dominated his opponent C Green from Halifax ABC, taking the bout by a unanimous points decision.
On Saturday night once again was Dougie Price sharing the same fight card with him this time was team mate Karan Singh.
Singh made a cautious start against his tricky opponent K Neilson from Eastside ABC but was starting to take over the fight, finishing first round strong.
Both boxers came out for the second round with purpose but it was Singh that was gaining the upper hand, landing a barrage of punches that were unanswered by his opponent, the referee had no choice but to stop the bout.
Awarding the contest to Singh by way of second round TKO.
Having his second bout in as many days was Price boxing K Clark who was also boxing out of Eastside ABC. Price boxed to instructions behind a high guard, throwing solid combinations and the more cleaner hurtful shots winning on a unanimous points decision.
Boxing in the Yorkshire Schools Boys Class B finals was Jerry Price, the finals were held in Halifax on Sunday.
Price was up against J Bunclark from the famous Ingles Boxing gym out of Sheffield.
Just like his brother from the previous night J Price boxed beautifully producing a dominant performance using his Jab to control the pace of the bout, J Price was able to land the more telling combinations mixing both to the body and head.
He took all three rounds making him the winner by unanimous points decision.
J Price moves on to the School Boys quarter finals which will be held on Sunday 7th May in Nottingham at the Cotgrave MWC.
The Club is busy preparing it's Boxers for their 11th boxing home show.
Saif Cheema will be taking part in his final amateur boxing bout before he turns Professional.
The show titled The Next Chapter will be held at the Orchid banqueting Hall in Dewsbury on Thursday 18th May. Tickets can be purchased from the gym.