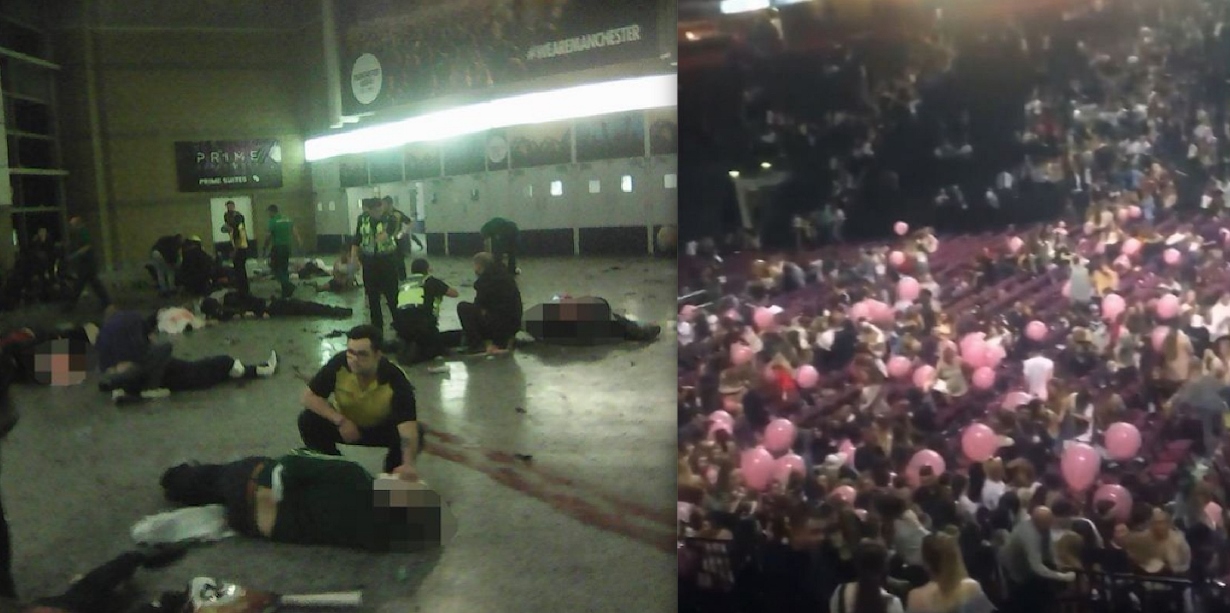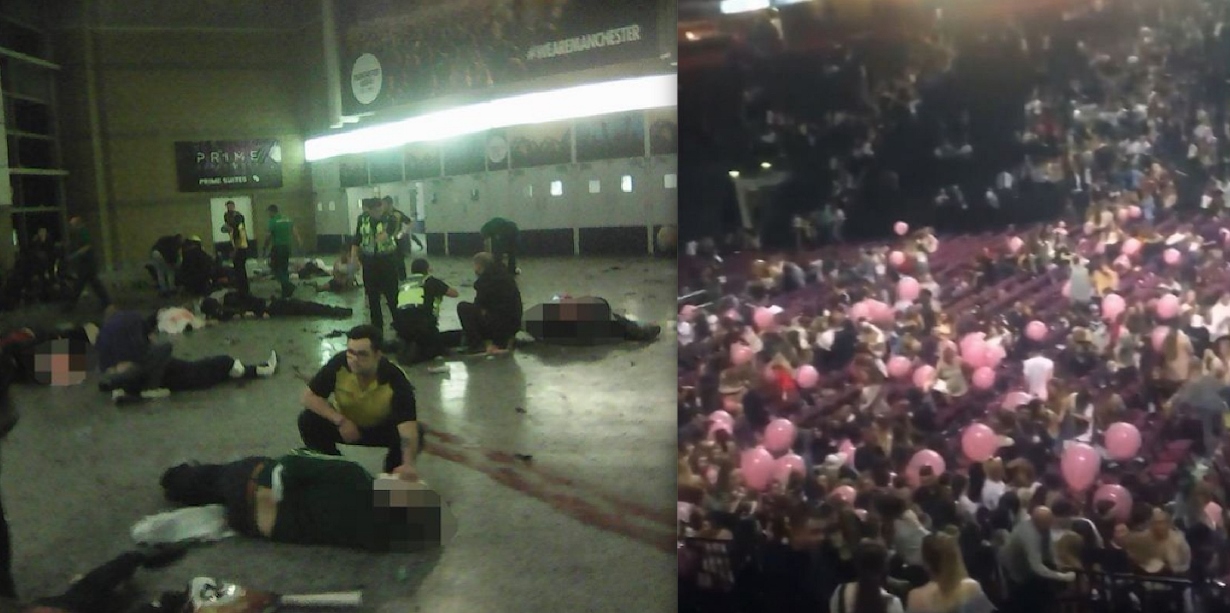 Manchester Arena Explosion
The suicide bomber has been named as 22-year-old Salman Abedi and a 23-year-old man has been arrested in connection with the horrifying bomb attack, which killed 22 people, including children, and injured 59 more at the Manchester Arena last night.
The arrest was announced this morning just moments after Prime Minister Theresa May denounced the "appalling sickening cowardice" of the lone suicide bomber who detonated a homemade device in the foyer of the Manchester Arena just as thousands of young people were leaving a concert.
Witnesses said they heard bangs inside the arena coming from the area of the bars minutes after American singer Ariana Grande was cheered off the stage on Monday 22nd May.
The blast, according to police, is believed to be the biggest terror attack on British soil since 2005. Many of the dead are believed to be children, killed as they headed to meet their parents in the foyer area near the box office.
Questions have arisen about how the attacker could have entered the building with an explosive device, given that bags were being searched on the way into the venue.
The attacker struck at the arena's most fragile point: its exit. Officers believe the suicide bombing was conducted by one man who died at the scene, although they are working to establish if he "was acting alone or as part of a network".
Isis has claimed responsibility for the terror attack and the claim came via the terror group's central media arm.
At this moment in time, there is nothing suggesting that Isis directed the attack and experts have warned that jihadists often make this claim to show support and share propaganda messages and images.
Declaring that police and security services would be given whatever resources were needed to track down any accomplices of the attacker, Mrs May vowed: "The terrorists will never win and our values, our country and our way of life will always prevail."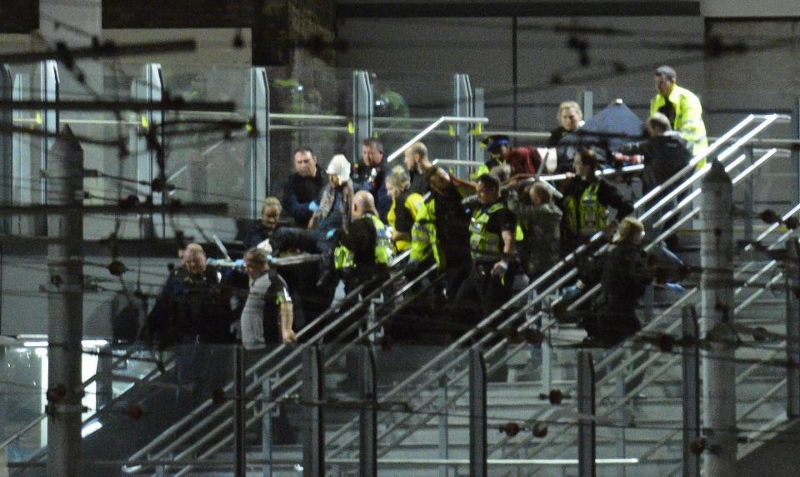 Greater Manchester Police said in a statement: "With regards to the ongoing investigation into last night's horrific attack at the Manchester Arena, we can confirm we have arrested a 23-year-old man in South Manchester."
It's been revealed that that police and security services believed they knew the identify of the bomber, who died alongside his victims.
Devastated locals have opened up their homes and given help to concert-goers affected using the hashtag #RoomForManchester. There are also reports that a hotel near the venue has taken in dozens of children to keep them safe.
Taxi drivers have been offering people free rides home, and volunteers are already arranging to give blood at donor banks later today to help those injured.
The city's mayor, former Labour MP Andy Burnham, tweeted: "If you are stranded in the area you can… follow #RoomForManchester where hotels and local people of our great city are offering refuge."
---
Anyone with concerns over loved ones can contact 0161 856 9400 or 0161 856 9900 for assistance.
Any footage from the scene can be uploaded at ukpoliceimageappeal.co.uk or ukpoliceimageappeal.com. The anti-terrorist hotline is 0800 789321. Anyone with urgent concerns should contact 999.
---
…so far
At least 22 people killed and 59 injured

Suicide bomber Salman Abedi had IED around his waist

Police say male, lone attacker is responsible

A 23-year-old man has been arrested

Theresa May says many children among those killed

'Evil losers': Donald Trump responds to attack

Katie Hopkins reported to police for hate speech tweet

All parties suspend election campaigning

Ariana Grande tweets: 'From the bottom of my heart, I am so, so sorry.'

Video shows moment concert-goers flee in terror

Eyewitnesses: 'People were lying on the ground covered in blood'

People in Manchester open their homes to victims

An emergency number is available for those who are concerned about loved ones or anyone who may have been in the area: 0161 856 9400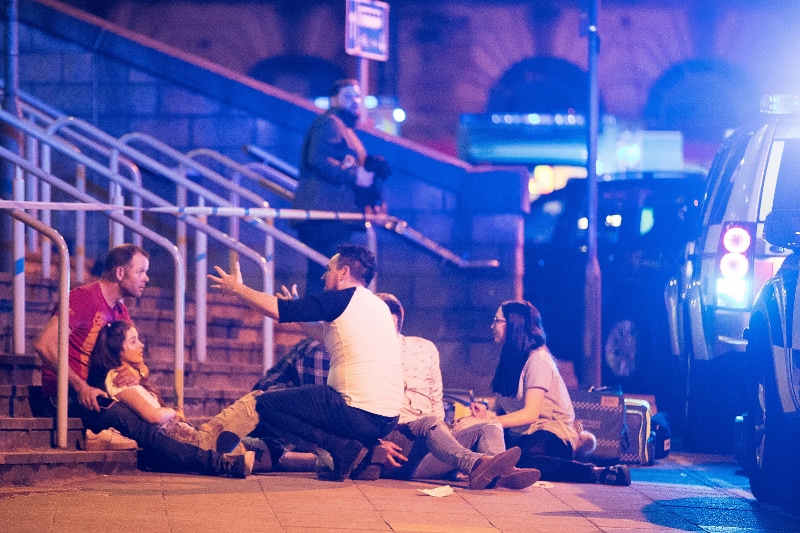 How events unfolded on Monday 22nd May:
Monday, 6pm: Doors open at Manchester Arena in the north of the city centre for US pop singer Ariana Grande performance in a sell-out concert at the 21,000-capacity venue.
7.30pm: Ariana Grand's show begins after a performance from support act BIA, an American rapper.
10.30pm: Show's scheduled finish. Thousands of fans begin to file out of the arena's four exits.
A "huge bomb-like bang" is heard at the arena. Witnesses describe being knocked from their feet by an explosion and seeing dozens of injured, possibly dead, people including children lying on the floor. Others describe panic as concert-goers run for exits.
10.35pm: Greater Manchester Police (GMP) called to reports of an explosion at Manchester Arena. Dozens of emergency services vehicles stream into the area.
10.55pm: Police urge people to stay away from the area as responders deal with a "serious incident".
11.46pm: Police say there have been a number of confirmed fatalities.
Tuesday, 1.10am: Nineteen people are confirmed dead and around 50 others injured following the suspected explosion police say is being treated as a terrorist incident.
1.35am: A controlled explosion is carried out on a suspicious item in the Cathedral Gardens area near Manchester Arena. It is later confirmed to be abandoned clothing.
2.15am Prime Minister Theresa May says her thoughts are with the victims and families of those affected in "what is being treated by the police as an appalling terrorist attack".
3.04am Chief Constable Ian Hopkins, Greater Manchester Police, says: "My thoughts are very much with those who have been injured and lost their lives. We are currently treating this as a terrorist incident until we have further information. This is clearly a very concerning time for everyone. I want to thank people for their support and ask them to remain vigilant."
4am Campaigning has been suspended in Britain's national election after a deadly explosion at Manchester Arena.
7am Greater Manchester Police confirm death toll has risen to 22, and that the attack was carried out by a suicide bomber.
9am An emergency meeting of Cobra is convened.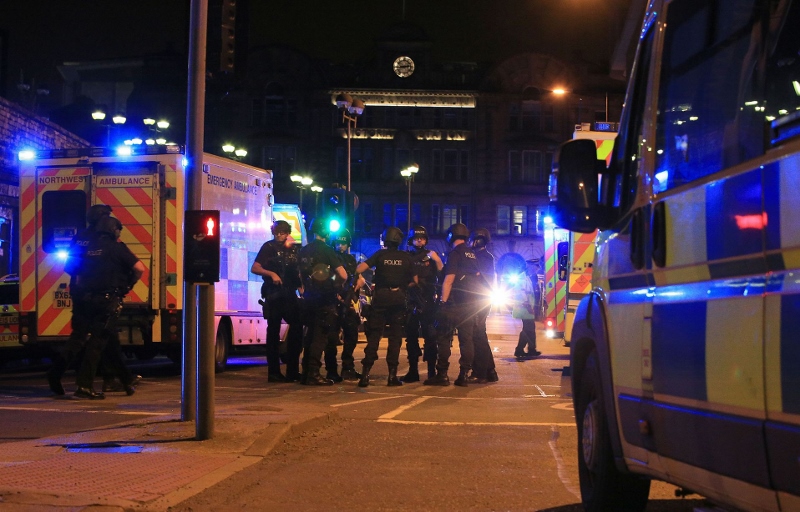 http://test.test/2017/05/manchester-update-people-being-urged-to-avoid-city-centre/