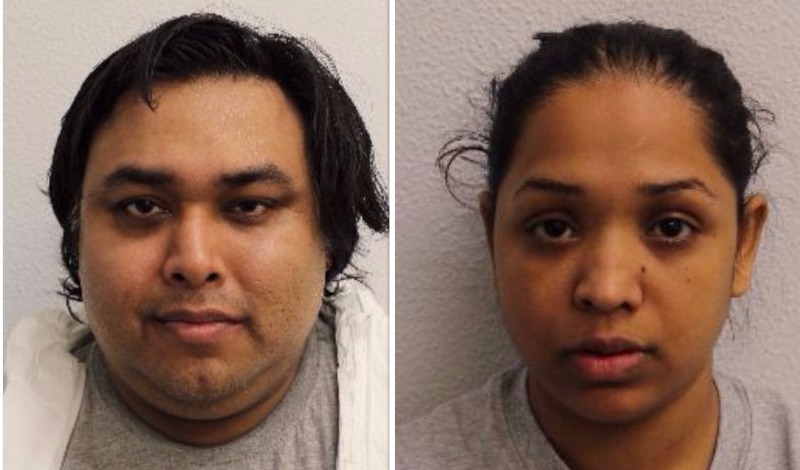 The three-month-old baby had 38 separate rib fractures, bruising to his head, shoulder, back and burns to his left leg, injuries to his limbs, eyes and neck
Pathologist described the injuries as "similar to those usually seen in a car crash or a fall from a great height."
A mother and father have been jailed for their involvement in the death of their baby son.
Rifat Mohammed was only three-months-old when he died, but he had suffered multiple injuries during his life
His father Mohammed Miah, 38 was sentenced at the Old Bailey to life imprisonment, to serve a minimum of 18 years, for murder and seven years' imprisonment for allowing injury to a child – to run concurrently.
The baby's mother, Rebeka Nazmin, 32 was sentenced to six years' imprisonment for allowing the death of a child and three years' imprisonment for allowing injury to a child – to run concurrently.
They were both found guilty at the Old Bailey on Tuesday, 28th March.
Nazmin was found not guilty of murder.
The court heard how on Monday, 4 July 2016 at 08:30hrs the London Ambulance Service received a call to the family home in St Leonard's Road, Poplar.
Nazmin called 999 stating that her baby was unresponsive and not breathing. She gave an explanation that the baby had vomited the day before and had been poorly since.
When paramedics arrived she directed them towards a bedroom, where they discovered Rifat apparently lifeless on the floor.
Paramedics gave immediate first aid and the baby was rushed to hospital. The paramedics, and other medical staff, recorded seeing signs of burning and bruising on Rifat's body.
Suspicious of the injuries, the medical staff alerted police.
That same day, Nazmin was arrested at the hospital, where she had gone with baby Rifat, and officers went to the family home and arrested Miah.
Both parents were arrested on suspicion of inflicting grievous bodily harm (GBH).
Both were taken to a police station and subsequently charged with committing GBH with intent and three counts of child cruelty.
They were kept in custody to appear at Thames Magistrates' Court on the morning of Tuesday, 5 July. The next day, Wednesday, 6 July, Rifat died.
A post mortem examination found Rifat had suffered a head injury, which had starved his brain of oxygen.
It also showed he had 38 separate rib fractures – some still in the process of healing, bruising to his head, shoulder, back and burns to his left leg.
He also had injuries to his limbs, eyes and neck. The pathologist described the injuries as similar to those usually seen in a car crash or a fall from a great height.
The investigation was taken over by officers from the Homicide and Major Crime Command and both parents were subsequently charged with their child's murder and allowing the death of a child.
When interviewed Miah placed the blame elsewhere and said the burn to the baby's leg may have come from a radiator.
Nazmin blamed her husband, saying he was rough with Rifat. She could not account for the multiple injuries the baby had suffered.
However they were both convicted as above following the trial.
Detective Inspector Ken Hughes of Homicide and Major Crime Command said: "We may never know why a mother and father inflicted such terrible injuries on their own small baby. Even if we had that knowledge, I am not sure we could ever understand.
"This baby should have been protected and loved; instead he lived with hurt, indifference and brutality. I am glad that these two have been called to account for their actions and now face the consequences of their cruelty.
"While nothing can mitigate the consequences of this dreadful crime, I would ask any parents struggling to manage to understand that seeking help is nothing to be ashamed of. Early intervention can help a family cope and organisations and charities, such as the NSPCC, will offer both advice and support."