Hollywood Movies: Main Releases
---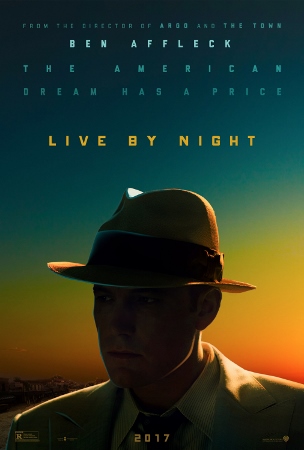 Live by Night
Cast: Ben Affleck, Sienna Miller, Zoe Saldana, Elle Fanning Ben Affleck, Sienna Miller, Zoe Saldana, Elle Fanning
Director: Ben Affleck
Cert: 15
Release date: 13/01/2017
Ben Affleck returns to the director's chair with this stylish and violent period thriller.
It's Prohibition-era America. Joe Coughlin (Ben Affleck) is a family man, World War I veteran and son of the Boston Police deputy superintendent. He's also a gangster, albeit one with a strict moral code.
When he expands his operation from the frigid climes of Boston to the sultry Florida heat of Tampa, Joe is soon forced into extreme measures into order to ensure his own survival and that of his loved ones.
Working from the gritty novel by Dennis Lehane, it promises to blast away the winter cobwebs with a good-looking blend of historical authenticity and a starry cast also including Brendan Gleeson (Calvary), Zoe Saldana (Guardians of the Galaxy) and Elle Fanning (The Neon Demon).
---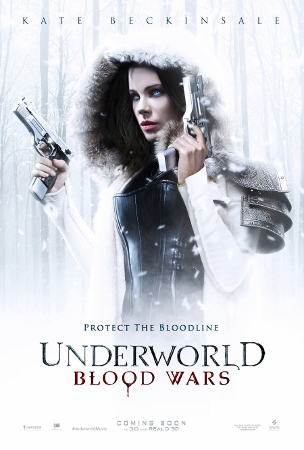 Underworld: Blood Wars
Cast: Kate Beckinsale, Theo James, Tobias Menzies, Trent Garrett, Lara Pulver, Peter Andersson, Clementine Nicholson, Bradley James, Charles Dance
Director: Anna Foerster
Cert: 15
Release date: 13/01/2017
Kate Beckinsale is back in black.
In the latest Underworld movie, vampire death dealer Selene (Kate Beckinsale) continues her struggle against the Lycan clan and the vampire faction that betrayed her, with both sides trying to use the blood of her and her daughter to become Vampire-Corvinus hybrids.
With her only allies, David (Theo James) and his father Thomas (Charles Dance), she must stop the eternal war between Lycans and Vampires, even if it means she has to make the ultimate sacrifice.
Kate Beckinsale returns to kick more vampire ass in this fifth film in the action-packed Underworld series.
---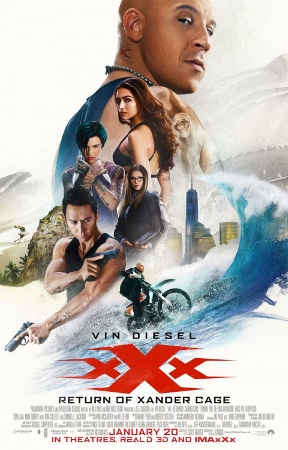 xXx 3: Return of Xander Cage
Cast: Vin Diesel, Deepika Padukone, Ruby Rose, Donnie Yen, Nina Dobrev, Samuel L. Jackson, Toni Collette
Director: D.J. Caruso
Cert: 12A
20/01/2017
Vin Diesel's extreme sportsman and reluctant spy explodes back onto the screen for his most spectacular mission.
Xander 'xXx' Cage (Vin Diesel) has been living in self-exposed exile ever since he was blackmailed into taking on an anti-terrorism role for the NSA.
But now his handler, Agent Augustus Eugene Gibbons (Samuel L. Jackson), has tracked him down to counter a new threat to global security. Deadly alpha warrior Xiang (Donnie Yen) and his henchmen have seized a device that controls every military satellite in the world. Reluctant Cage agrees to take them on - but only if he can recruit his own thrill-seeking crew.
Vin Diesel returns to the action role he made his own back in 2002 for this relentless action adventure, packed with breathtaking stunts. His danger-loving team includes Ruby Rose of 'Orange is the New Black' fame, while 'IP Man' star and highly skilled martial artist Donnie Yen makes a truly formidable foe.
---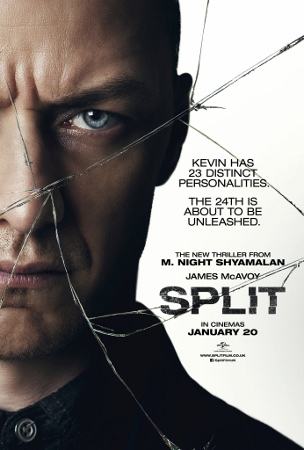 Split
Cast: James McAvoy, Anya Taylor-Joy, Jessica Sula, Haley Lu Richardson, Betty Buckley
Director: M. Night Shyamalan
Cert: 15
Release date: 20/01/2017
James McAvoy excels as a crazed kidnapper with multiple personalities is this nerve-shredding horror-thriller
Schoolgirls Claire (Haley Lu Richardson), Marcia (Jessica Sula) and Casey (Anya Taylor-Joy) are kidnapped by a stalker named Kevin (James McAvoy).
They awake to find themselves locked in an underground cell at the mercy of their sinister captor.
During visits to his shrink (Betty Buckley), it becomes clear that Kevin is no ordinary sociopath but suffers from dissociative identity disorder. This manifests itself in the form of 23 distinct personalities, from a mischievous nine-year-old boy to a flamboyant fashion designer.
But there's also a 24th personality battling for control. Ominously, he refers to this as 'the beast'!
Hailed by critics as his best film since the legendary 'The Sixth Sense', M Night Shyamalan's edge-of-seat psychological horror delivers plenty of those trademark jaw-dropping twists. James McAvoy is also on magnificently terrifying form as he shifts between personalities.
---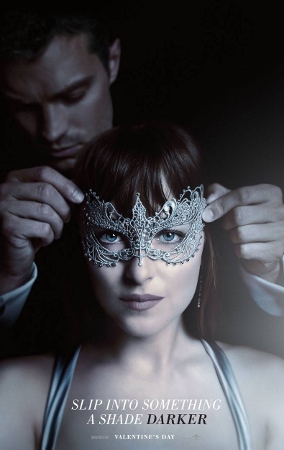 Fifty Shades Darker
Cast: Dakota Johnson, Jamie Dornan, Kim Basinger, Eloise Mumford, Luke Grimes, Bella Heathcote
Director: James Foley
Cert: 18
Release date: 10/02/2017
Ana Steele and Christian Grey continue their steamy relationship in this eagerly awaited follow-up to the 2015 erotic smash.
At the end of blockbusting E.L. James adaptation Fifty Shades of Grey, it seemed as if the relationship between naďve Anastasia (Dakota Johnson) and mysterious, kinky billionaire Christian (Jamie Dornan) was over.
However, the two are drawn back towards each other – but not like before. The more assertive Ana is now setting the terms of their relationship whilst Christian has some dark secrets of his own, which manifest in the form of a dangerous old flame and the influence of one Elena Lincoln (Kim Basinger). Can they make it last?
Adapted from E.L. James' sexy, barnstorming bestseller, Fifty Shades of Grey was one of the biggest hits of 2015. With its two attractive stars back for more, expectations are high for Fifty Shades Darker to exceed its predecessor.
---
The Lego Batman Movie
Cast: Will Arnett, Zach Galifianakis, Michael Cera, Rosario Dawson, Ralph Fiennes
Director: Chris McKay
Cert: U
Release date: 10/02/2017
Lego Batman must learn to be a team player to defeat The Joker in this brilliantly funny Lego Movie spin-off.
Self-regarding, gravel-voiced Bruce Wayne (Will Arnett) - aka Batman - remains the toast of Gotham City. But each night, he returns to the Batcave alone. His faithful manservant Alfred (Ralph Fiennes) suggests that this illustrious master builder and crime-fighter's greatest fear is of being part of a family once more.
The solution is to raise the orphan he adopted, Dick Grayson (Michael Cera), to become his superhero sidekick Robin. But the over-excited boy wonder proves quite a handful.
Meanwhile, police commissioner Barbara Gordon (Rosario Dawson) wants Batman to join her law enforcement team just as highly-strung, self-styled greatest foe The Joker (Zach Galifianakis) rears his cackling head.
Will Arnett reprises his wonderful voice performance from the hit 'Lego Movie' for this witty animated comedy that places Batman centre stage - where he feels he belongs!