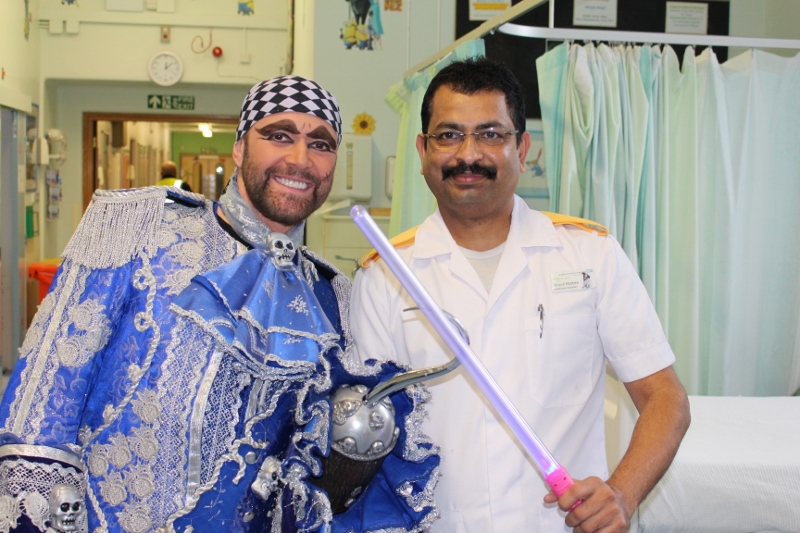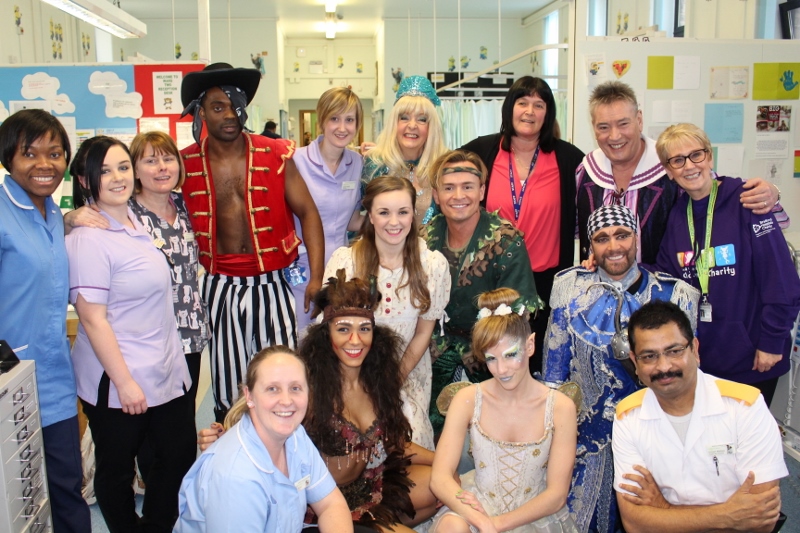 Shiver me timbers. There was a lot of fun and frolics when the stars of Peter Pan took time out from their busy schedule to sprinkle a liberal dusting of magic and pixie dust when they visited poorly children in hospital– oh yes they did!
The VIP visitors certainly brought smiles and laughter to both the children and staff of Bradford Royal Infirmary's Ward 2, as they toured the ward, handing out gifts, chatting and posing for dozens of photographs and 'selfies.'
Comedian Billy Pearce (Smee) and actor and singer Darren Day (the dastardly Captain Hook) 'flew over' from Neverland bringing with them other cast members, S Club 7's Jon Lee, playing the part of Peter Pan, Emmerdale's Charlie Hardwick (Magical Mermaid), Lucy Evans (Tinker Bell), Marina Lawrence-Mahrra (Tiger Lily), Rosie O'Hare (Wendy) and Bradford's very own new talent, actor Leon Clarke, who plays one of the show's pirates.
All of them arrived on the ward in full, colourful costume, where they instantly cheered our young patients – and staff.
Billy said: "It's become a tradition for the cast to visit BRI and it's a real pleasure for us to do so. The staff make us so welcome and when we see the smiles on the children's faces, it makes it all worthwhile.

"I can't praise the NHS and all it stands for highly enough; I owe my life to the NHS after a very bad motor bike crash a couple of years ago. The staff here in Bradford do a fantastic job and we love coming to visit the children."

Darren added: "We've had a fabulous time. It's been magical. When I walk onto a ward like this, it brings it home to me of marvellous the NHS is. I had a recent scare with my 10-year-daughter when we thought she had meningitis.

"Fortunately it turned out not to be the case but it just confirms my belief that staff in the NHS are so dedicated and hard-working. I'm glad we could bring a little panto magic to Bradford today."
The stars made an impression on 10-year-old patient Sonny Shanbhag, who has been on ward 2 for two weeks and faces around another four weeks in our care. Sonny said: "It's made my day seeing them all. I was so excited when I heard they were coming. I love drawing and I'm going to draw them all now. I loved meeting Leon because he let me try on his pirate hat!"
Mum, Kim added: "It's been a perfect treat for him. It's lovely that these visits can be arranged. The staff of ward 2 are wonderful in the way they are caring for Sonny and this was the icing on the cake."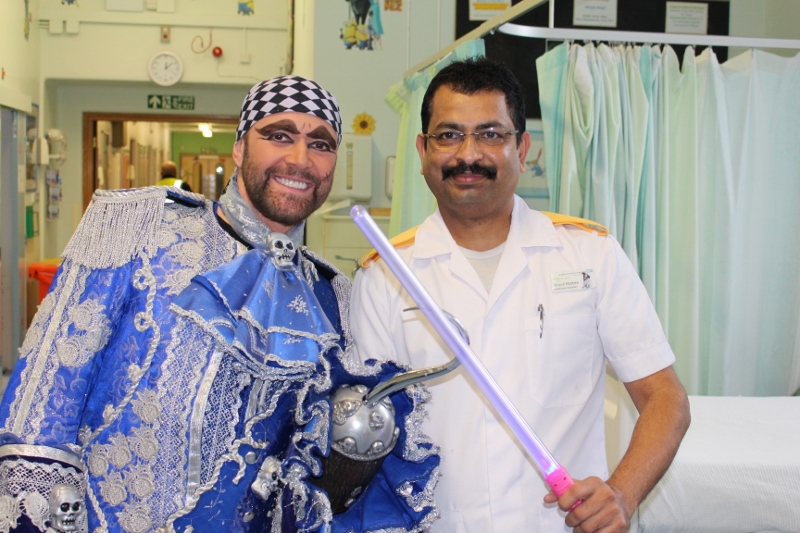 The visit was arranged by Charity Fundraiser Hayley Collis of Bradford Hospitals Children's Charity and her team for organising the visit.
Hayley said: "Bringing a little fun and laughter to poorly children in hospital is magical and we are incredibly grateful to Billy Pearce, Charlie Hardwick, Jon Lee and Darren Day and the cast of helping to bring a little of their panto magic to ward 2.

"The staff always look forward to what has become Billy and the cast's traditional annual visit, and it's heart-warming to see the smiles and giggles on the children's faces. Bradford Hospitals Children's Charity helps to make things better for the poorly children and babies in hospital – from organising and supporting celebrity visits like this one and specialist entertainment sessions too."