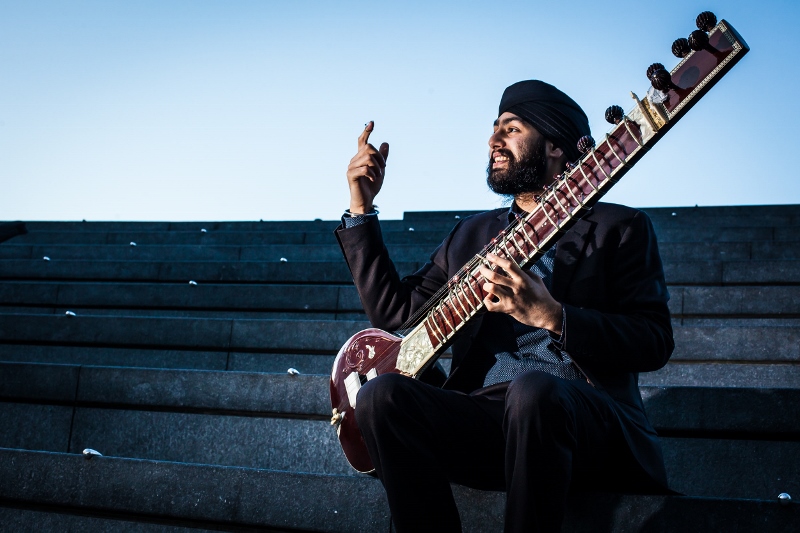 Jasdeep Singh Degun has always had a passion for classical Indian music.
Since the age of just seven, the distinct noises of the sitar, mandolin and tabla have filled his family home, shaping his life and leading him to discover a talent for playing the time-honoured instruments.
Today, as a 24-year-old full time sitarist with the South Asian Musical Youth Orchestra, he has seen and done more than most in his field, even performing at Buckingham Palace just five years ago.
With the hope of launching a debut album in the near future, Jasdeep, from Moortown in Leeds, has now been given an extra incentive to make those dreams a reality – to the 'tune' of a melodic £30,000.
The Sky Academy Arts Scholarships offers five emerging creative professionals and artists £30,000 each to develop their craft, as well as offering career mentoring from industry professionals in areas like marketing and budgeting.
Jasdeep says he was delighted to receive the news, even if it did come as a surprise.
"I didn't expect to be successful as it was tough to get my application in before I travelled to India for five months," he said.

"I saw some of the other projects that had been shortlisted and they seemed really interesting. The competition was stiff.  

"I couldn't believe it when I got the call to say I'd won a Sky Academy Arts Scholarship, it's still sinking in."
Having grown up in the UK, Jasdeep has been exposed to many styles of music in his life, collaborating with British talent in his musical career.
He is determined to bring the sitar to new audiences and share his talents with the western world.
"I'll be using the funding and the mentoring that comes along with it to put together an album of my own music, incorporating all the styles I've been influenced by over the years," he said.

"I'm keen to avoid the usual assumptions about Indian classical music, and I'll be working exclusively with British musicians, engineers and producers to find a sound that reflects me as a British born musician."

He added: "I really want to bring sitar to new audiences. I'm a strong supporter of British Asian talent, especially in the classical sector.

"There's a lot of talent here and I think a lot of people assume all Indian classical musicians come from India, but there's lots of great musicians who are influenced just as much by their life in Britain as they are by classical music." 
The Sky Academy Arts Scholarships support emerging artistic talent between the ages of 18 and 30 to take their creative careers to the next level.
Four artists living in the UK and one artist living in Ireland each receive funding and high level mentoring from Sky and the arts industry.