London Marathon Conquered
A Huddersfield solicitor swapped the board room for the open road last weekend as he joined 39,000 fellow runners for the one of the world's biggest races.
The 2016 London Marathon saw runners and fundraisers from around the world pound the pavement, with millions of pounds raised for charity.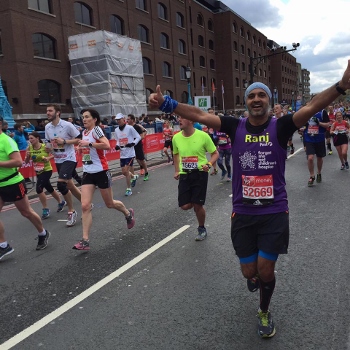 Amongst the bustling crowds of athletes on the day was Huddersfield's own Ranjit Uppal, who was facing the 26.2 mile challenge in aid of the local Forget Me Not Children's Hospice.
The 42-year-old, who has run the York Marathon in the past, completed the race in a personal best time of three hours, 45 minutes, raising over £4,000 in the process.
Running alongside colleague, Sarah Cookson, of Switalskis Solicitors, he said it was both a mentally and physically challenging experience.
"It was an amazing day and an amazing experience from start to finish," he said.
"Other than a bit of hail around mile six, the weather was perfect for running and the crowds were fantastic.
"To have people cheering your name all the way really gives you a lift. It's hard to explain but it just pushes you that little bit further, especially in the last five, six miles where it is the most mentally challenging."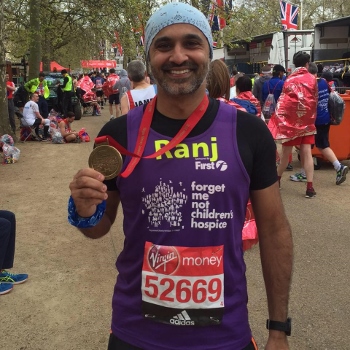 Training extensively over recent months, Ranjit has faced all conditions and even had to overcome a minor car crash during his preparations.
Ultimately though, the determined fundraiser would not let anything stand in his way of completing the London Marathon.
"The training is really hard because you are out running in the dark, in all weather to ready yourself for the race," he said. "But at the end of the day, it is just training and nothing compares to the marathon itself.
"I have done the York race twice before but this was a whole new experience. You really have to push yourself through it, and I was delighted to have been able to break my personal record in the capital too."
He added: "I just want to thank Forget Me Not Children's Hospice, for giving me a place in the Marathon, as well as Stainland Lions Running Club and my family for their support over the last few months."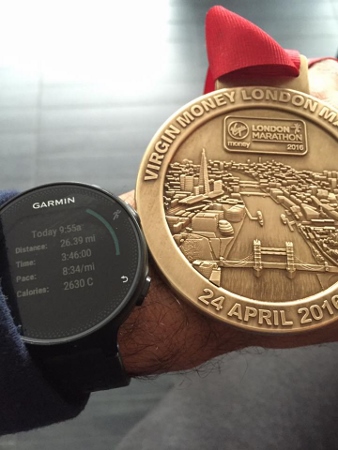 Forget Me Not Children's Hospice supports over 185 children and their families, across West Yorkshire. 
Emma Kovaleski, Corporate Fundraiser at the charity, explained how important fundraisers were to ensuring that this crucial support can continue all year round.
"From everyone at Forget Me Not Children's Hospice we would like to say a big thank you to Ranjit for running on behalf of our charity and raising such an amazing amount," she said.
"It costs £3.8 million each year to run our charity and with just six per cent of this coming from government sources, the support of our local community is vital in enabling us to continue supporting children with life shortening conditions and their families in West Yorkshire."
You can still sponsor Ranjit via his Just Giving page at: uk.virginmoneygiving.com/switalskis-solicitors