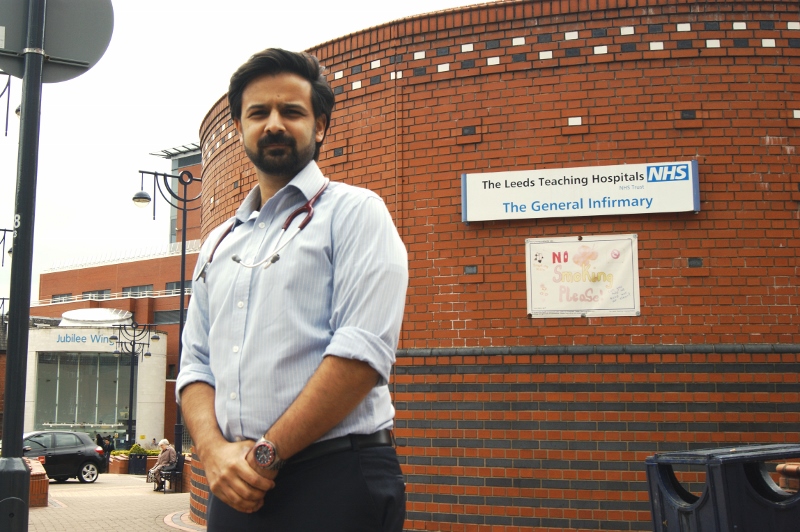 999's answer to 007
After last week's demonstrations in Leeds against NHS reforms, one of the biggest protests the city has seen in years, thousands of people took to the streets.
We caught up with a Leeds doctor to see what his thoughts were on the state of the NHS; discover how he deals with the trauma of patients who never make a full recovery and hear about the story of a little boy who left a big impression.
As a child, Faraaz Bhatti, aged 30, wanted to be James Bond. After "working solidly at school" he is now a doctor in a busy Emergency department – which is about as high-adrenalin as a job gets: shifts often leave him like both of the verbs in James Bond's martini order – 'shaken and stirred'.
Dr Bhatti admits that he was drawn into the world of medicine after watching BBC hit show Casualty and is now fully committed to a lifetime of scrubs and rubber gloves.
He says he now has high hopes that the NHS will "weather the storm it is currently raging".
Dr Bhatti explains: "We see politicians play politics with the NHS far too often and it casts a shadow on a service that otherwise does so much for everyone, no matter who they are and regardless of their financial circumstances.
"It is something that we should be proud of, and although we are seeing dramatic changes such as hospital closures, contract revisions – the NHS will live on. I would hope to see a stronger NHS in ten years from now – but in order to achieve that I think we all have a responsibility, including the public, to help our politicians understand that the NHS is not a political bargaining tool."
For Dr Bhatti, working as an Emergency Medicine Registrar, often means his shift pattern varies.
"I may be working days, evenings, nights or weekends and – believe it or not – my rota does stretch over seven days a week," he continues.

"The minute I enter work, I pick up my first patient and patients continually book into the Emergency Department throughout the day. Somewhere half way through the day, I'll take a short break and then carry on.

"After all, Emergency Medicine is a team effort, and everyone has to pull their weight and more in order to keep the department running as smoothly as it does."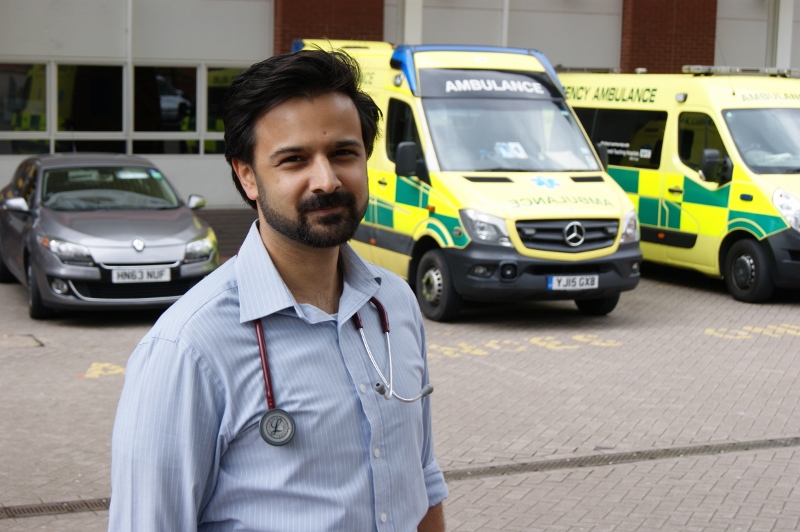 Every doctor has a patient that lingers in the memory, and Dr Bhatti is no different.
He recalls: "A number of years ago, I was diagnosing a young child – he was about four years old. He had come to see me with his mum…A very quiet kid.
"After the consultation, as he was walking towards the door, he turned around, ran across the room and gave me a big hug. His mum said that she had never seen him do that with anyone before."
Dr Bhatti continued: "I think that moment highlights what being a doctor is all about. It is less about saving lives – although, we do that; but more about making a difference. I did very little for that child, and whilst he may not remember what he did in a few year's time, it is a moment that will stick in my mind for the rest of my career."
As a doctor on the Emergency Department, Dr Bhatti encounters sick patients every day.
He has had to develop "coping mechanisms" to deal with what he sees.
"Some of them get better, and some don't," Dr Bhatti adds quietly.
Dr Bhatti realises he is in a privileged position – being at the side of patients in their hour of need –and understands that his job comes with a "professional responsibility" to give the best care to those in his care.
"I think that we need to have an element of distance from an emotional aspect in order to deliver that care" he says. "I believe that a doctor-patient relationship is very different from what it used to be many years ago. However, it is when patients need us the most that we need to remain objective.

"It is possible to not get emotionally involved. That is not to say that at the end of a hard shift, some of the day doesn't go home with us. After all, doctors are human."
So what advice does Dr Bhatti have for people who have a keen desire to be a doctor themselves?
"If you have a dream, stick with it. Believe in yourself and work hard to make it happen. It is not easy becoming a doctor and it is much more difficult working as one if it is not something that you want to really do."

He adds: "The commitment is life-long and the journey is tough but by the end, you have a sense of achievement that very few careers could give you. The bottom line is that if you want something, whether it is medicine or otherwise, you can work hard to achieve it. Just be prepared to put in some hard graft, and the rest will fall into place."