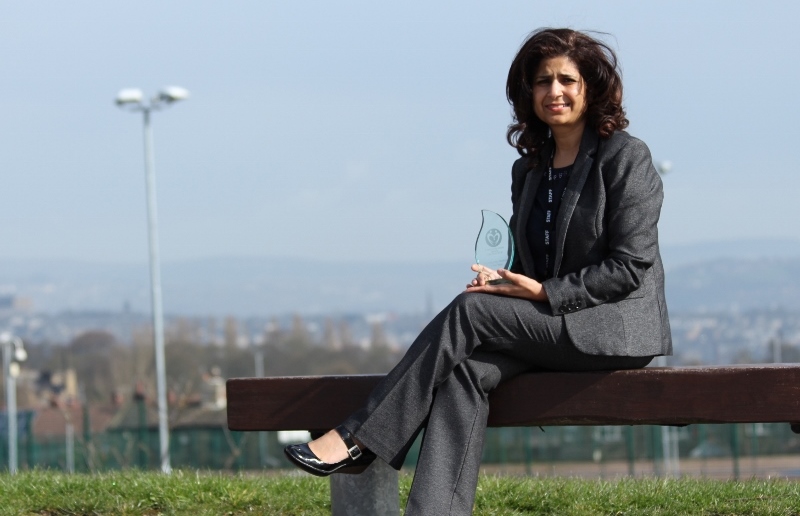 Well deserved award for humble community hero
A respected Community Development Manager from Bradford was honoured at an award ceremony recently after winning Community Worker of the Year in recognition of her ongoing commitment to her job.  
Nazmin Din has worked at Grange Technology College in Little Horton, Bradford, for more than 26 years, during which she has supported thousands of children and families across the city.
Her job involves looking at the welfare of families at the school which has around 220 pupils; supporting them whether at school or in home.
As a Community Development Manager, she makes sure they engage with the school and any other multi agencies that they may need support with.
She said: "It's all about connecting families with the big wide world."
On Wednesday 23rd March, Nazmin was joined by colleagues at the Exceed Community Hearts Awards event where the results were announced.  
Upon receiving the award, the community champion said: "I am delighted and humbled by this award and I would like to thank my colleagues at Southfield Grange for their support.  
"Without them it would not be possible to do this work and I feel really lucky to be part of such a great team."
Grange Technology College Headteacher, Nick Bell says the award was justly deserved.
He added: "It is really exciting to see Nazmin receive this kind of recognition from the community which she has served so well for such a long period of time.  The award is well deserved and the response she has had around school since winning it has been excellent."  
Nazmin's day-to-day work includes checking up on students' wellbeing and their financial, physical and mental health.
She said a personal highlight of her job is helping 'refugee families' settle into life in the UK.
"Recently, in the past four years, there have been a lot of families seeking asylum, new to England from Eastern Europe," she said.
"There are also many families from Western Europe coming to Yorkshire and settling here so I get to do more work with language.
"Language tends to be a big barrier so I link them with the right support and signpost them. A holistic approach with families is crucial."
She added: "I was surprised to be nominated because you don't expect it. I was quite humbled to be thought of. I'm sure there are loads of other people that do the same thing but it was such a nice feeling. It was a lovely feeling when I won.
"I absolutely love my job. I couldn't find anything more satisfying than this. I'm so lucky to have the support of leadership, colleagues, and the community. It's just amazing."