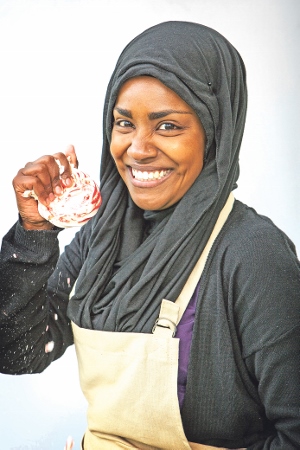 Great British Bake Off winner's to cook up a storm in Leeds
For the first time since she baked her way to fame, Nadiya Hussain returns to her adopted home city to share some secrets of that success.
The 2015 Great British Bake Off champion will be hosting her first cooking demonstration in Leeds, in the Merrion Centre on Thursday 10th December.
Nadiya, 30, who lived with her husband and three children in Leeds until recently, will be tantalising taste buds by teaching shoppers how to make some of her delicious recipes, including cheese and tomato spiral biscuits and cardamom and coconut whoopie pies.  Retailers will also be offering a selection of scrumptious baked treats completely free.
"I've lived in Leeds for the last 10 years and it's an honour to host my own bakery session in a familiar venue," she said.
"Winning the Bake Off means I've been travelling lots and had some great opportunities, but despite this, being back in Leeds, in recognisable surroundings, is really comforting."
Shoppers are welcome to come along and meet Nadiya in the Merrion Centre, at the demo kitchen in front of Santa's Grotto, between 12.30pm and 3pm.
As well as being tempted with mouth-watering treats, Nadiya is also available to answer culinary questions from customers and pose with them for photos.
"As a city I think it's fair to say we were all behind Nadiya and delighted she was crowned Bake Off champion 2015," said Cassie Turner Events and Marketing Planner at the Merrion Centre.
"We know a lot of our shoppers are die-hard foodies and we're thrilled that we're able to offer them some free advice and free samples, hopefully it will provide a little bit of inspiration for their own Christmas party menus."