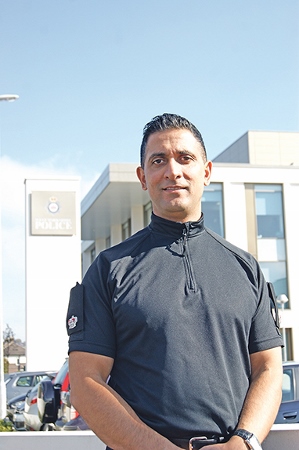 'If I can do this, so can you'
Twenty years ago, a young 22-year-old aspiring police officer from Bradford handed in his first application form at his local station, with the dream of one day patrolling the city's streets.
Today, that same man has become one of the country's highest ranking Asian officers, as Mabs Hussain – West Yorkshire Police Superintendent and head of neighbourhood operations in the Leeds District, continues to rise through the ranks.
Having recently passed the Chief Superintendent promotion assessment, the now 42-year-old will take on a new role in the new year with even greater responsibilities.
"I am really looking forward to embarking on this new opportunity with the police and handling the diversifying demands of the force with ever decreasing budgets," Mabs said.
"It is a very proud moment for me and one I never even would have considered myself applying for when I started 19 years ago."
Mabs began his career with the police in 1996, as he landed his first role as a Police Constable in Odsal.
Growing up in Girlington, his impressions of the police had been shaped by the local community, with perceptions of racism and misrepresentation amongst his worries.
Opting against applying in 1994, it was through the support of his parents that he first approached the force the following year.
"My immediate family were very supportive of me and told me to go for it," he said. "If this discrimination did exist, they said it was up to people like me, joining the force, to change it and make that difference.
"Despite differing views from my extended family, I applied and it was the best thing I could have ever done.
"I quickly settled in and made friends and support was available from day one."
Throughout the next 20 years, Mabs has held a number of positions with the force, from police constable to sergeant, and onto detective sergeant, detective inspector and detective chief inspector.
In 2012, he became a superintendent and moved to his current role within Leeds District at Elland Road station the following year.
With ample promotions under his belt, the tireless worker praised the positive influence of professionals around him in the workplace and urged others to always aim higher.
"When I first began with the police, there was a fixed idea that you could not earn a promotion unless you had served five years," he said. "Rather than basing the positions on the quality of your work, it seemed to be more about length of tenure.
"Thankfully, I had great support from role models in the force and my family at home, who always backed me to succeed. Now I am about to start a new role next year and try my best to act as a role model to other officers."
Mabs may have been an ever constant with the police over the last two decades, yet much on the operational side has changed.
Thankfully, according to the Leeds Superintendent, most of these changes have been for the better.
"In the past, it seemed the objective police had was to arrest people, not to assess why the problem has occurred," he said.
"We have come on leaps and bounds since then. Officers have invested the time and effort to understand the needs of different communities through neighbourhood policing and what they can do to prevent crime occurring in the first place.
"The police are much more proactive now, despite handling challenges which may not have even been contemplated 20 years ago, including counter-terrorism and cyber-crime.
"There is now also a greater emphasis on safeguarding the most vulnerable in our communities, but of course we still always aim to arrest the bad guys."
Looking back on his eventful career, there are many highlights for Mabs, yet there is only one favourite. "The first time I put on my uniform," Mabs added.
"As a young Muslim kid from Girlington, to become a police officer and then experience the career I have had is something I am really proud of.
"It just goes to show that if I can do this, so can you."