Fame for boy who was arrested for making a clock
---
"Under the hashtag "#IstandwithAhmed," thousands of Twitter users praised the boy's initiative and questioned why he was detained including Nasa scientists, Facebook CEO Mark Zuckerberg and US President Barack Obama."
Ahmed Mohamed, the Muslim teenager who was arrested at his high school in Texas, after his engineering teacher speculated that his homemade clock could be a bomb, has raised questions whether he had been targeted because of his name and his religion.
Officials at MacArthur High School in Irving alerted police on Monday 14th September because they thought the device created by the 14-year-old schoolboy was a "hoax bomb".
The homemade clock consisted of a circuit board with wires leading to a digital display.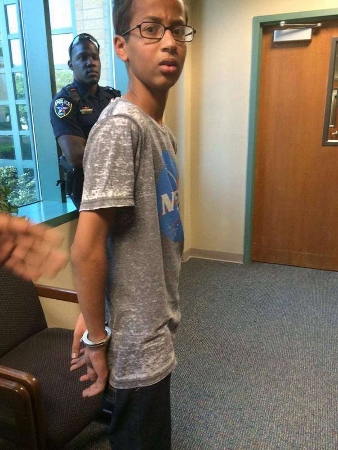 Later in the day after the device beeped, Ahmed was pulled out of class, interviewed by senior teachers and four police officers.
He was arrested, placed in handcuffs and taken to a juvenile detention centre where he was fingerprinted and interrogated in his parents' absence. He was later released after it was determined there was no threat.
Ahmed Mohamed's arrest has been hugely criticised, and the boy has found himself in a social media whirlwind with masses of support including an invitation from President Obama to visit the White House.
At a news conference on Wednesday 16th September, Ahmed told reporters it was "very sad" that his teacher thought his clock was a threat.
"I built a clock to impress my teacher but when I showed it to her she thought it was a threat to her. I'm very sad that she got the wrong impression of it."
Ahmed also announced he plans to transfer schools and expressed his desire to attend Massachusetts Institute of Technology (MIT).
Ahmed's father Mohamed Elhassan Mohamed, 54, who is originally from Sudan, praised his son's ingenuity, made it a point to mention they lived in their American house for over 30 years and that his son had fixed his car, his phone, his electricity and his computer and had even built a go-kart.
"He's a very smart, brilliant boy and he said he just wanted to show himself to the world," he said.
The police have rejected the claim made by Ahmed's family that he was detained because of his name and religion.
Under the hashtag "#IstandwithAhmed," thousands of Twitter users praised the boy's initiative and questioned why he was detained including Nasa scientists, Facebook CEO Mark Zuckerberg and US President Barack Obama.
"Cool clock, Ahmed. Want to bring it to the White House? We should inspire more kids like you to like science. It's what makes America great," Mr Obama wrote on Twitter.
Since the incident, astrophysicist Chanda Prescod-Weinstein, who works for the Kavli Institute for Astrophysics and Space Research and the Department of Physics and the Massachusetts Institute of Technology, extended an invitation for Mohamed to visit MIT and get a tour of the Kavli Institute and the school's Center for Theoretical Physics.
She added that her former advisors at Harvard also wanted him to take a tour of their astrophysics facility.