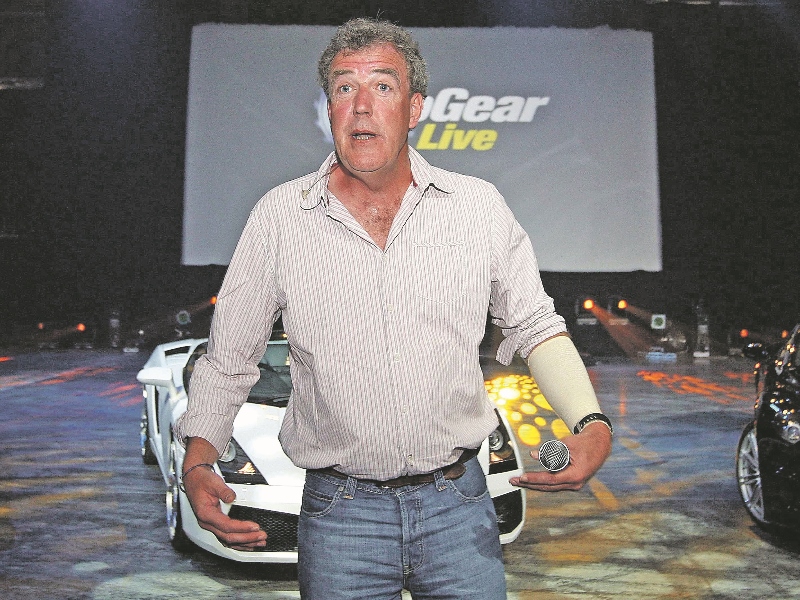 Top Gear has finally marked the end of an era with footage of Jeremy Clarkson saying he "hates" working on the show.
The 75-minutes of footage for the finale was filmed before Clarkson was fired from the show.
Aired as two separate films, in the second instalment, while stuck in a muddy river Clarkson is heard lamenting: "I hate working on Top Gear."
Minutes before that Clarkson appears to wee in his tuxedo saying: "I can't imagine a urine-soaked pair of trousers is going to put the audience off because…" he explains, gesturing to his mud-covered hands and clothes.
In the challenge, the trio were tasked with racing across muddy farmlands to reach a black-tie event at Broughton Hall.
The last person to arrive had to give a speech in aid of the North Yorkshire Carbon Management and Sustainability Trust.
The show format featured James May and Richard Hammond presenting in an empty studio, without Clarkson or the usual live audience.
Also visible in the studio was the "elephant in the room", a 10ft plastic replica elephant from a Hull design company which the show's makers borrowed, called Jeremy.
A scene showing a quiz in a pub with some of the show's producers had people on social media speculating whether one of them was Oisin Tymon, whom Clarkson fell out with.
Other highlights included Hammond being strapped to the top of an aeroplane, his prize for winning their first challenge, a classic car challenge.
Reports have speculated as to what the viewing figures for the final show will be.
Its highest figures are 8.35 million, from a 2007 show featuring Formula One ace Lewis Hamilton.
Opinion on social media was divided, with fans and celebrities expressing sadness and glee.
Comedian and actor Rufus Hound tweeted: "Bwahahaha! People on here treating Top Gear like it isn't just a TV show. It is just a TV show. No-one has died. Repeat. No-one has died."
Controversial columnist Katie Hopkins tweeted: "We just watched the last of British humour on the BBC #TopGear."
Clarkson was vocal about the final, calling the final instalment "cobbled together" in a column he wrote for The Sun.
He also commented on Twitter hours before the final aired, saying: "Strange that BBC News is talking down the last Top Gear tonight. Do they not want big ratings for some reason?"
However, after the episode he tweeted: "Many many thanks for all your support and encouragement over the years. So sad and sorry it's ended like this."
Hammond also said farewell to fans on Twitter, writing: "Can't believe that one life has room to accommodate the first and the last steps of that incredible adventure. Thanks for your company."
The show will return with new host, Chris Evans, next year.
Evans has called on Top Gear fans to send in short audition clips to join him as a co-host on the revamped show.