Princess Anne welcomed during two-day visit
HRH The Princess Royal paid a flying visit to West Yorkshire last week, helping a family business celebrate 40 years of production, and commemorating an employment project in Bradford.
On Friday 23rd January, she was warmly welcomed to the premises of SKA Textiles Ltd, in Huddersfield, and given a guided tour of the premises by Zeb Parvaiz.
A family-run textile company, the business was founded by Khalid Pervaiz in 1975 in Dewsbury, originally specialising in knitting and dyeing yarns to produce heavy jacquard fabrics for ladies' fashion wear.
Today the company's impressive array of materials is used by retailers such as Debenhams, Next, Arcadia Group, Marks & Spencer and Primark. Saj and Zeb Pervaiz, the founder's two sons, are now largely responsible for running the business.
Coinciding with the visit of The Princess Royal, Patron of the Textile Conservation Centre, was the launch of the company's new corporate brand, focussing on 'Made in Britain'.
Zeb Pervaiz, who was recently awarded the Chadwick Lawrence Business Person of the Year, explains: "Due to our investment in additional knitting capabilities, SKA Textiles is now moving into new sectors, which require specialist yarns and fibres.
"As well as for ladies' fashion, our fabrics are increasingly being used in upholstery; automotive seating; by the fire brigade; the MOD, and in the aerospace sector.
"The textile industry needs to retain skills and talent here in the UK. We must look to bring young people into the industry, and encourage apprenticeships in the sector."
Meanwhile, on the previous day, The Princess Royal attended a special reception at the Bradford Royal Infirmary to celebrate the success of Project SEARCH.
The initiative launched in September 2013 offers young people with learning disabilities a nine month internship, where they undertake tasks in three different departments within the BRI and St Luke's Hospital.
In the programme's first year, interns gained more than 900 hours of on-the-job work experience.  Eleven students have graduated and six have since gone on to secure employment in a range of areas.
On Thursday 22nd January, the Hft Charity Patron, had the opportunity to meet the interns and talk to those involved with running the course.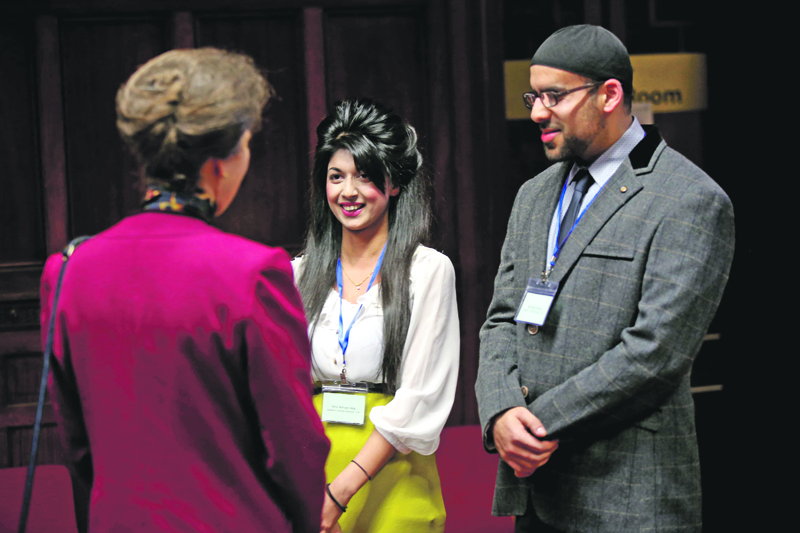 The Princess also gave an address emphasising the importance of supported employment as a way of helping people with learning disabilities to improve their self-esteem, learn new skills and realise their potential, while earning a wage.
Hft's Regional Manager, Andrew Horner, said:  "We are delighted that the Princess, who is a dedicated Hft Patron with a longstanding interest in improving the lives of people with learning disabilities, was able to join our celebratory reception.
"This is an important project that provides people with learning disabilities the opportunity to develop new skills, widen their social circle, and for many, it helps to realise their ambition of finding a job.  Today was the perfect opportunity to reflect on the success of the initiative so far as we look to the future and identify more opportunities to further increase the impact of Project SEARCH."