Leeds has just been given a new grocery store gem, but this grand enterprise offers more than just your palak and aloo.
Standing proud in a custom-renovated 10,000 square-foot site, with its own customer parking, Abu Bakr supermarkets provides the ultimate local supermarket experience with their flagship store on Kirkstall Road.
Celebrating over 50-years success since the late Chawdry Mohammed Aslam and brothers set up their very first humble grocery store in Keighley in the 1970s; the business expanded as Mr Aslam's eldest son Abid Hussain (fondly known as Brother Abid) brought Abu Baker to Hilltop Avenue in Leeds. He now run four supermarkets with his brother Sajid and Wajid across the city, each known as the local go-to for fresh produce, spices and halal meats.
The new state-of-the art Abu Bakr supermarket in Kirkstall Road has taken two-years to complete from concept, features continental and international foods and ingredients, fresh groceries, a custom-built butchery, bakery, a shisha pipes and products section, and even has an impressive homewares department stocked with all kitchen equipment you could ever need.
The new site also has an innovative food-to-go counter, with a wide selection of vegetarian, meat, chicken and fish curries, sundries, street food ready for the customer to have packed up and take home. Perfect for those with busy lifestyles!
The success of Abu Bakr? 'Respect and unity', says eldest brother Brother Abid, firmly.
"At Hilltop Avenue in 1981, my father and I brought the business to Leeds. Beginning as a fish & chip shop, we ran an extended arm of a halal butchery and fresh groceries.
"Being in the heart of the south Asian communities, we became a household name, leading us to move to a bigger premises on Roundhay Road in 2004, and then expanding by opening more sites in Leeds – Queen's Road in Hyde Park, and Dewsbury Road in Beeston.
"The new flagship supermarket in Kirkstall was previously a run down abandoned dilapidated building, formerly a tool hire company for many years.
"The opportunity arose and we acquired the site, with a vision to create something really special for our customers, something that would give them everything they needed for the kitchen under one roof.
"Gutting down the building to bare brick, we then went about equipping it to bring it in line with mainstream supermarkets. We've not spared any expense in delivering a state-of-the art halal supermarket, along with its own customer parking area.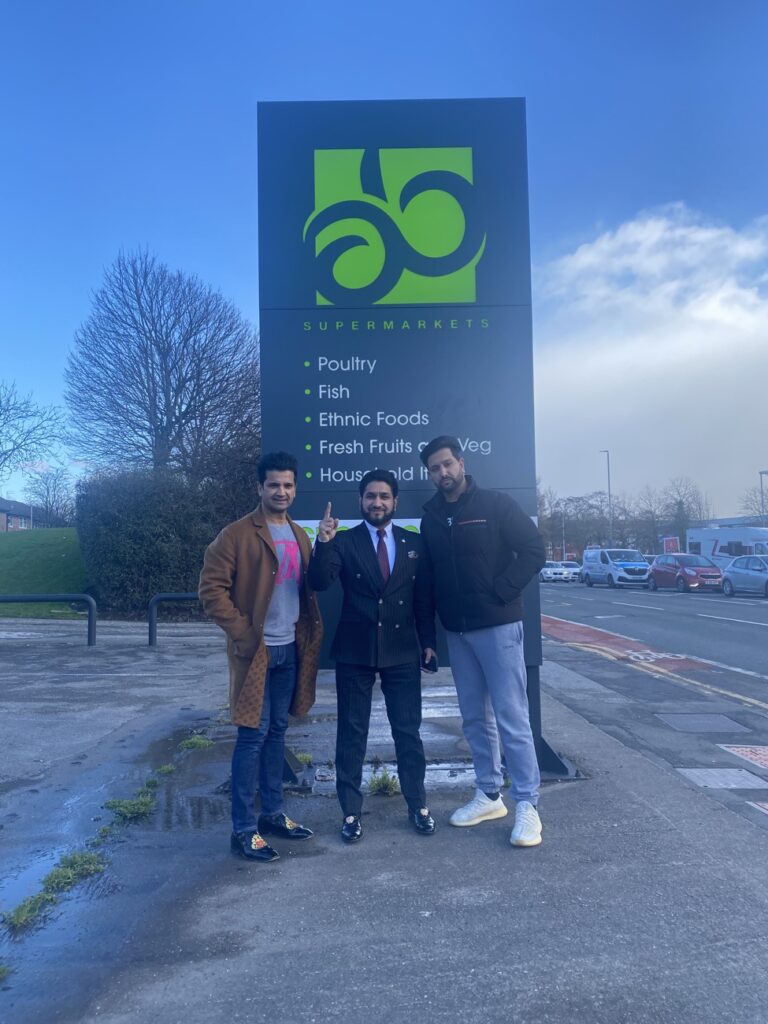 "My younger brothers, Sajid and Wajid are my arms," add Brother Abid.
"Despite any challenges we may have had, without doubt we have overcome them because we had the prayers of our parents, are united as a family working as a team, always, and my younger brothers respecting me – holding me as their father figure ever since our father passed away."
Brother Abid is surely considered one of Leeds' south Asian community champions, earning him respect across and beyond the postcodes.
He'll often be seen at charity events, assisting in local homeless feeds and donating food products to charities for food parcels to be distributed among the city's struggling families on the poverty line. He's also personally gone out to deliver aid and create water wells and install water pipes in countries such as Africa, Pakistan and beyond.