Oscar nominee Denis Villeneuve ('Arrival', 'Blade Runner 2049') directs Warner Bros. Pictures and Legendary Pictures' Dune, the big-screen adaptation of Frank Herbert's seminal bestseller of the same name.
A mythic and emotionally charged hero's journey, "Dune" tells the story of Paul Atreides, a brilliant and gifted young man born into a great destiny beyond his understanding, who must travel to the most dangerous planet in the universe to ensure the future of his family and his people.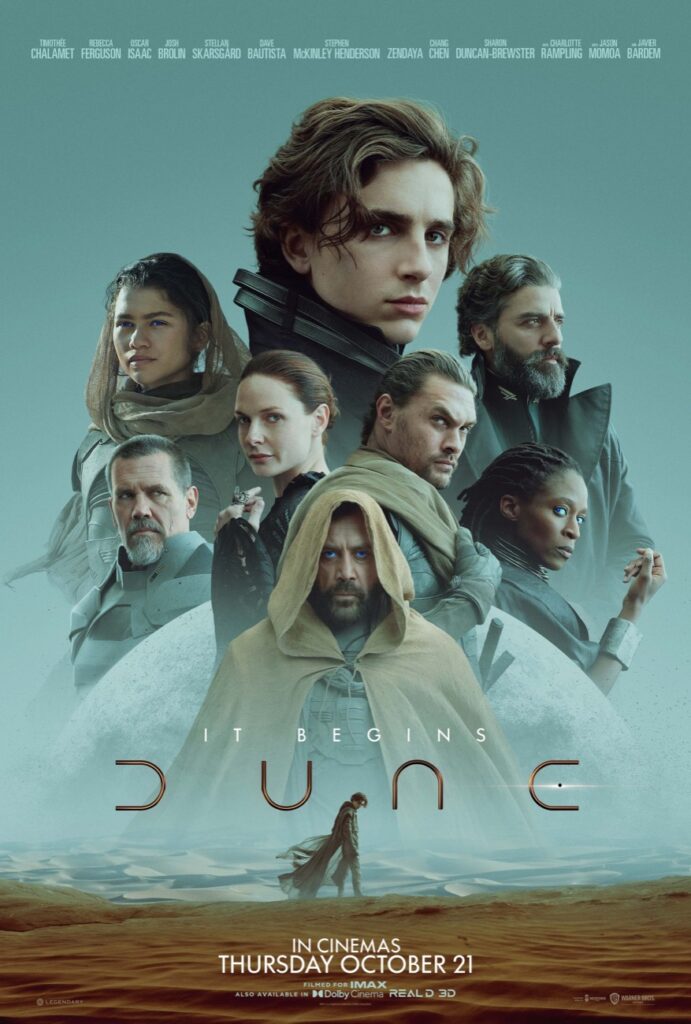 As malevolent forces explode into conflict over the planet's exclusive supply of the most precious resource in existence – a commodity capable of unlocking humanity's greatest potential – only those who can conquer their fear will survive.
Film Review
Dune is a reminder of what blockbusters can and should be.
Written implicitly in sand, Denis Villeneuve's fantasy sci-fi epic tells us that big-budget spectaculars can be smart and not just be about the explosions and high-octane action. Moody, tense and heart racing are some of the words that can only be used to describe this film.
Paul Atreides, played by Timothée Chalamet, is your typical hero who is unsure of where he stands in the world and unsure of the responsibilities that are put before him. His father, the Duke, played by Oscar Isaac has been given ownership of the desert planet 'Arrakis'. The planet holds a magical substance called 'spice' which can extend life and fuels space travel. But 'Arrakis' is not totally deserted. Home to the oppressed – the Fremen – they see spice harvesters exploiting the magical substance.
Zendaya's performance as Fremen native, Chani, is mesmerising and hypnotic and it's easy to fall under her spell; versatility is certainly her middle name. But her character of Chani is not vulnerable even though her planet is under threat – she's a fighter and a warrior, willing to fight for her planet.
Oscar nominee Denis Villeneuve has taken to 'spectacle' to a next level with its cinematography of the vast desert of 'Arrakis' and the world in which Dune is set. The drama is heightened by the incredible and talented cast; Rebecca Ferguson, Charlotte Rampling and Jason Momoa. Throughout you're kept on your toes and enchanted by the story. Villeneuve has made a world of mystery and wonder that doesn't need much to keep the audience hooked.
If anything, Dune is a story like no other and only deserves to be seen on the big screen. It's a story of discovery, where you will get lost in.
Warner Bros. Pictures' Dune releases in cinemas on 21st October 2021.