His Royal Highness The Prince of Wales kick started this year's 'Palaces on Wheels' cycling event, a fundraising initiative by the British Asian Trust.
HRH The Prince of Wales, started the cycling challenge, leading over 30 cyclists out of Highgrove on Thursday 10th June. The event sees cyclists endure a unique 420km / 250 mile route that will see them visit some of the UK's most iconic Royal Households and Palaces over four days of cycling.
HRH The Prince of Wales was joined by British Asian Trust ambassador and actor Sanjeev Bhaskar, and met with the cyclists at Highgrove, ahead of setting them off on their four day journey. Whilst speaking with the cyclists, HRH The Prince of Wales wished them well ahead of embarking on a route which will include Buckingham Palace and Windsor Castle.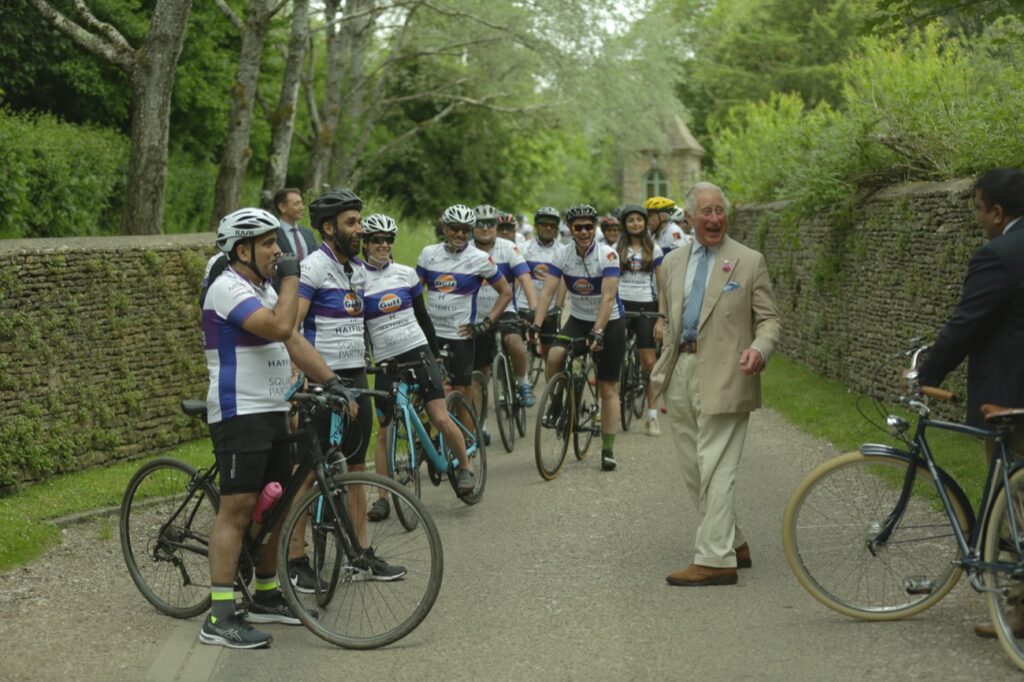 The cyclists then proceeded to start their fundraising challenge, with traditional Indian Dhol drummers paving the path out of Highgrove, providing ample ambient sounds to rally the team as they set off on their journey, led by HRH The Prince of Wales.
British Asian Trust ambassador Sanjeev Bhaskar said: "I'm in awe of this brilliant group of supporters taking part in Palaces on Wheels, four days of cycling over 400km is a mighty challenge but the cyclists are raring to go and raise money for the Trust's vital work in South Asia.
"I'm particularly impressed that His Royal Highness the Prince of Wales will himself kick start the journey, leading the cyclists out of Highgrove. Alas I couldn't find any bicycle clips in my size or I would've joined him."
30 participants, who are raising funds for the British Asian Trust's vital work in South Asia, cycle over four days through some of the country's most iconic landmarks, natural treasures and idyllic rural locations. The funds raised will help millions of the poorest people whose lives have been devastated by COVID-19.
The event carries on from previous cycling events from the British Asian Trust, which has seen British cyclists travel through Sri Lanka, India, Tanzania and Cambodia over the years. This year's 'Palaces on Wheels' will see cyclists at home for the first time.
The itinerary will begin in the heart of the Cotswolds at Highgrove, the residence of HRH The Prince of Wales, Royal Founding Patron of the British Asian Trust, and will head through the spectacular Cotswold Area of Natural Beauty.
The route continues through Oxford towards Windsor Castle and on to London to Buckingham Palace. The next day begins with the famous Tower of London, heading north towards Cambridge, with the final day seeing the riders celebrate finishing the event at the iconic Sandringham.