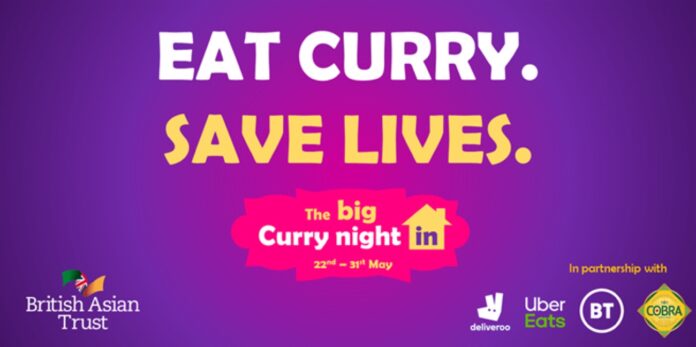 'The Big Curry Night In' initiative encourages the general public to order a curry from their local restaurant or prepare their own curry at home in celebration of the nation's favourite take away meal.
This is a unique opportunity for the nation to come together to support the struggling hospitality industry in the wake of the national health crisis, whilst at the same time donating to a vital cause that has already received backing from His Royal Highness The Prince of Wales.
The campaign taking place from 22nd – 31st May is led by the British Asian Trust. It hopes to support the struggling UK restaurant and takeaway industry in the wake of the national health crisis and encourage the public to order from their local eateries.
Celebrities will be promoting the Big Curry Night In with competitions for people to share their Big Curry Night In with them virtually.
Donations made during the Big Curry Night In will help support the British Asian Trust COVID-19 Emergency Appeal which was launched by HRH The Prince of Wales.
'The Big Curry Night In' runs in partnership with Deliveroo, Uber Eats, BT and Cobra Beer.
Richard Hawkes, Chief Executive of the British Asian Trust said: "We are delighted to be working with some fantastic partners to launch the first 'Big Curry Night In'.
"The nation's love for curry and South Asian food has a long, established history and is a vital part of the UK's restaurant and takeaway industry, which has suffered in recent weeks due to the national health crisis.
"Along with some of our celebrity ambassadors we encourage members of the public to get their orders in or get their favourite recipes out and enjoy their favourite meal at home over the next week and share their experiences with us on social media to help support our fundraising campaign."
HRH The Prince of Wales said: "The current public health crisis is a challenge which confronts us all, in every community and every part of the world.
"In the United Kingdom I know that the British Asian community is playing a vital role in the response to this crisis. I know that the community is deeply concerned about the welfare and wellbeing of people in South Asia where this pernicious virus and the disruption it causes is having such a profound effect on the lives and livelihoods of millions."
South Asia is home to 27% of the world's poorest people with 750million people surviving on less than $2.50 per day. Now tens of millions of vulnerable families across the region are facing life or death situations because of COVID-19.  The lockdown in India has seen mass migration from the cities to villages. Pakistan's healthcare system is creaking under the pressure. Bangladesh's densely populated urban areas and refugee camps are a hotbed for the virus. Sri Lankans are facing yet another threat to their way of life. 
To participate in The Big Curry Night In from 22nd – 31st May please visit www.bigcurrynightin.com
To view participating restaurants please visit https://www.bigcurrynightin.com/participating-restaurants
Local restaurants are able to sign up at https://www.bigcurrynightin.com/register-your-restaurant