The Lebanese capital of Beirut wakes the day after the most powerful explosion to hit the city in years shook the ground, shattering windows and causing apartments to collapse with an estimated £4Bn damage.
Beirut's city governor Marwan Abboud said between 200,000 and 250,000 people had lost their homes and authorities are working on providing them with food, water and shelter.
The massive explosion with mushroom cloud has killed scores and left over four thousand injured after the blast devastated part of Lebanon's capital Beirut.
It's expected the death toll will rise further as emergency workers dig through the rubble to search for survivors.
Witnesses claim there were two blasts – with many people filming the aftermath of the first when the second ripped through the city.
Lebanon's state news agency NNA and two security sources said the blast had occurred in the port area where there are warehouses housing explosives, reports Reuters.
Buildings around the port have been levelled, windows and doors have been blown out and huge plumes of smoke are blowing across Beirut.
The Government Palace – the home of Lebanon's PM Hassan Diab – was damaged in the blast, and his wife and daughter were injured in the explosion.
Video shows a column of smoke rising from the port area from what appeared to be an initial explosion, followed by a massive blast that sent up a mushroom cloud and a shock wave.
Pictures show buildings destroyed, people walking wounded, and a sea of wreckage after the blast that could be heard some 125 miles away in Cyprus.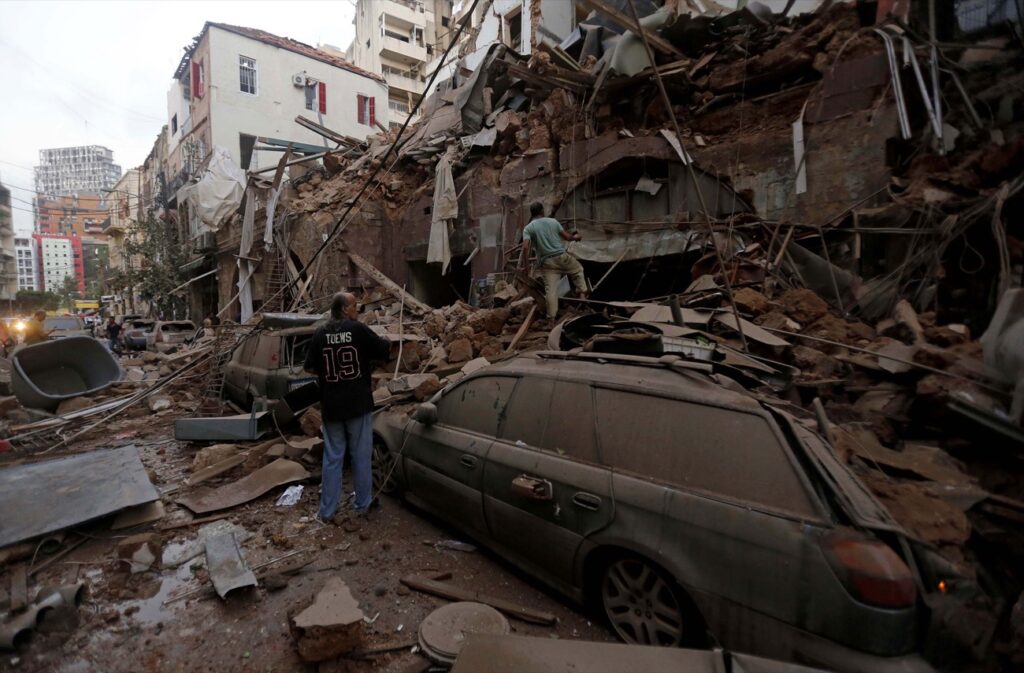 Lebanese security services have said the blast was caused by a fire in a depot of highly explosive material, including Sodium nitrate.
They said that material was confiscated from a ship months ago and stored there.
Al Mayadeen television reported there were hundreds of casualties, and the Lebanese Red Cross have said they are receiving thousands of emergency calls.
Beirut's governor Philip Boulos called the explosion a national disaster and compared it to the Hiroshima and Nagasaki nuclear attacks.