The Yorkshire-born World War Two veteran Captain Tom Moore has been elevated to the rank of honorary colonel on his 100th birthday, as it was confirmed he has now raised more than £30m for NHS charities.
Originally from Keighley in West Yorkshire, Captain Moore trained as a civil engineer before enlisting in the Army for the Second World War, rising to captain and serving in India and Burma.
He had set out to raise £1,000 by walking 100 lengths of his garden – with the help of his wheeled Zimmer fame, as a gesture to thank the health services during the ongoing coronavirus pandemic.
But donations flooded in after his story captured the nation's heart, with his fundraising bringing in millions ahead of his 100th birthday celebrations.
Today his birthday was marked with a Battle of Britain Memorial Flight flypast by a Spitfire and a Hurricane above his Bedfordshire home.
The Queen's representative Lord-Lieutenant Helen Nellis personally delivered Her Majesty's birthday card to Captain Tom Moore.
And Capt Moore has also been inundated with more than 140,000 birthday cards which are on display at his grandson's school.
Among the well-wishers on his birthday were the Prince of Wales and the Duchess of Cornwall, who have both written to congratulate him on his achievements.
Boris Johnson also sent a birthday message to him, saying: "Captain Tom, I know I speak for the whole country when I say 'We wish you a very happy 100th birthday'.
"Your heroic efforts have lifted the spirits of the entire nation. You've created a channel to enable millions to say a heartfelt thank you to the remarkable men and women in our NHS who are doing the most astounding job.
"There is a tradition going back some years now where the prime minister takes a moment each day to thank someone for their service to others – by recognising them as a point of light.
"Captain Tom, that is exactly what you are – a point of light in all our lives."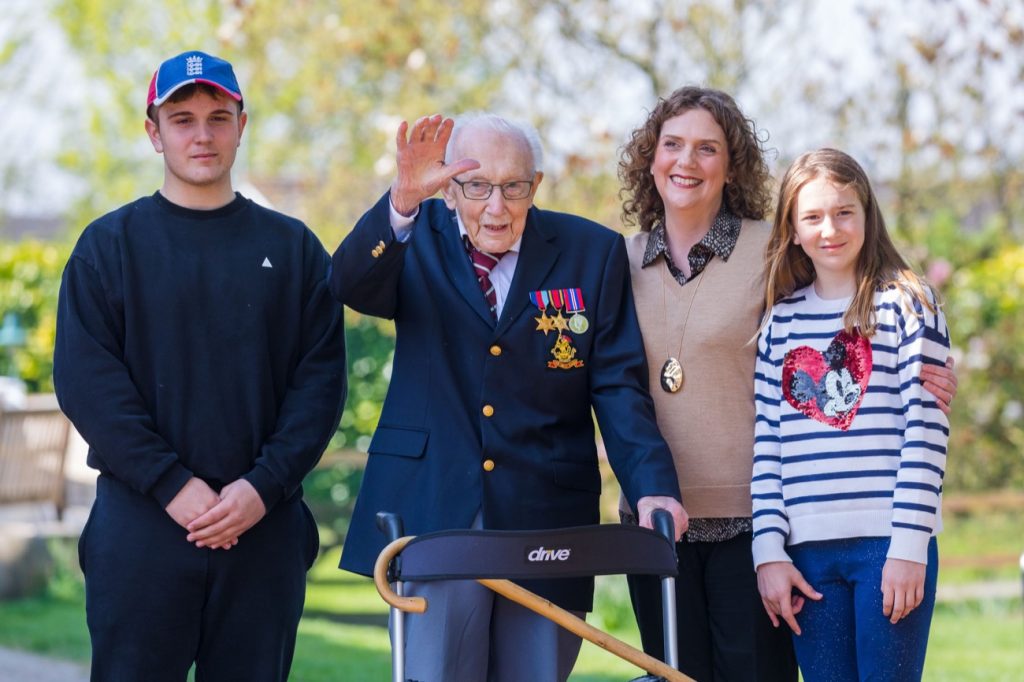 The centenarian has also been honoured with a Royal Mail postmark, with all stamped post until Friday marked "Happy 100th Birthday Captain Thomas Moore NHS fundraising hero 30th April 2020".
"It is quite extraordinary that I am turning 100," he said.
"It is even more extraordinary that I am doing so with this many well-wishers and I am in awe at the response my walking has had.
"To everyone who has donated, sent birthday cards and messages, sincerely thank you.
"Please stay home, stay safe. Tomorrow will be a good day."