Bradford Sports-themed eatery continues to play a pivotal role in shaking up the food scene
A sports-themed restaurant in Bradford has scooped up the 'Best Food Establishment Award', and you only need read it's customers reviews to understand why.
Bringing in celebrity boxing legends such as Tyson Fury and Floyd Mayweather to the city, 'Mr T's' on Great Horton Road has played a pivotal role in shaking up the city's food scene.
Owner Tauseef Malik Mr T's has worked tirelessly to build a hugely successful eatery brand – one which sets Mr T's apart from the regular restaurant.
The on-going success and exceptional reputation of this small eatery was evident as Mr T's team picked up the English Asian Business award for best food establishment.
Starting from humble beginning just under three years ago, Tauseef and his exceptional team have committed to bringing urban sports-themed groovy eatery featuring spray painted artwork and quotes from icons that feature both on and off screen, such as boxer Mohammed Ali.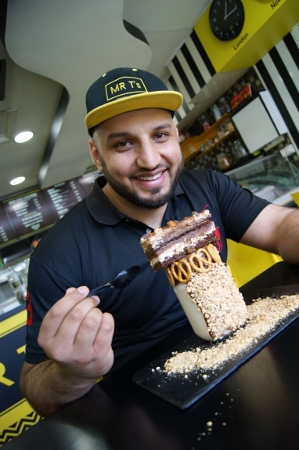 At Mr T's, everything is prepared fresh. The peri peri chicken falls off the bone and is covered in a spice rub so fine that you'll be rubbing your hands together in glee as you tuck in. As well as the infamous 'shake stack', it also serves up mean pizzas and Italian Parmesan dishes that drip with cheese.
In fact, it was the reputation of Mr T's food that sparked Tyson Fury AKA 'The Gypsy King' and Floyd Mayweather's visits. Their celebrity appearances at Mr T's attracted hoards of fans awaiting a glimpse of their boxing heroes. Both boxers left rave reviews for Mr T's following their visits, which has only boosted Tauseef's faith in what he is bringing to customers from the city and beyond.
It is not often you see an establishment focussed on the quality of food, customer satisfaction and serving its community, however Mr T's manages to do all three with great success.
Tauseef says: "I've been involved in the food business since I was 16, and always dreamt of bringing a unique food outlet to Bradford, the city I'm so proud to be a part of.
"With the huge success of our flagship takeaway, we are now ready to grow with a second site. We'll be opening our doors to the new 90-seater restaurant in Batley, it's all coming together very nicely and my team is working round the clock to get the work finished."
As well as creating hullabaloo in the city with celebrity meet and greets, Tauseef's team are also actively involved in continually reinvesting time and money into numerous community initiatives as well as raise money for charities.