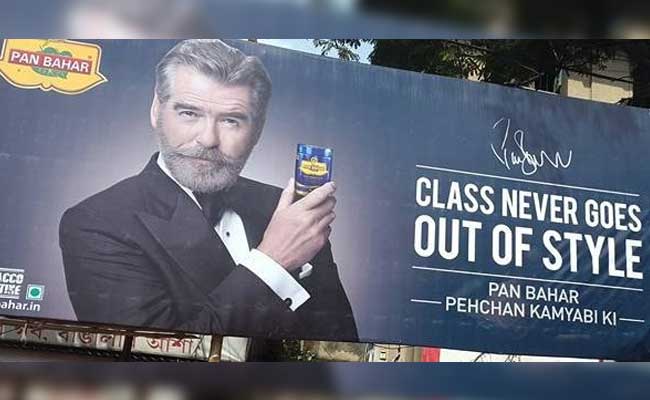 Authorities in Indian capital Delhi say they have asked actor Pierce Brosnan to explain why he was in an advert for a local mouth freshener associated with an addictive form of chewing tobacco.
Indian law prohibits all advertisements of tobacco products.
Now Indian officials say he could be fined 5,000 rupees (£56) or go to jail for two years if he doesn't respond within ten days.
The former Bond actor had condemned the "unauthorised" use of his image in the advert for Pan Bahar in back 2016, when it first appeared.
Pan Bahar is commonly associated with pan masala and gutka, a potent mixture of tobacco, crushed betel nut, lime, and clove among other ingredients. It is chewed (and subsequently spat out in bright red streams) by millions of people, who get addicted to its mildly psychotropic effects.
Ashok & Co, the company that produces Pan Bahar, told the BBC in 2016 that there was no tobacco or nicotine in the product.
Brosnan told People magazine that the contract was to advertise a single product – a "breath freshener/tooth whitener" that contained no " tobacco" or any "harmful ingredient."
Both pan masala and gutka have been linked to cancer, with many Indian states banning their sale and running campaigns to discourage people from buying them.