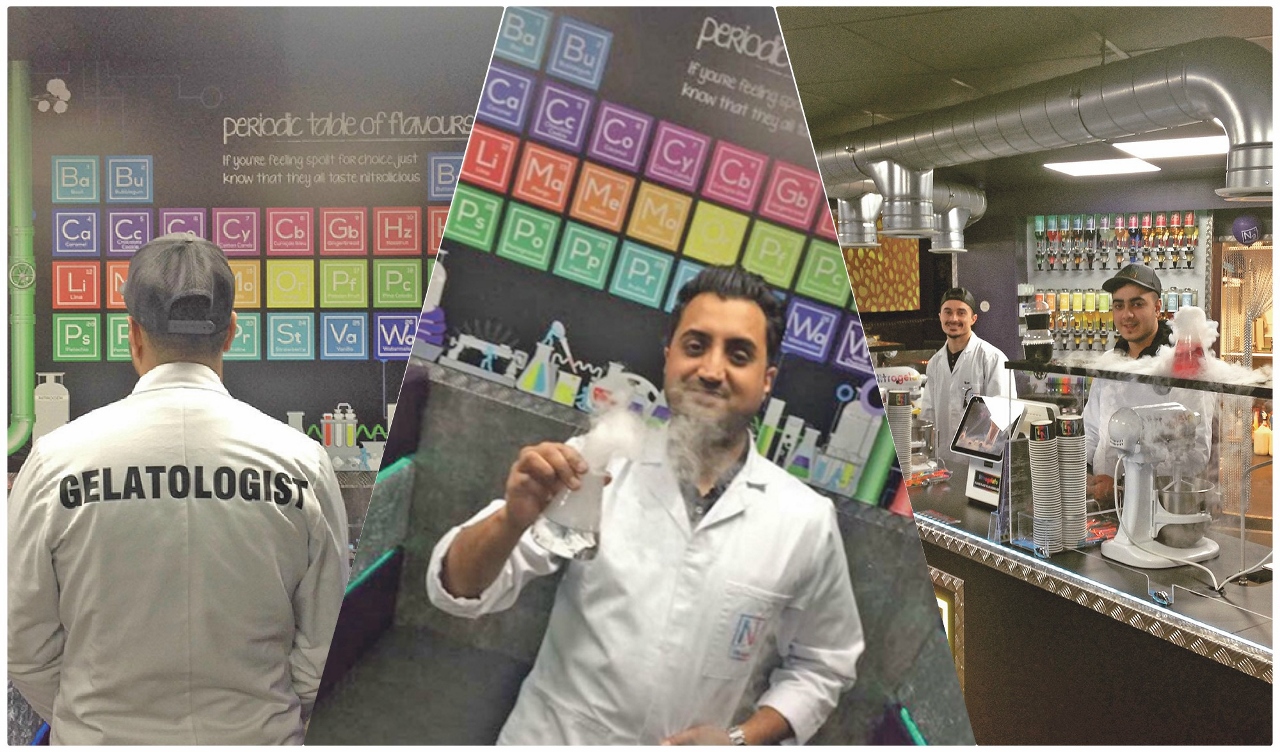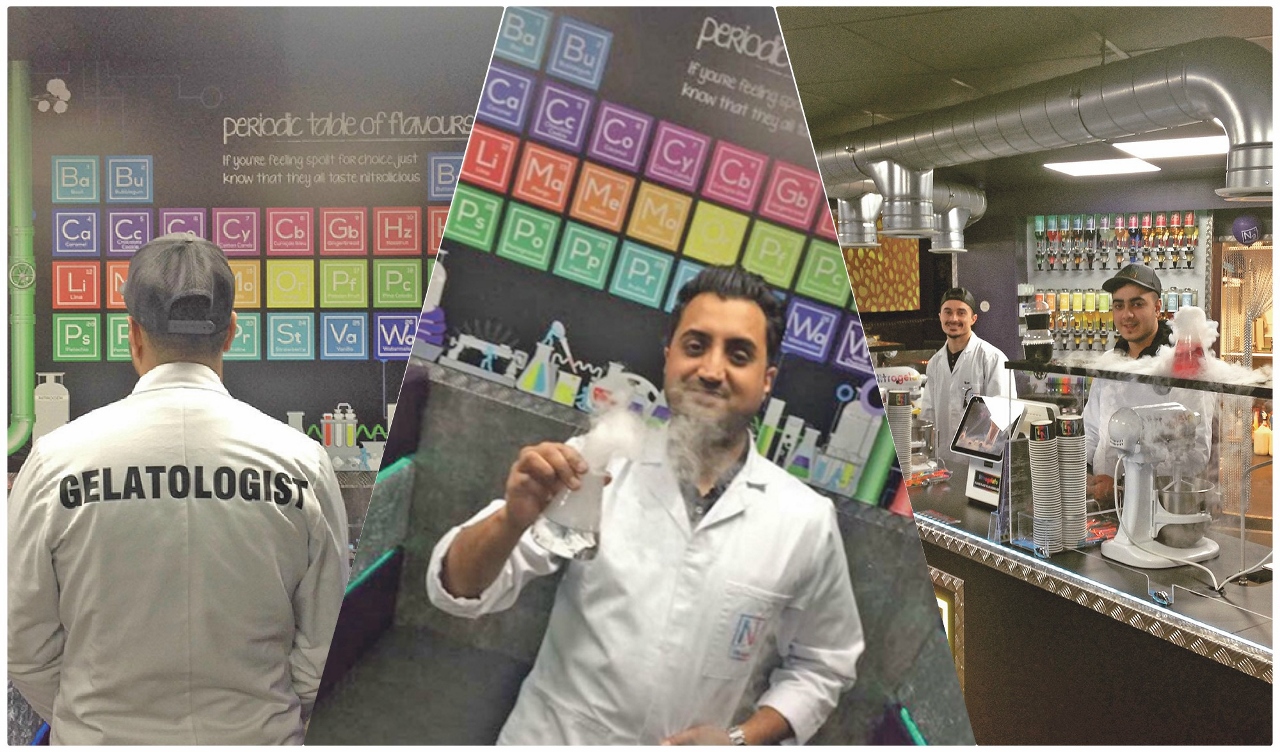 "The parlour itself makes you feel like you're actually stepping into a funky laboratory. It's great for children, or anyone who wants to release their inner child."
We all remember being served a cornet from a colourful van and a vendor in a white coat, well now we can share that same experience in an innovative parlour, where all the staff have donned white lab coats to produce the perfect ice cream.
Yes, the art has moved firmly into the future thanks to the genius of people like the colourful Heston Blumenthal, the insight of Solicitor and Businessman Zaheer Mahmood, and one very special ingredient – liquid nitrogen.
Not to be licked by competitors, food capital Bradford presents 'Nitrogelato', a unique concept in the science of ice cream production. The aim of Nitrogelato was to bring the theatre and intrigue of wacky desserts out of fine dining kitchens and into the high street.
The parlour itself makes you feel like you're actually stepping into a funky laboratory. It's great for children, or anyone who wants to release their inner child. It certainly is a real scoop for Bradford.
Like Heston Blumenthal's Fat Duck, Nitrogelato uses liquid nitrogen to instantly freeze its gelato. This process along with billowing clouds of swirly vapour and special lighting, produces an exceptional treat, creamy and dense with a remarkable clarity of flavour. The liquid nitrogen, is completely safe to consume, giving an amazing edge to the ice cream experience.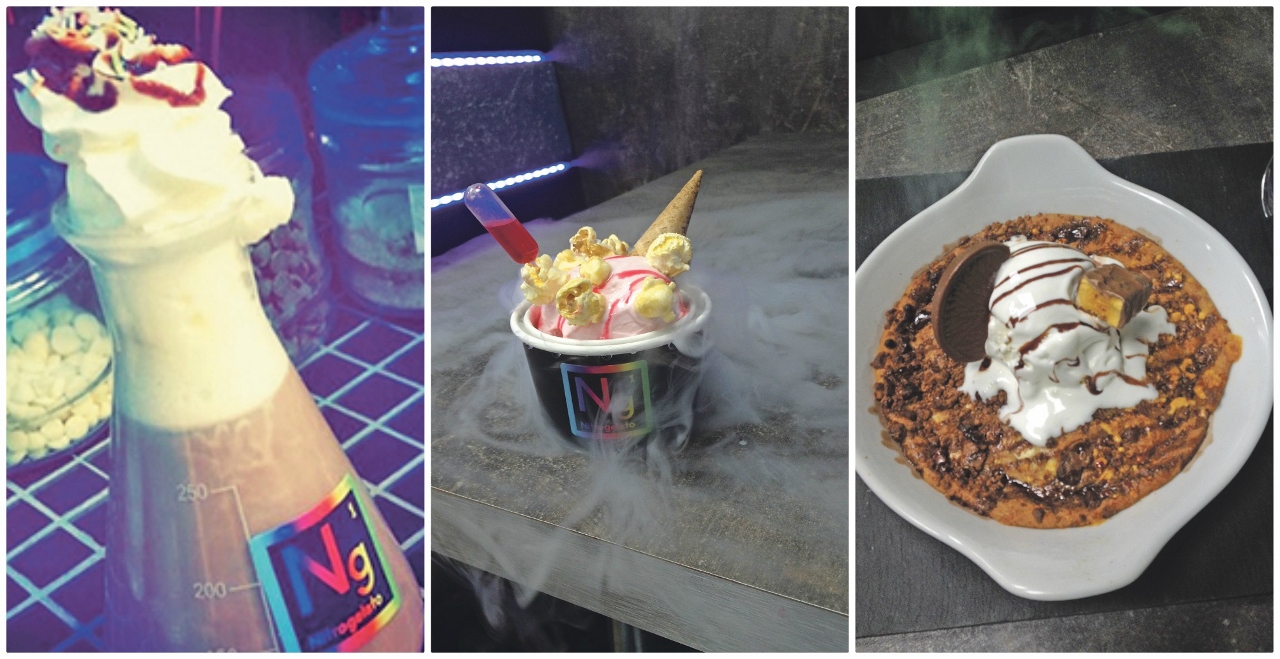 Mahmood from a young age was always interested in science and art, to the point his ambition was to go on and do a Biomedical Science degree. The degree didn't materialise in that particular area, but this love of all things scientific has certainly taken the process of ice cream making to a whole new level.
And the success of Nitrogelato is anything but wafer thin. He says: "I wanted to be unique and different. It was also really difficult to find the Nitrogen, which is probably the reason why no one is doing it.
"Thankfully, with a lot of experimenting with flavours, the resulting ice cream is so amazing, you won't find any ice crystals in the ice cream which makes it so smooth and creamy, and with the addition of clouds of nitrogen smoke, people are really enjoying their experience.
"If you haven't yet experienced gelato from Nitrogelato, let us first explain how the whole thing works. A far cry from your standard scoop, the novelty concoctions are made-to-order by blasting flavoured creams and mixes with liquid nitrogen. Flash freezing them in a billowing cloud of 'smoke' right before your widened eyes, what you're left with is one of the tastiest gelatos in town.
"The parlour blasts out a revolving line-up of flavours (Tropical Island is a firm favourite pick) as well as its sinfully delicious egg waffles. Also on the menu is the nitrogen-boosted 'Dragon's Breath' popcorn puffs that shoot smoke out of your nose and mouth as you eat them — a wildly popular choice for both big and little kids alike.
"When it comes to ice cream, there are two big advantages to using liquid nitrogen over the usual ready made variety. First, it's faster. Second, because it's faster, there's less likelihood that the mixture will develop those pesky ice crystals that form when ice cream freezes too slowly resulting in the creamiest ice cream ever."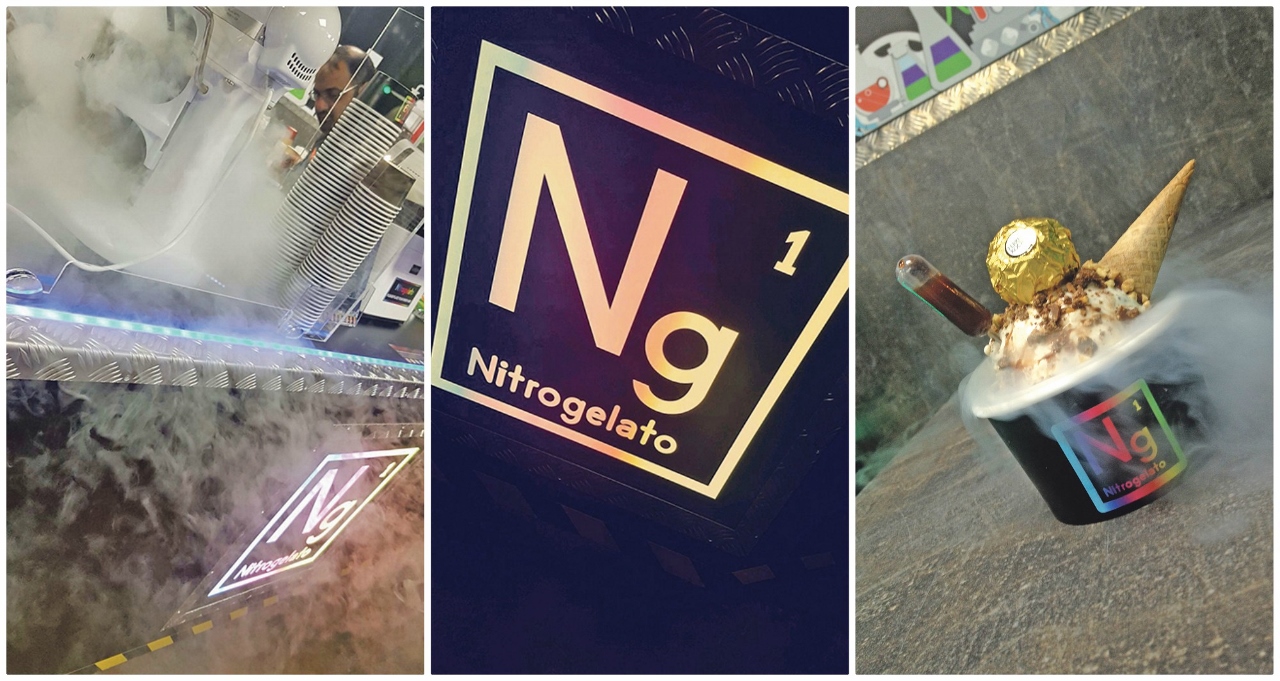 ---
The moment ice cream starts to freeze, ice crystals start to grow. The longer it takes to freeze, the larger they grow, and the more grainy the ice cream is. Standard commercial ice cream takes a minimum of 20 minutes to freeze. Thanks to our cutting-edge -196•c liquid nitrogen technology we are able to instantly freeze the mixture resulting in extremely small ice crystals and the smoothest, creamiest ice cream possible = Not just an advertising gimmick, it's a scientific fact! Unlike traditional ice cream shops that pre-freeze their ice cream, at Nitrogelato watch as the Gelatologist pours your fresh liquid cream directly into the bowl, adds your chosen flavours and freezes your ice cream on the spot = Science just became delicious!
---