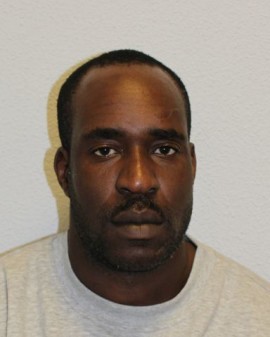 A man who beat his girlfriend's five-year-old son to death simply because he lost one of his trainers has been found guilty of murder.
Marvyn Iheanacho, 39 (01.06.78), of Wesley Avenue, Hounslow, was convicted at Woolwich Crown Court on Friday, 21 July of killing Alex Malcolm.
Detective Chief Inspector Tony Lynes, of the Homicide and Major Crime Command, said:"Iheanacho subjected that poor little boy to a brutal assault after flying into an uncontrollable rage just because Alex lost one of his shoes.
"Afterwards Iheanacho came up with various stories to try to cover his tracks, insisted his girlfriend lie for him and attacked her when she tried to get medical help for her unconscious son.
"It is no surprise the jury easily saw through his stories and while nothing can bring Alex back, I hope Iheanacho's conviction today provides his mother and father, and their families with some comfort."
Liliya Breha, Alex's mother, said: "Alex was so small but he was my strength and my purpose for living. The hardest thing I have ever had to hear, was that my child died. I remember it like it was yesterday. Lying next to him in a hospital and praying that everything would be fine, that he will open his eyes. I didn't even get to tell him I love him. All I got was to put my hand on his chest and feel every single one of his final heartbeats."
The court heard that on 20 November 2016, Iheanacho had spent the day with his girlfriend, Alex's mother, and Alex. Later that afternoon he said he wanted to go out to get a DVD and see a friend and would take Alex with him.
CCTV showed the pair getting on a bus at 16:39hrs heading towards Rushley Green. They were then seen walking towards Mountsfield Park in Catford, arriving around 17:15hrs.
They went to the play area.
Just before 18:00hrs, a witness heard Iheanacho shouting at Alex after he realised the boy had lost his shoe.
Through the park gates she saw Iheanacho and described him as "raging" at Alex who was keeping very quiet.
She then heard repeated booming noises and saw the gate vigorously moving as if it was being punched by someone.
The witness's dogs began barking and the punching stopped. She saw Iheanacho bending over Alex and whispering to him before they moved away.
Another witness heard the loud banging, a male voice screaming about the lost shoe and a child's voice fearfully saying sorry.
The prosecution said the banging noise was Iheanacho assaulting Alex.
At around 18:00hrs a dog-walker in the park saw Iheanacho talking on his phone and a child lying on his back on a bench with his arm dangling down.
They overheard Iheanacho saying something had been lost and he was looking for it and "he's fallen asleep and he's heavy".
Phone records showed that Iheanacho had twice called his girlfriend to tell her about the lost shoe. Alex's mother asked to speak to her son but Iheanacho did not put him on the line.
Iheanacho then picked up Alex and walked from the park to a mini cab office on Rushey Green.
Despite Alex clearly needing urgent medical attention, Ihenacho did not take him to Lewisham Hospital which was a five-minute walk from the mini cab office.
Instead he took a cab back to his girlfriend and Alex's home in Beckenham and rang her on the way, asking her to come outside.
When they arrived he told her that Alex had fainted and fallen on his knees. Alex's mother noticed he had a bruised face and what looked like a slap mark. He was breathing but seemed unconscious. Iheanacho told her Alex had hit his head as he fell and he had slapped him to try to wake him up. He wouldn't let her call an ambulance and they took Alex upstairs.
Alex's mother was now screaming and Iheanacho assaulted her, kneeing her in the chest, jumping on her back and trying to choke her. He suddenly stopped and laid Alex down on a bed.
Alex's mother noticed her son was cold, his face had turned blue and he had stopped breathing. She grabbed the phone and called an ambulance which arrived at 20:42hrs.
Iheanacho told the paramedics varying accounts of what had happened including that Alex had fallen onto his knees and hit his head and that Alex had fallen from a climbing frame but not hit his head.
Iheanacho did not go to the hospital but told his girlfriend as she left with Alex that she should say she had been there when Alex suffered his injuries as it "looked bad – Alex was in my care".
A CT scan at Lewisham Hospital revealed Alex had severe brain swelling. He was transferred to Kings College Hospital for an operation.
Iheanacho arrived along with police. He gave a statement stating he had been with Alex's mother when he heard the boy scream and turned to see he had fallen and bumped his head. He later told other officers a different story.
When enquiries revealed Iheanacho had been in the cab alone with Alex and his girlfriend was not there, he was arrested for grievous bodily harm and subsequently charged.
Police attended the park, via the Carswell Road entrance, and found Alex's gloves and his lost trainer in the play area. The red jacket he had been wearing that day was recovered from his home. When examined, tiny blue fragments were found which matched the blue paint on the park gates.
Alex's mother found a notebook at her home in which Iheanacho had written under the heading "mistakes". He wrote that he had an overwhelming anger and he had beaten Alex for "sicking up in the cab". In evidence Iheanacho said he had written the notes in August 2016.
Alex died at 15:20hrs on 22 November 2016. A post-mortem examination gave cause of death as head injuries and noted large areas of bruising to his face and body, causing by being assaulted and slapped. He had a significant brain injury and internal bruising to his stomach, caused by a kick, stamp or punch.
Iheanacho was charged on Thursday, 2 February with murder.
Sentencing will take place at Woolwich Crown Court on Tuesday, 25 July.