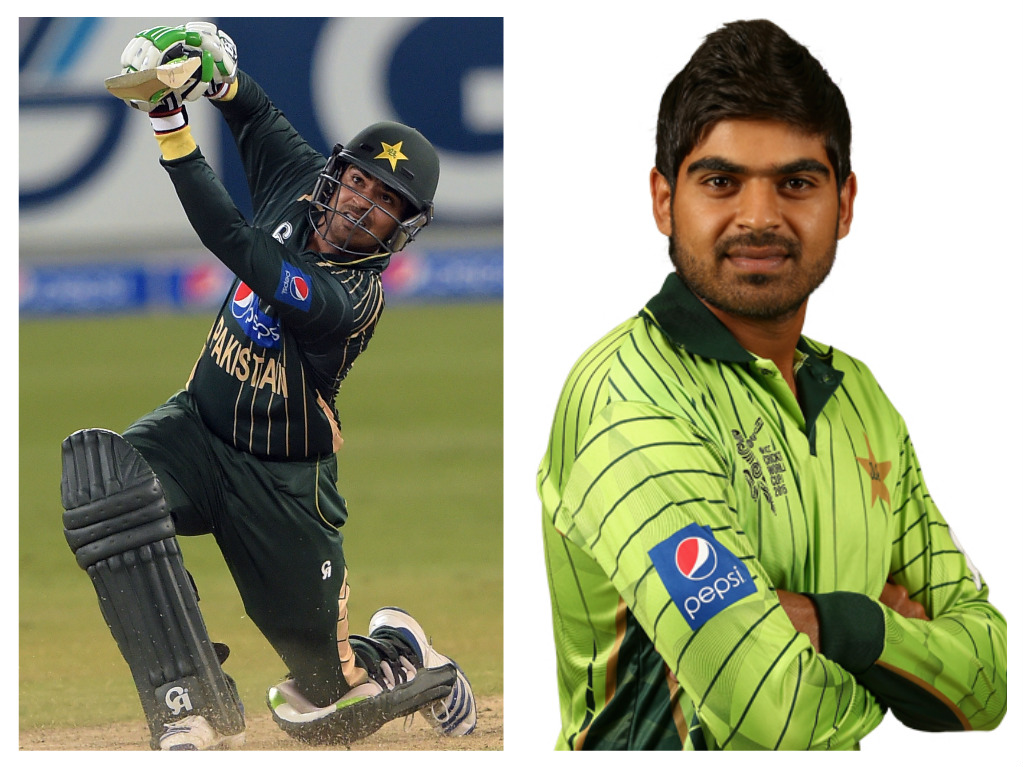 "I am confident, I am now fit and I am ready to score runs for Pakistan once again. I've lost two-years of my career due to injury and I want to make up for lost time."
Regarded as one of Pakistan's brightest talents, the left-handed batsman Haris Sohail debuted for Pakistan in July 2013 on the tour of the West Indies. Whilst a promising international career beckoned for Haris, his march towards establishing a permanent place in Pakistan's frail middle order was interrupted by a career-threatening knee injury.
He last played for Pakistan in the historic home-series against Zimbabwe in 2015 and has struggled since then to recover from his injury until recently when he has been given a chance to represent Pakistan in the Champions Trophy in England.
Whilst his recall to the Pakistan side was more of a side-effect of Umar Akmal's fitness issues, 28-year-old Haris Sohail is relieved that he now has another chance to continue his international career.
"I'm delighted to be back in the international fold once again. It's been a tough two years and it's been a long and at times difficult road back to fitness.
"I worked at the National Cricket Academy, went to UAE for treatment, came to England and eventually I have made my way back to full fitness."
To have been marked as one for the future and to have had a bright start to his international career would have been heartening for Haris but the devastation of facing up to an injury which could have destroyed his dreams did take a toll on his psyche.
He explained: "Yes there were some dark days when I was unfit and there were times when you get frustrated. But I had faith in the Almighty that one day I would be back and that is what drove me on and spurred me on to keep working hard on regaining my levels of fitness and overcome the injury problems."
Many concerns were raised about Haris's ability to recover from his injury but thankfully, he has put all that speculation to rest by passing fitness tests and is now ready for duty for his national side in the Champions Trophy campaign.
"There are no issues with my fitness now at all.
"I passed the fitness test in Lahore at the National Cricket Academy and then when I came to England I had a further fitness test which I also passed. So, there are no concerns or issues about my fitness at all which is a massive boost for me."
The weight of expectations on players making comebacks seems to be unusually high as a well-meaning fan-base looks to players like Haris Sohail as the answer to a lot of Pakistan's recent issues with the batting.
The left-handed batsman, confident after a good domestic season, is not worried about this stress as he remarked: "Yes there is pressure on me as I am coming back to international cricket after two years but you have to take that challenge head on.
"I knew that one day I would come back to the international squad and I was counting the days for my return to the Pakistan team. I gained a lot of confidence from my return in domestic cricket. I was happy with my form there and to do so well after a gap of nearly 18-months in domestic cricket was a huge release of pressure and gave me a lot of confidence."
Pakistan's recent form in ODIs has shown some glimpses of hope but the eighth ranking in ICC's ODIs is a matter for concern. In that context, Haris's possible return to international cricket is a cause for hope amongst the die-hard fans.
However, for the moment, all eyes seem to be only on one game and that is the upcoming marquis clash between arch rivals India and Pakistan at Edgbaston. For Haris, a much-awaited comeback to the national side could become even more special if he is picked to play in the final XI on June 4th.
"There is nothing quite like an India versus Pakistan clash and the atmosphere is bound to be brilliant. These are unique matches and to be a part of these matches is what cricket is all about. I hope that I am picked, but that is up to the team management so let's see how this goes."
So, what in Haris's view can the world of cricket and especially the Pakistan fans expect from the Pakistan side in the iconic clash with India?
"Our preparations for the India clash have been excellent and whist the Indian team is a strong one we are here to play cricket also and not just admire the opposition team and players. We will plan for Virat Kohli just the same as we will for the other Indian players. We are here to win the tournament and are not here to make the numbers up."
Haris Sohail's impending return to international cricket is indeed excellent news for Pakistan but more importantly, it is a great opportunity for the player to resume his career and continue his journey towards establishing himself in the national side.
This is a task which will not be easy but Haris has no doubts in his ability to make this chance count: "Even though I was called up last-minute for the Champions Trophy, my preparations have been very good.
"I am confident, I am now fit and I am ready to score runs for Pakistan once again. I've lost two-years of my career due to injury and I want to make up for lost time," he concluded.