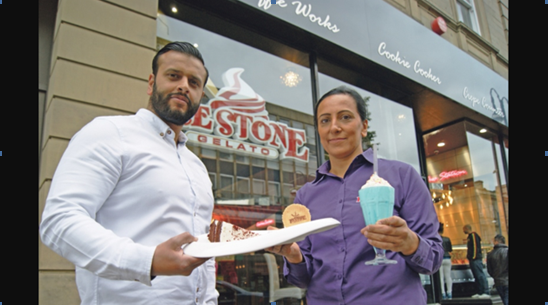 An exciting win for the Icestone Gelato brand means that the Huddersfield branch, based on John William Street has more of a reason than ever before for visitors make their way down and tuck into yummy and delicious desserts.
The Bradford-born company, which has an expanding company portfolio across major cities up and down Britain, has just bagged the lucrative title of 'Best Shop Front' in the vibrant Huddersfield town centre.
Complimenting Icestone Gelato, the Huddersfield Civic Society award judges had high praise for the scrumptious dessert king, saying that they appreciate the investment made by the Icestone Gelato bosses.
From a standalone shop in Bradford to being a leader in the dessert market, the company has worked tirelessly to achieve great things for their ever expanding business empire and this award is further recognition of their incredible efforts.
With stores in major cities such as Manchester, Birmingham, Liverpool, Huddersfield and the imminent re-opening of their Bradford store following a total overhaul, there's plenty of opportunity to get in on the action and taste some yummy after-dinner treats.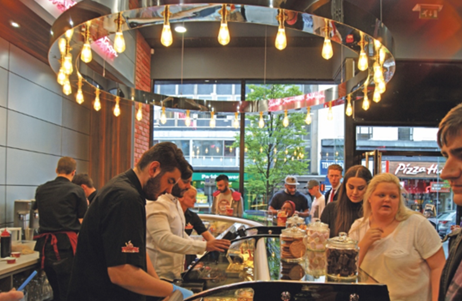 Now in their fourth year of trading as a business Icestone offers up to a whopping 27-flavours of gelato (decadent Italian ice cream) such as pistacio, strawberry cheesecake and sticky toffee as well as to back-to-school favourites like jam roly poly and custard. The outlets also offer Belgian waffles, crepes and a range of traditional puddings.
Speaking to Asian Express, Paul Morris, operations director for Icestone Gelato told us what makes their dessert parlour unique: "Where we are different to many similar companies is that we make all our own gelato, which is a very detailed artisan operation."
With many dessert stores popping up all over, Icestone Gelto really are trendsetters of the industry and this award really sets above the rest.
"We have, over time, worked endlessly with our dedicated team to enhance our products, our stores and our customer experience. Our brand awareness is gathering speed and we feel this is down to our very basic values of customer service, detail in produce and a feel good vibe created in store," Paul added.
Icestone Gelato are in the process of re-opening their Great Horton Road branch in Bradford with a full new refit, and have . further plans to open new stores in other parts of the country..
All stores open 7 days a week normally from 11am/1pm till late.