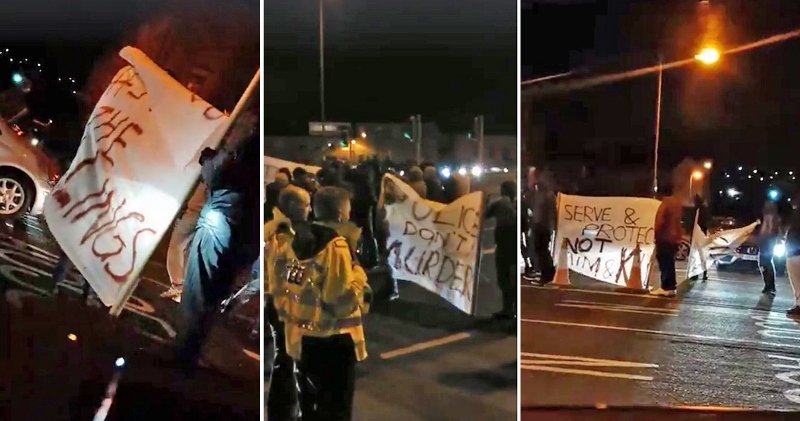 Calls for calm have been made by Bradford's community leaders this week following the fatal shooting of Mohammed Yassar Yaqub by West Yorkshire Police.
Mr Yaqub was shot dead after officers cornered his white Audi sports car near the M62 in Huddersfield on Monday 2nd January, at around 6pm.
It has since been confirmed that it was a pre-planned policing operation, relating to information received about criminal possession of a firearm.
Five arrests were also made on the night, including three at the scene of the shooting and a further two from a related stop of another vehicle in the Chain Bar area of Bradford at about the same time.
On Tuesday evening, large parts of Bradford city centre came to a standstill as demonstrators took to the streets to protest against the police's actions.
Holding aloft signs reading 'Police don't Murder' and 'This is a Peace Protest', the demonstration lasted around three hours.
Some missiles were thrown at the police vehicles which had blocked access around Leeds Road, whilst riot police arrived shortly after as the police helicopter was mobilised.
GUNNED DOWN: Mohammed Yassar Yaqub was killed after being shot by police in a pre-planned operation

A statement from West Yorkshire Police said: "Officers from West Yorkshire Police deployed to the area to facilitate a peaceful protest and to provide public reassurance.  

"Police empathise with the heightened tensions and engaged with protestors to appeal for calm."

It added: "There was minimal disorder, which quickly de-escalated after dialogue with officers at the scene and there was no necessity to make any arrests."
Mr Yaqub had previously been acquitted seven years ago in the case of an attempted murder in Birkby.
The young father, who was 21 at the time, was accused of being a gunman in a drive-by shooting in September 2009 yet the case against him was thrown out at Bradford Crown Court the following May due to a lack of evidence.
In a message to the city's residents, Bradford West MP Naz Shah, said 'peace' was paramount at this moment.
"I recognise that tensions are running high within communities," she wrote in a statement on Facebook.

"The local police also understand the heightened tension that the events over the past 24 hours have caused within our communities and the need to provide reassurance.

"I understand that West Yorkshire Police are working fully with the IPCC's independent investigation into the circumstances of the shooting and there is due process to follow which may mean certain information cannot be provided in the way that communities feel they need.

"The IPCC have a responsibility for overseeing a transparent investigation, however, the responsibility for maintaining strong relationships with our wider communities rests with the Police.

"It is sometimes difficult to do both in ways which reassures the family affected by the actions of the Police and the concerns of the wider community."
Ms Shah added that the majority of demonstrators on Tuesday were peaceful, and offered her sympathy to the family of Mr Yaqub.
"We must allow The IPCC investigation to take place which will take its due course, this will require our patience and support," she said. "My heartfelt thanks to those who were involved in supporting the peaceful protest earlier and helped restore calm.

"Finally I urge the leadership of our community to work in partnership with the elected members and most importantly the agencies concerned to ensure that lessons are learnt from this tragic incident.

"I urge our community to remain calm and respect the wishes of the family who have lost their loved one and have appealed for calm and privacy during this very difficult time."
Following Mr Yaqub's death, mourners have left flowers and tributes outside his West Yorkshire home.
A statement on behalf of his family was issued through a solicitor.
It read: "Mr Yaqub's family are in shock, and are distraught. They would ask the media to respect their privacy at this difficult time.

"The family are fully aware that the incident that led to the death of Mr Yaqub is currently being investigated by the Independent Police Complaints Commission and they do not wish to make any further comment at this stage."