After living out his dream of becoming a world champion earlier this year, Bradford boxer Tasif Khan says he is 'yet to come down' from the high he felt that night in February.
Fighting in front of his home crowd at the city's Cedar Court Hotel, the 33-year-old became a double world title holder as he clinched the World Boxing Union (WBU) and Global Boxing Union (GBU) World Super Flyweight Championships with a knockout victory over Ghana's Isaac Quaye.
Since then, Khan has enjoyed reflecting back on that night, acting as a community role model for aspiring young boxers.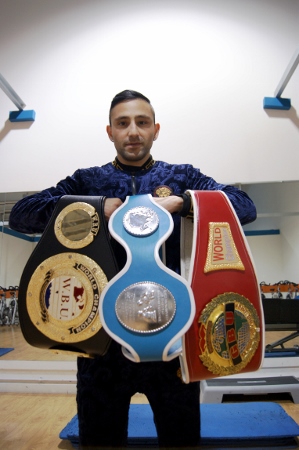 Despite living out the 'best ten months of his professional career to date', Khan admits that the time for reflection is now almost over as he prepares to enter the ring once again this November, with more gold in his sights.
"I'm fighting a guy from Ghana called Michael Barnor and we are hoping to face off for the World Boxing Confederation's (WBC) Bantamweight title," he explained.

"There are still a couple of things to be sorted but all being well, I will be moving up a weight division for the fight as it is just too big of an opportunity to ignore."
The WBC title is currently vacant and a decision will be made over the coming days as to whether it will be made available for Khan's November showdown.
In the meantime, Khan is working hard in the gym to prepare for the fight.
"Training has been great and whether I'm moving up a weight or Barnor has to move down one to fight for my titles, I will be ready," he said. "As the saying goes – it's hard to win titles, but even harder to keep them."

He added: "I've really been looking forward to getting back in the ring before Christmas and to have it here in Bradford makes it even more special.

"It brings back the memory of winning the titles in February and with the way things are going so far, this is turning out to be another potentially fantastic fight as well."
The Khan-Barnor fight is scheduled for Friday 25th November, at the Bradford Hotel on Hall Ings Road. Tickets are available now from the hotline: 07944 655735, and can also be picked up from Janan Designer Outlet.
In a final thanks to his fans and sponsors, Khan said: "The response since my last fight, both here in Bradford and further afield, has been amazing. It's only just really sunk in what I achieved. It was a lifetime ambition and a dream come true.

"When I started out as a kid in boxing, my aim was to win as many belts as possible. I can't thank the fans and sponsors enough for their help. Without them, there would be no world titles."