A family of fighters
Entering 23-year-old Umar Khan's house in Manningham is like walking into a sports museum or an Aladdin's cave of wonders – if Aladdin was a champion wrestler instead of a street rat.
Trophies and cups glint across the fireplace and shelves creak and groan under the weight of championship belts.
For his day job, Umar is a taxi driver in Bradford but in his spare time he knuckles down to a sport which attracts thousands of fans in the Asian world.
Umar has just become heavyweight world champion in Beeni, a form of arm wrestling popular in Southern Asia.
Defeating his opponent to claim the incumbent title, given up by the former champion of 15 years, Pelwan Ateeq, Umar walked away from the Rotherham match with an unbeaten string of 17 wins and no defeats.
The championships had matches in three different weight classes taking place, featuring fighters from across the country.
In Beeni, or Asian arm wrestling, the two fighters form a special grip where one competitor holds the other's hand with his thumbs crossed tightly around the wrist.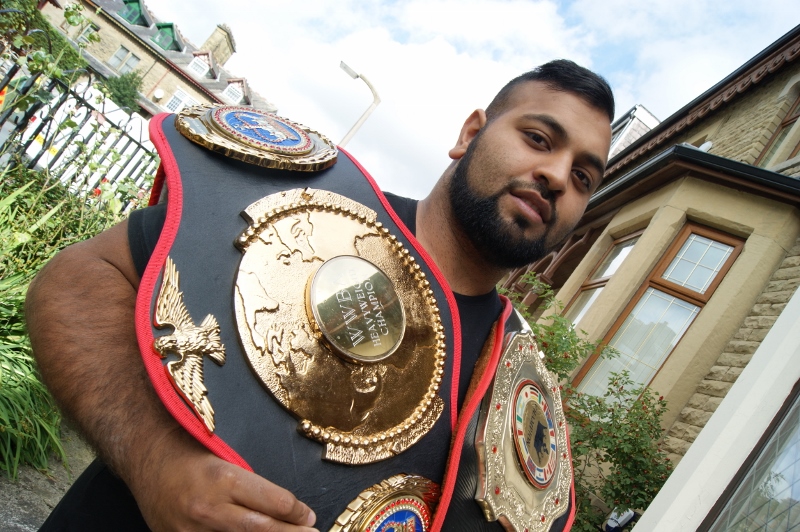 During a sweaty and intense four- round bout, the opponent has to break free from their competitor's hold, whilst the other grips on, refusing to loosen their clasp.
Fighters have three chances to break the grip per round and points are awarded for breaking free or stopping the opponent from escaping.
Umar started training with his uncles, watching them compete when he was small.
He said: "I was 16 when I got into arm wrestling. My granddad wrestled, so did my dad, Mehrban, who was also a champion back in the day.

"It's in the family – my brothers also do it. One's a middleweight and the other is a heavyweight."
When Umar took part in his first break-through competition at 17, he fought a 'big guy' in Birmingham who was 21 stone. He won.
The rest is history and he now has 21 trophies to his name.
"To be where I am in the sport, most people are around 30-years-old. I've skipped a good 10 years."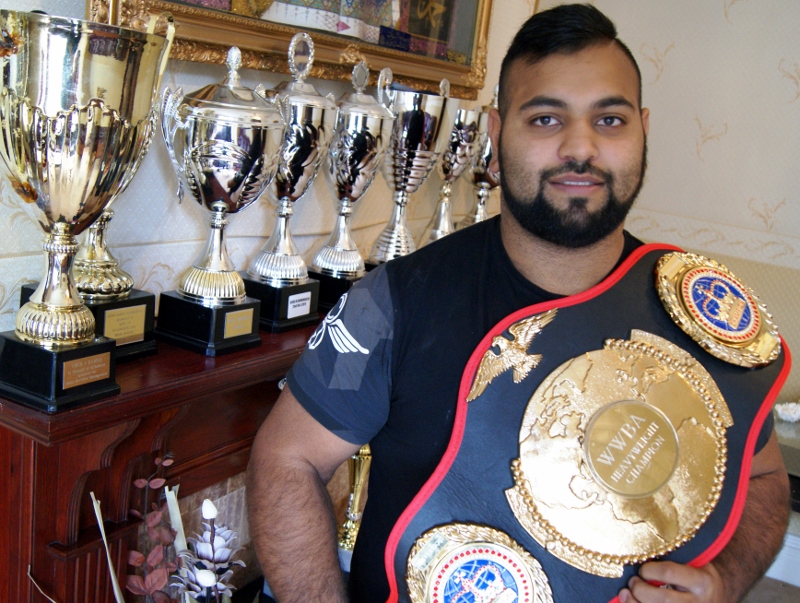 To be a good competitor, you have to train hard, eat the right things and be dedicated to fitness.
"It's a proper lifestyle," Umar adds. "You can't do it for two or three months. You train non-stop, six times a week and you must be 100 per cent on it.

"I competed in Pakistan in March in front of a crowd of 17,000 people. Over there it's a big deal and we compete in a huge stadium. I beat the number one guy over there, too."
The sport is a combination of physical and mental strength and Umar clearly has both in abundance.
Speaking humbly out of his family home, he says: "You have to know your technique as well and stay focused.
"It's taken me three and a half years for the tournament to finish. It takes six months in between matches. Players were getting injured, such as their thumbs snapping. I've never had any injuries, touch wood."
With the world title now around his waist, challengers will no-doubt be lining up to try and take the coveted belt away from him.
Not one to turn away from a fight, Umar says he plans to continue wrestling for many more years to come.
"I will defend the title within a year. I've been working hard since January. I'm ready but they'll have to beat my brother first," he chuckles.