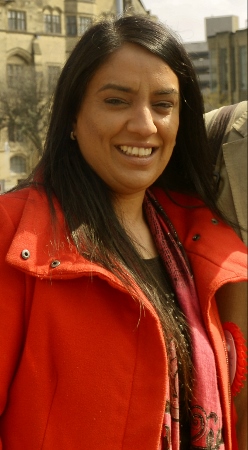 Just over two months after Bradford West MP Naz Shah was suspended by the Labour party for 'anti-Semitic remarks on Facebook' the local politician has been reinstated.
Ms Shah was stripped of her parliamentary whip in April after a Facebook post showing the state of Israel being relocated to the US, shared two years previously by the MP with the comment 'problem solved', came to light.
Since then, she has apologised publically in the House of Commons and to the local Jewish community in Bradford.
Speaking of her whip being reinstated, Ms Shah said she was thankful for the support she has received and would be speaking further in depth after the Islamic holiday of Eid al-Fitr.
"Many thanks for all the lovely messages following my reinstatement to the Labour Party earlier today," she wrote. "I will be putting out a fuller statement next week upon my return to Parliament."
Ms Shah was reinstated following a meeting of the Labour party's National Executive Committee earlier on Tuesday 5th July.
She had previously quit her role as a Parliamentary assistant to Shadow Chancellor John McDonnell after apologising in the Commons.
"Anti-Semitism is racism, full stop," she said in the Commons. "As an MP, I will do everything in my power to build relations between Muslims, Jews and people of different faiths and none."
Jeremy Newmark, chair of the Jewish Labour Movement, welcomed the lifting of Ms Shah's suspension.
"She has proven herself to be a bold and courageous agent of change at a time when strong leadership on this issue is so important," he added.
Despite the apology also being accepted by many faith leaders, including Chairman of Bradford Synagogue, Rudi Leavor, some members of the local Labour Party compiled a petition in favour of ousting the MP.
Former Lord Mayor of Bradford, Choudhary Rangzeb, was amongst the 33 names on the petition.