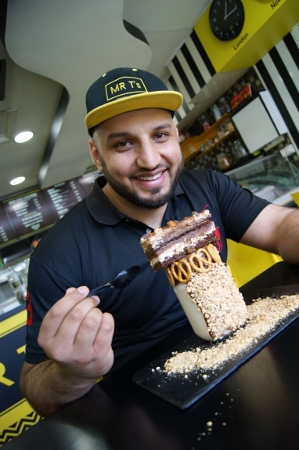 Mr T's in Bradford isn't named after The A-Team star but it certainly has an A-star menu that covers all the favourites; from Parmesans that ooze with cheese to lightly crisp fish and chips.
Tauseef, the owner, has been in the restaurant business for over a decade.  He is 'the' Mr T.
Like all famous restaurants, there's an iconic signature dish which gets people talking.
The Ivy in London serves unbelievably soft soufflés; Nobu is proud of its miso-marinated black cod…and for those who live near Great Horton Road in Bradford, it's Mr T's shake stacks that gets the locals queuing up outside and Instagrammers sharing their shakes across cyberspace.
"I first saw the idea in Australia," explains Tauseef, "and it was causing quite a stir. I've taken what I've seen over there and put my own twist on the milkshake."
The 'twist' that Tauseef is talking about is melt-in-the-mouth cakes, cooked up fresh every day, which sit atop a flamboyantly decorated jar.
Asian Express tried the 'Salted Caramel' flavour. Out came the shake stack, a real pulmonary-pounding pudding if ever we saw one, but for this dessert we'd risk it all.
The jar of splendour was covered with a contrast of smooth chocolate, a light dusting of nuts and a handful of salty pretzels for added crunch.
A marriage of savoury peanut butter with gorgeous toffee bits transformed our mouths into eager trapdoors, as the sticky caramel slipped down in a landslide of lusciousness.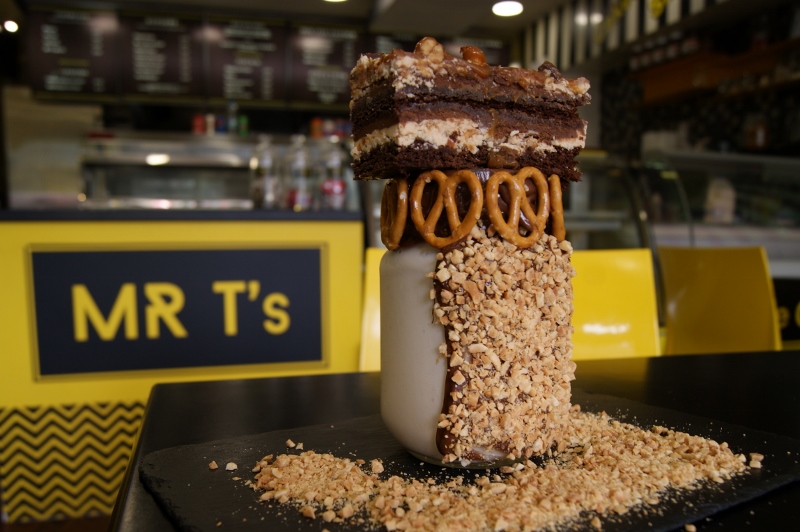 Mr T's cake was so sublime and moreish, it stopped all conversation in its tracks as we wolfed the whole jar down with reckless abandon.
"The other day I checked Facebook and there's about 500 people talking about these beauties," Tauseef added.
'Stack' that up to 502 now, Mr T, as you've got two new fans that are shakin' with foodie happiness at the Asian Express!
Address:
354 Great Horton Rd,
Bradford,
West Yorkshire,
BD7 1QJ
Telephone:
01274 571971