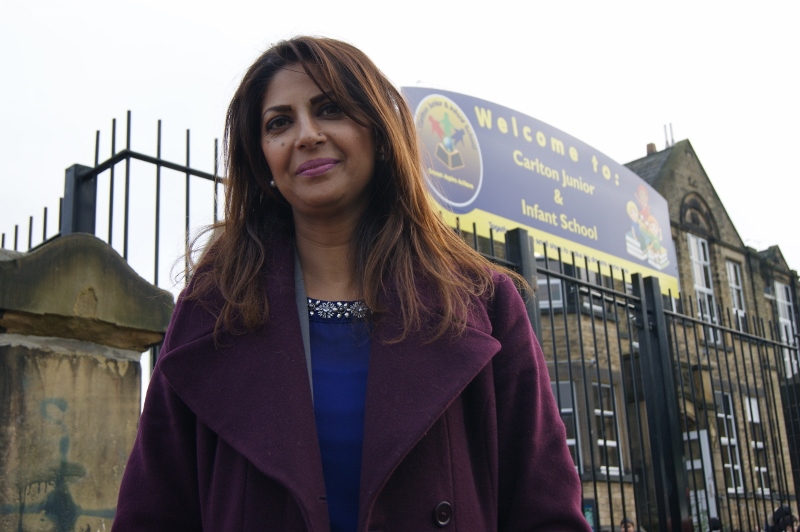 Head of the year
Bradford-born head teacher, dynamic and daring Rizwana Mahmood, has had a magnificent year.
Not only has she been knocking down walls in her school to make it more modern, but she has been building up a sense of community with her pupils, so that Carlton Junior and Infant School in Dewsbury is now one of the most cohesive and cultured places to learn in the area.
It's the type of teaching that gets you nominated for prizes, and The National Centre for Diversity 2016 Awards have shortlisted Rizwana for 'Headteacher of the Year'.
Rizwana is the only nominee outside of a college establishment in her category.
She said: "I got into teaching in 1999. Since then, I've been fast-tracked to leadership positions. I've been at Carlton Junior and Infant School for two years now."
Rizwana has a natural eye for aesthetics and has transformed the primary school into a wisdom wonderland.
Children now study lessons under 'brain calming' mood lighting that pulses in gentle blue and green colours. Classrooms have become more open plan, with glistening glass doors and walls.
Rizwana added: "For my MA, I studied accelerated learning and social engineering and the conditioning of the brain. I looked at peaceful environments.
"When I joined the school it was dark and dingy. It was painted in cold colours. To me, this had an obvious impact on behaviour. So I removed the walls and painted the place in lighter colours… eventually the entire building will be neon and glass, which I know will make a difference."
Rizwana loves the diversity in the community and staff – and how they embrace all of the cultures and beliefs she strongly advocates.
"It's important to embed British values into our children and helping them understand that – just by respecting other religions and cultures – doesn't mean you're losing your own identity," she said.
"My position as a Muslim Asian female in a leadership position is quite a privilege, and allows me to drive that agenda. When I joined the school, what I used to hear from my predecessors was that the parents would not engage and they didn't allow children to take part in the Nativity and Easter plays. Now we have a high level of engagement."
Rizwana finds that her school's success is thanks to being more empathetic with both children and parents.
"It's a matter of experiencing what they experience, moving to the other side and seeing what they see. What is key is that greater level of understanding. Parental engagement is a major highlight for me."
Before Rizwana became headteacher, the numbers of pupils applying to the school had dropped significantly.
She said: "We got onto it straight away with a high-level marketing programme and we've now got waiting lists. The types of clientele we are getting now are professionals. People are actively seeking out the school and we have thousands of hits on our website a day."
The school is doing plenty of things right, but it will take time to change the community as a whole.
Rizwana is resolute: "We will get there. It's bite-size work."
The pupils have a brand new uniform which features crisp white shirts and an inspiring new logo, the vision statement 'dream, aspire and achieve'.
"Ofsted have said that they rarely go into schools where the vision is alive and children and staff are breathing and living it," said Rizwana, "that's what you'll see here. If you ask any child they will reiterate the mantra of dreaming, aspiring and achieving."
Carlton Junior and Infant school is completely child-centred.
"Everything is focused on the child and then we move outwards," she said. "We try and rectify where things have gone wrong in their lives. We have a very strong pastoral team which engages with disaffected families.
"That's the brunt of our work. We have got to get the child emotionally right before we can get them to function academically.
"I am a big believer of strong pedagogy rather than expensive resources. I give my staff strong, cutting-edge teacher training. The best resource in the classroom is the teacher. If the delivery and pedagogy isn't right, if that parting of knowledge isn't there, then how can children flourish?"
There are future plans in place for a wellbeing centre and the staff plan to convert up into the loft.
"This is not a faith school; we celebrate everything. Our children play key characters in Nativities and Diwali, Buddhism and Islamic traditions are all equally celebrated. I'm going to keep on giving that message to parents that tolerance is the key for a better tomorrow," Rizwana concluded.
For pupils at Carlton Junior and Infant School who are lucky enough to have Rizwana at the helm, tomorrow will no doubt be neon bright.