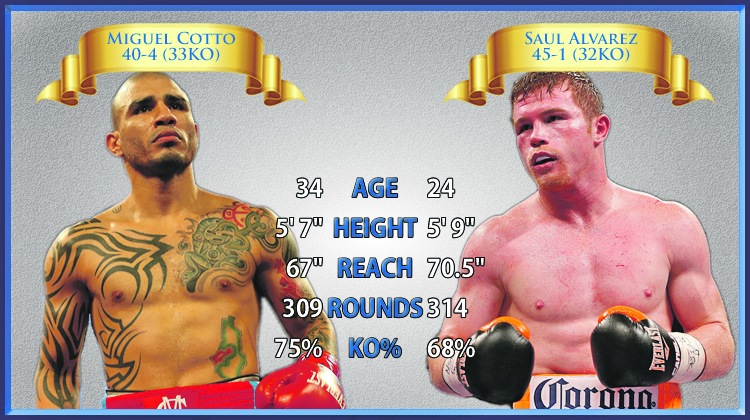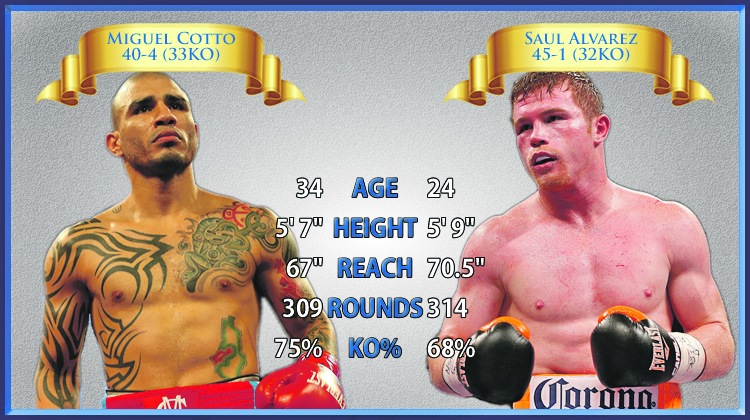 The sporting rivalry between countries has existed for a number of years like England against Germany in the football world-cup, Pakistan against India in cricket and China against Japan in the Olympics. Like all sports, International boxing rivalry also exists in boxing and on 21st November 2015 we shall witness the great Puerto Rico against Mexico rivalry.
Mexico and Puerto Rico over the years have probably produced the greatest fighters of all time like Miguel Cotto, Oscar De Le Hoya, Julio Cesar Chevez, Saul Alvarez and Felix Trinidad to new a few and all these fighters have been produced ferocious boxing bouts.   
Cotto (40-4 KO 33) from Puerto Rico and Saul Alvarez (45-1-1 KO 33) from Mexico will be resuming the hostilities later this year in what will be one of the biggest fights of the year and I expect fireworks from the start.
The rivalry has been very competitive over the years and boxing fans have been privileged enough to see some of the greatest fights in boxing history. I recall some of the action packed fights like Salvador vs Wilfredo Gomez, Miguel Cotto vs Antonio Margarito, Felix Trinidad vs Fernando Vargas and then Oscar De La Hoya and all these battles have been both entertaining and brutal at the same time.
It was Cotto who confirmed the intention of fighting Alvarez after his four round demolishing job of Australia's Daniel Geal as he told the HBO commentator "Let's do it (Alvarez)."
Cotto is the current WBC world middleweight champion and he has recently been looking like an all rounded better fighter since joining the Wildcard Gym under the training guidance of legendary Freddie Roach and it certainly looks like Cotto is getting better and better with each fight and back to his winning best.
Alvarez is the younger and fresher of the two fighters and is tipped as being the next "big thing" in the sport of boxing once Floyd Mayweather decides to retire. Alvarez last fought in May 2015 where he dominated and battered American James Kirkland over three rounds to earn a great knock-out victory.
Alvarez has so far impressed me with his boxing ability and having turned professional at the age of 15 years old his only career defeat has come against the best pound for pound fighter on the planet Floyd Mayweather.
Alvarez is 24 years old compared to Cotto who is now 34 years old and more battle worn after being involved in a number of hard fought fights over the years.
The matchup is also likely to place in Las Vagas, either at Thomas Mack Centre or MGM Grand and will be a big money fight. However the bad news for either fighter is that whoever wins this bout the next mandatory challenger for the belt will be the knock-out kingpin and most avoided fighter, Gennedy Golovkin.
I personally expect Alvarez to win this Puerto Rico and Mexico rivalry due to his youth, natural size and talent. Alvarez is the naturally bigger man when compared to Cotto with longer reach and height advantage. Cotto holds a world title in a higher than his usual weight class but has since fought majority of his fights at catch-weights.
Whatever the eventual outcome this rivalry will certainly be very entertaining whilst it lasts.