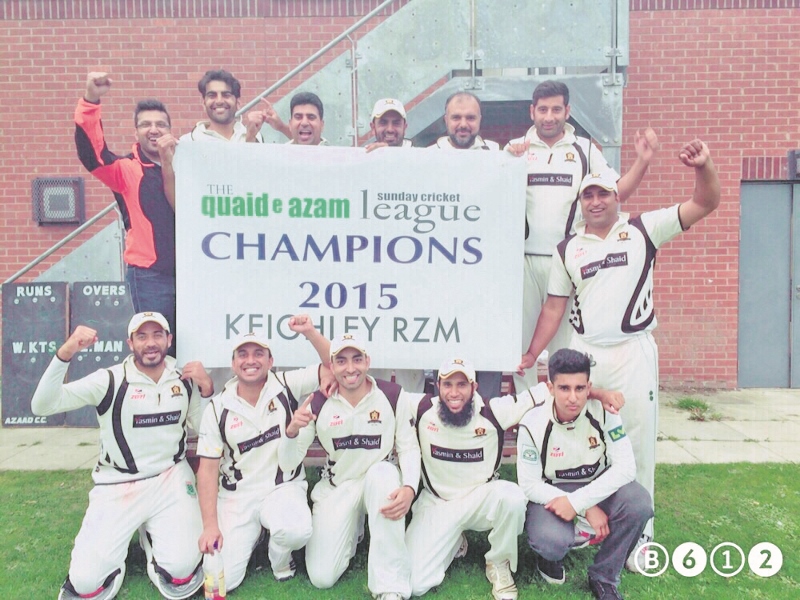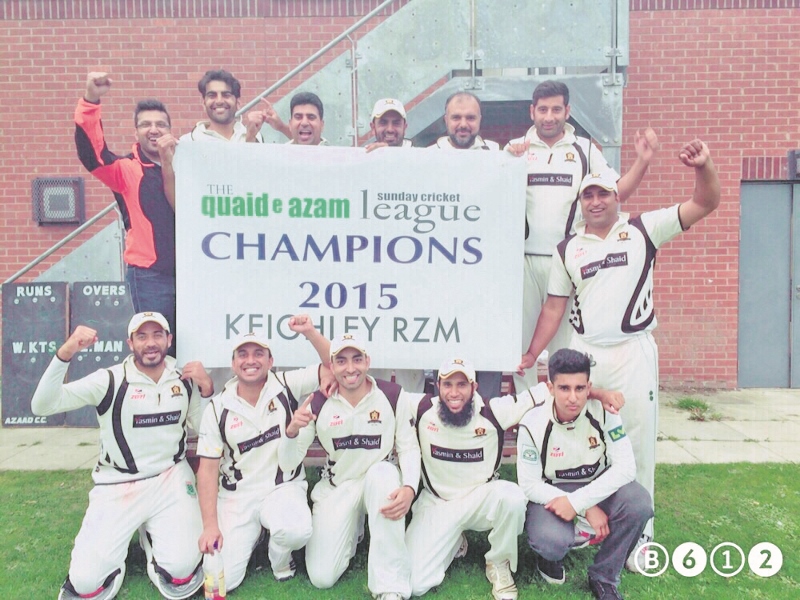 Rising stars clinch promotion to prem
Keighley RZM secured an incredible fourth Premier division title in a row last weekend as they once again proved they are the team to beat in the Quaid-e-Azam Cricket League.
Their eighth league title was secured after a convincing six wicket victory at Darulshafa (147-9) with big hitter Gulsheraz Ahmed hitting an unbeaten 78 on their way to a final score of 150-3.
Zeeshan Qasim (4-15) tore through the hosts batting with an inspired performance with the ball, and helped ensure the champions retained their unbeaten record in the league this year.
Elsewhere, only one point separates the bottom four sides – Bhalot, Flix, Darulshafa and Raja.
All four teams suffered defeats with Raja (116) falling victim to Kashmir Dewsbury (119-6), Flix (151) lost by seven wickets against Shimlas (152-3), and Bhalot were handed a technical defeat against OnQ.
Raja will play Darulshafa next week in what is guaranteed to be a relegation scrap, with the winner likely to avoid the drop this term.
The final game in the Premier Division last weekend came at Heaton Park (196), who despite being bowled out, defeated White Rose (110-7).
Park's Shoukat Ali was named man of the match, taking four wickets for just eight runs.
In Section A Group 1, a shock result at the top ensured Rising Stars sealed promotion as lowly Shaheen (222-6) overcame second-placed Bradford Royals (220) in an epic encounter.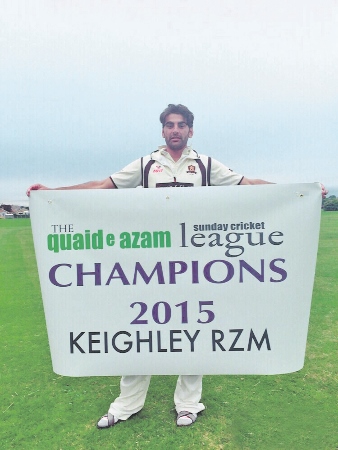 Batting first, the Royals, currently second in the table, smashed their way to a credible 220 as Tanvir Bashir (47) and Tokir Bashir (77) registered the highest scores.
Despite struggling for form this campaign, Shaheen were able to chase down the score with four wickets remaining and all but guarantee Rising Stars the league title.
The league leaders (161) themselves found victory over Chach (92) easy to come by with Asif Iqbal (4-20) once again showing his premier division potential.
Friends (149) missed out on the chance to close the gap on the top two after suffering a surprise defeat at home against Eastern Friends (152-7) for the visitor's third win of the year.
There were also wins in the division for Karmand (168-4) at Bradford Moor (163-7) and Zulfi AK (171-9) against Central Leeds (78).
Individual performance of the week came from Section A Group 2's new league leaders, Tabs (195-8), with Amir Sohail starring with both the bat and ball against Kashmir Bradford (91).
Having hit a half century at the wicket (64), Sohail went on to terrorise the visitor's attack, taking five wickets for 18 runs in a memorable display.
Victory lifts Tabs above their opponents as they lead the division with just two games to go.
Indus Ghari (254) remain in touching distance of the top two after triumphing over Patriots (126), whilst Earlsmarshall (223) are just one point further behind following their convincing performance against Bradford Phoenix (148).
Four wicket hauls were registered by two players in the remaining fixtures of the weekend with Al-Minarah's (167-7) Safwan Yousaf (4-36) guiding his team to victory over Azad (166), and Kings XI's (151) Mehtab Afzal (4-30) tearing through My Lahore (112).
Premier Section
Darulshafa 147-9 (Tony Conrwall 58, Zeeshan Qasim 4-15) v Keighley RZM 150-3 (Gulsheraz Ahmed 78*)
Raja 116 all out v Kashmir Dewsbury 119-6
Bhalot v OnQ – Game awarded to OnQ
Heaton Park 196 all out (Shoukat Ali 55, Mohammed Shoaib 40) v White Rose 110-7 (Shoukat Ali 4-8)
Flix 151 all out (Nahim Khan 54) v Shimlas 152-3 (Kamran Hussain 62)
Section A Group 1
Bfd Moor 163-7 v Karmand 168-4 (Amir Iqbal 51, Salman Syed 40)
Bfd Royals 220 all out (Tanvir Bashir 47, Tokir Bashir 77) v Shaheen 222-6 (N Hafeez 85, H Hashmi 77)
Friends 149 all out (Qasim Baig 52) v Eastern Friends 152-7
Rising Stars 161 all out (Naseem Aslam 61*, Zulfiqar Ahmed 4-33, Shahid Iqbal 4-45) v Chach 92 all out (Asif Iqbal 4-20)
Zulfi AK 171-9 (Bilal Shahid 4-24) v Central Leeds 78 all out
Section A Group 2
Azad 166 all out (M Mir 54, Safwan Yousaf 4-36) v Al-Minarah 167-7 (Zahid Mahmood 55*)
Kings XI 151 all out (Imran Asghar 44) v MyLahore 112 all out (Shahid Bashir 45, Mehtab Afzal 4-30)
Tabs 195-8 (Amir Sohail 61) v Kashmir Bradford 91 all out (Amir Sohail 5-18)
Indus Ghari 254 all out v Patriots 126 all out (Husnain Syed 50)
Earl Marshall 223 all out v Bfd Phoenix 148 all out
Team of the Week: Keighley RZM are the Premier Division champions for a record eighth time as they maintained their unbeaten league record with victory over Darulshafa.
Player of the Week: Keighley captain, Zeeshan Qasim, has guided his side all season and once again lead from the front last weekend, taking four wickets for just 15 runs.