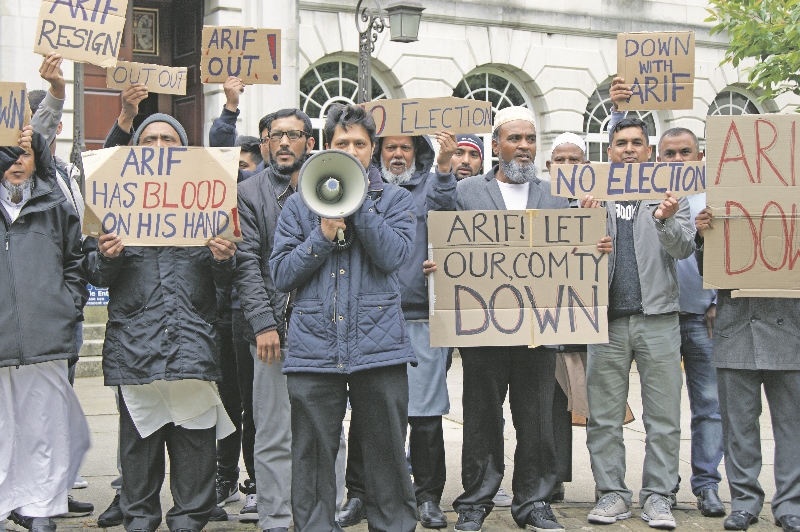 Bloodied scenes as Bangladeshi community clash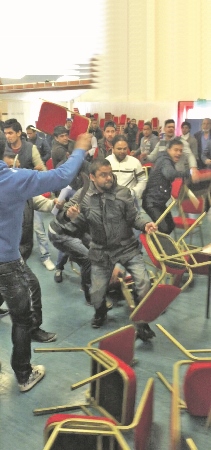 Leeds' Bangladeshi Community Centre was the scene of a mass brawl last weekend as punches and chairs were thrown during what was supposed to be an 'Annual General Meeting'.
Thirteen people have so far been arrested following the incident on Saturday 30th May as over one-hundred members of the local Bangladeshi community clashed at the Harehills site.
The brawl, which also saw police officers attacked, was filmed on mobile phones with footage showing weapons such as machetes, metal pipes and a Stanley knife all being used.
Disputes are believed to have broken out over the running of the community centre and an upcoming election which two rival factions believe they should be in charge of following the alleged suspension of directors.
Last weekend, an AGM had been arranged by one group of supporters and when a group of 20-25 members from the opposing party entered the building, a brawl pursued.
Abdul Kashem is one of the candidates hoping to be elected as a director at the centre and was one of the men who entered the AGM to voice their concerns over the meeting.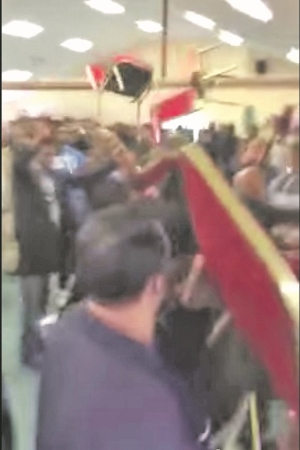 "We had been given assurances by the police, who were inside the building at the time, that it was safe to enter," he said. "The plan was to voice our concerns over financial irregularities and the centre's mismanagement.
"However, when we got inside we were attacked with weapons which we believe had been passed inside by people who were waiting for us.
"People were fearing for their lives."
Mr Kashem suffered minor injuries whilst his brother received a deep cut to the top of his head which required nine stitches.
Director at the centre, Abul Abedin, also suffered injuries to his head after entering the building and says the blame lies with his local councillor who failed to prevent the AGM from going ahead.
"We pleaded with the council to close the meeting down before it even begun because we knew the threat of it," he said.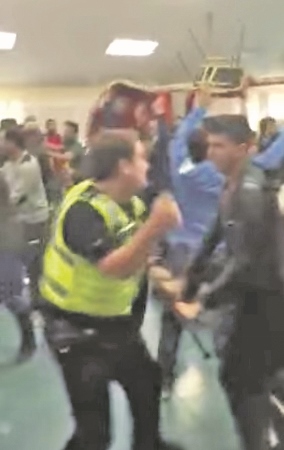 "This was not heard and therefore there is blood on their hands. All of this could have been avoided."
Councillor Arif Hussain, who represents the Harehills area for Leeds City Council, was singled out by Mr Abedin as at fault due to his affiliation with the centre.
A protest was held outside Leeds Civic Hall on Monday 1st June calling for the resignation of Mr Hussain from the council.
Speaking to the Asian Express, Mr Hussain said he was due to meet with police officers on Monday for a full briefing on the events that transpired before he could comment further.
Meanwhile, Bangladeshi Centre Chair, Mohammed Afzal Hossain, said the councillor had been targeted for other people's 'personal self interest' and thanked him for his continued support.
A press statement issued on Wednesday 3rd June added: "The scheduled election of BCL Directors today unfortunately was postponed following the request made by James Rodgers, Asst Chief Executive officer of Leeds City Council and Chris Bowman, Chief Inspector of Leeds District Police, on the grounds of safety and security."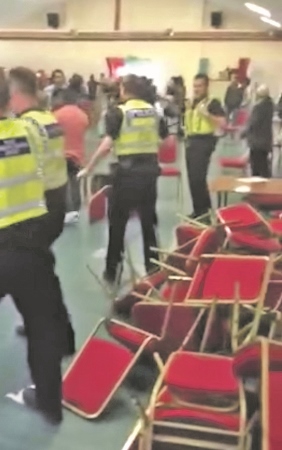 It added: "We are keen to ensure the next re-scheduled election will be held in a fair and peaceful manner."
As investigations into the brawl continue, officers have appealed for any persons with information or footage from the event to come forward in aid of the investigation.
Neighbourhoods Chief Inspector Chris Bowen of Leeds District Police said: "There is a lot of personal footage online, as well as the attending officer's body-worn camera footage that is continuing to be reviewed.
"I would appeal for anyone that has personal footage of the incident to bring it forward to assist us with our investigation. I would also urge anyone with information about the incident to contact police.
"We do expect there to be a number of further arrests over the coming weeks."
Elections for the Bangladeshi Community Centre are now expected to commence before the 31st July deadline in order to comply with the centre's 'Articles of Memorandum'.